CHESHIRE — The Hoosac Valley girls basketball team advanced to the Final Four of the MIAA Division V State Tournament on Friday night, knocking off eighth-seeded Carver 66-32, as Averie McGrath led the way with 32 points and made school history in the process.
Photos: Hoosac Valley girls basketball beats Carver in MIAA State Tournament
On Friday night in Chshire, the No. 1 Hoosac Valley girls beat No. 8 Carver 66-32 in the Elite Eight round of the MIAA Division V State Tournament.
To purchase photos click here.
McGrath, already a two-time state champion, scored the 1,000th point of her high school career while knocking down eight 3-pointers. The Hurricanes survived a flat start by finishing up the first half on an 18-2 run. McGrath buried three 3-pointers during the run as Hoosac out rebounded Carver 7-0, including two key offensive boards by Rylynn Witek, in the half's final four minutes. Carver's 21-20 lead at the 4:17 mark of the second quarter felt like a distant memory by the time the top-ranked 'Canes cruised into halftime up 39-22.
Carver jumped out to a 12-2 lead with 3:27 to go in the opening quarter when Hoosac coach Holly McGovern called timeout and made a few adjustments.
"We were over-pressuring them on the offensive rebound aspect, we were pounding the boards really hard," McGovern said. "So they were rebounding well and we were allowing them transition shots. We really needed to get back on defense. Once we regrouped, we were able to adjust and get back and get into our defense. Then we were able to play our game. Then offensively we started to swing the basketball better as the game went on."
Hoosac heated up starting with two points in the paint by Gabby Billetz, followed by McGrath's 3-pointer, steal, and second trifecta of the night. Hoosac was within two when, following a Carver bucket, McGrath struck for a steal and a drive for two. With 45 seconds left in the opening stanza, Witek buried a 3, putting Hoosac ahead 15-14. McGrath's third triple pushed the home team's lead to four, its largest lead yet.
Carver hung tough early in the second, as Hoosac could only muster a pair of free throws by Witek (12 points) in the opening four minutes. Then a rebound and outlet pass by Taylor Garabedian landed in the hands of Alyssa Garabedian (seven points) who scored in transition, was fouled, and converted a key three-point play.
A make and miss at the free-throw line by Carver preceded McGrath's 3-pointer off the glass (McGrath conceded a sheepish smile after the basket).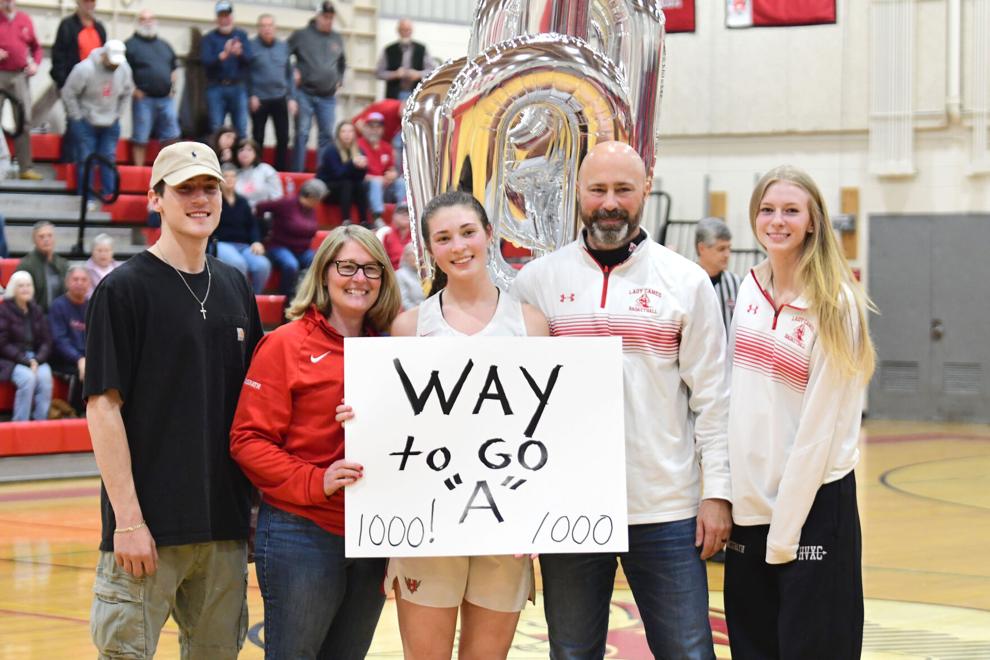 Witek added a pair of buckets, both cleaning up on the offensive glass, to close out the half.
In the second half, the Hurricanes ran away with the lead, opening up on an 11-1 tear. Billetz (10 points, 11 rebounds) opened the quarter with a 15-footer, pulled down a rebound on defense and then scored on the next sequence cleaning up the offensive glass for an easy two.
Alyssa Garabedian had a pair of baskets, including a pretty spin move for two and another easy basket with an assist from McGrath. She also added a free throw and assisted on a bucket by Billetz just before McGrath lined up for her milestone-making 3-point shot from the left corner.
She took the open jumper, nailed it, and the crowd went wild. She sat down for the closing minutes with the game well in hand.
"All year long [McGrath] has been our offensive energy and she's hit some very big shots for us. All this year she's been an offensive powerhouse and we know she's going to knock down the big shots," McGovern said. "She's a special player and she's been special for us all year."
McGrath had missed her previous three shots and felt she was pressing a bit knowing she was close to the 1,000-point mark.
"I was forcing a lot; I was frustrated personally," she said after the game. Stuck on 29 points and needing 30 to reach 1,000, her coach called timeout with 5:27 left in regulation. She re-entered the game with a fresh state of mind.
"My teammates picked me up and my coach used some reverse psychology on me," McGrath said. "Instead of [one point] away she said I was six. That helped me relax and I said, 'deep breaths, I got it.'"
McGrath (1,002) is the eighth girls basketball player at Hoosac to score 1,000 points, and 58th girl in Berkshire County. She follows former teammates Alie Mendel (1,357) and Lexi Mercier (1,182) onto the list.
As for the Final Four, "I've been there before, so I know how to stay composed and I hope the freshmen that are here have as much fun as I did. I'll be there every step of the way for them."
Hoosac will meet No. 5 Taconic in the state semifinals next week. The newly-minted Thunder beat No. 4 Millis on the road Friday night to advance. Hoosac beat Taconic in the regular season back on Dec. 29, 38-33. McGrath had a game-high 16 points in that one.
Coincidentally, both Taconic and Hoosac Valley are still defending co-state champions. In 2020, the last year there was a postseason, Taconic in D-II and Hoosac in D-III won state semifinal games before the COVID-19 pandemic force cancellation of the state finals. All finalists were named co-champions.
———
CARVER (32)
Ab. Johnson 2-3-7, As. Johnson 1-1-4, Pina 0-0-0, Grimes 2-0-4, Stairs 5-0-11, Perry 0-0-0, Correa 0-3-3, Sotomayer 1-0-3, Sepulueda 0-0-0, Foley 0-0-0. Totals 11-7-32.
HOOSAC VALLEY (66)
Boudreau 0-0-0, Cappiello 0-0-0, Billetz 5-0-10, Shea 0-0-0, A. Garabedian 2-3-7, McNeice 0-0-0, Meczywor 1-2-3, Lesure 0-1-1, Witek 4-3-12, McGrath 12-0-32, T. Garabedian 0-0-0. Totals 24-9-66.
Carver 14 8 3 6 — 32
Hoosac 18 21 20 7 — 66
3-pointers — C 3 (As. Johnson, Stairs, Sotomayer); HV 9 (McGrath 8, Witek).