NORTH ADAMS — Kayla McGrath knew she needed to have a big second act for the Blue Devils on Wednesday, primarily because Lee's Lena Simone tied the match at one just minutes before the half.
Not only was the junior's premonitions on the money, but she delivered in the form of two second-half goals and Drury booked a spot in the Berkshire South championship game with a 4-1 win over the Wildcats.
"After they scored at the end of the half I knew, as someone who my team looks up to for scoring, I had to step up," McGrath said following the game.
McGrath's performance was more than just two second-half goals, though, as she finished the day with a hat trick.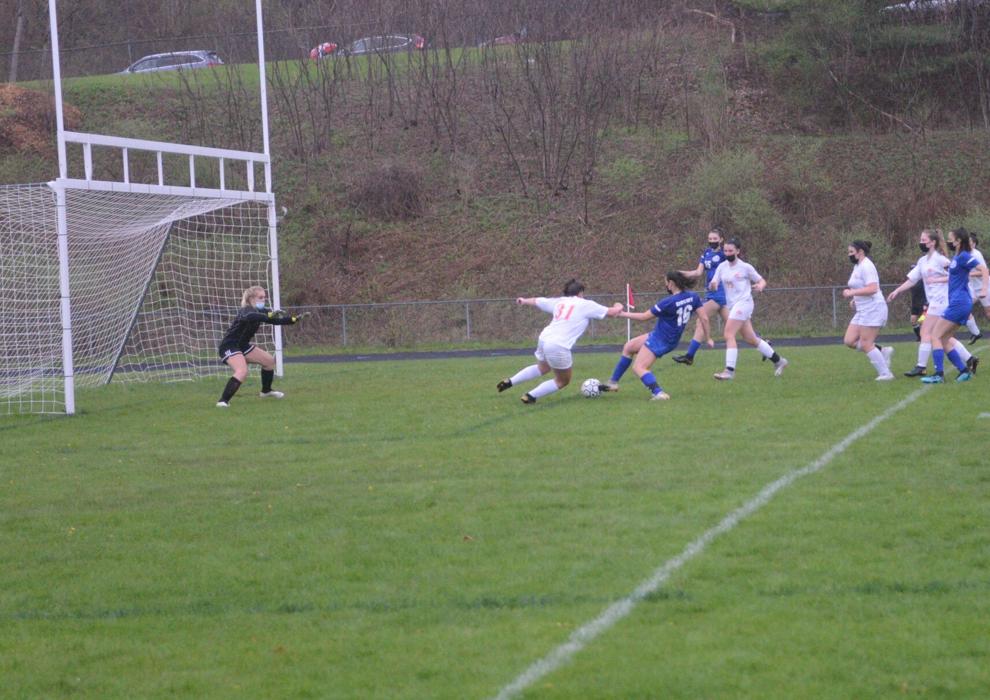 A handball in the 15th minute helped McGrath set up shop in front of the Lee goal, delivering a moon shot that sailed into the back of the net.
The Wildcats kept their eyes on McGrath with man-to-man marking in the second half, but her teammates created space with picture-perfect passes, despite wet and rainy conditions in North Adams.
"They were man-marking me so I could give combination [passes] to other forwards and the midfielders," McGrath explained. "When I did, they could play a through ball, or if I get the ball, it was sending a through ball to them — we worked well as a team."
Drury's Madison Saunders pushed the ball into Lee's end of the pitch and forced a corner kick 14 minutes into the second half. Elli Miles took the kick and delivered a pass that only McGrath could get a foot on, eking it past Lee goalie Maeve Finnegan, giving Drury a 2-1 lead.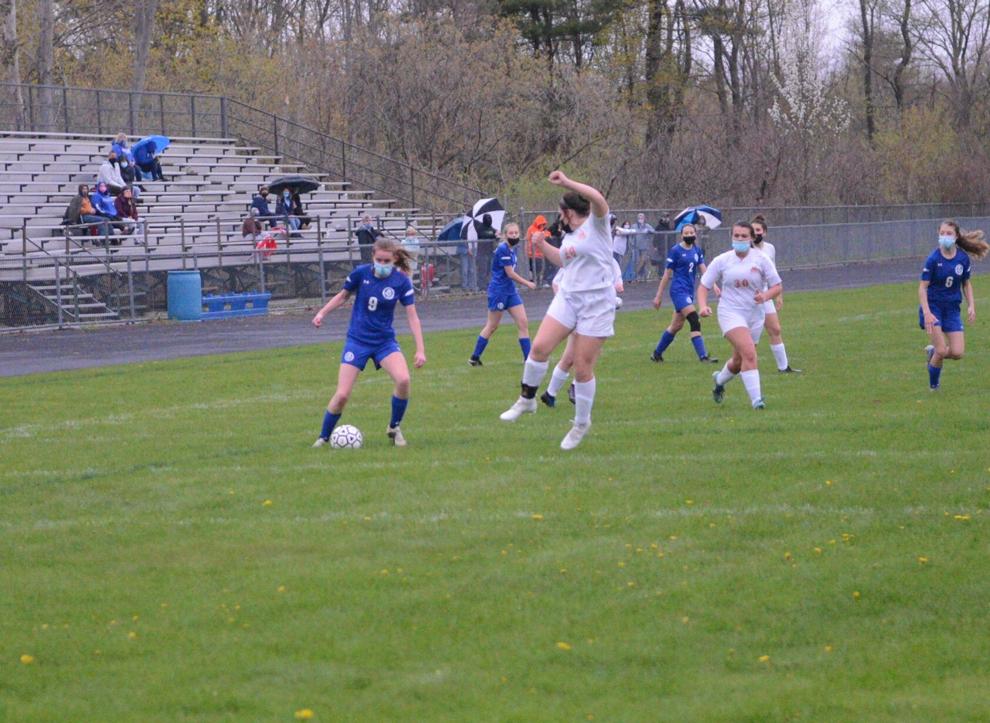 Roughly one minute passed before McGrath was at it again. Samantha Kogut delivered a through ball that created a one-on-one matchup with McGrath and Finnegan. Charging down the left side of the pitch, McGrath fired to the right corner of the goal, pushing the lead to 3-1.
The Blue Devils kept keeper Mackenzie Dobbert clean for the most of the night with strong defensive plays. The Wildcats pushed the tempo with 19 minutes remaining in the contest and Saunders jumped in front of a Lee shot that went out of bounds after a ricochet off her shin guard, allowing her teammates to reset on defense.
The eighth grader was rewarded for her efforts on the defensive end and Miles earned her second assist of the night with a dime to Saunders, scoring Drury's fourth goal of the day.
If competing in playoff matches on back-to-back nights wasn't enough adversity for Lee, there was transportation complications and the Wildcats didn't arrive to Drury High School until 5:10 p.m. — with the game slated to begin at 5.
The Wildcats received 10 minutes to warm up and the game was played at a faster pace with just one-minute mask breaks and a five-minute break at the half, down from the usual 10-minute recess.
Lee's offense stalled early on and didn't get a shot off until the 20-minute mark in the first half. The Wildcats were clicking offensively with two strong possessions in the following minutes, but Dobbert snuffed them out before Lee could attempt a shot.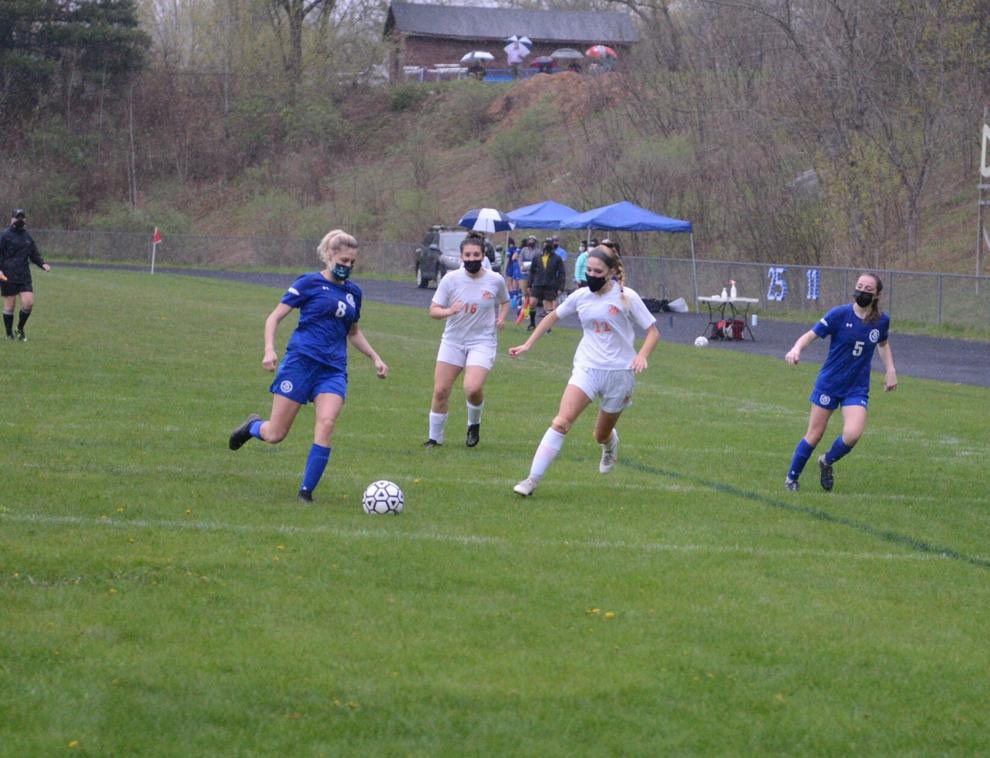 Simone, coming off a hat trick on Tuesday night, shimmied by defenders to create an open look, leading to her fourth goal in less than 24 hours with time dwindling down in the first half.
The Miles-to-McGrath connection appeared just once for Drury, but came close to striking twice. Miles took a corner kick in the 10th minute and sent a tall ball to the middle of the field. Heading the ball isn't allowed due to COVID-19 protocols, forcing McGrath to shoulder shimmy into the shot, which landed just left of the net.
"Elli and I have had really good corner [kicks] where they're perfect height to head," McGrath explained. "Since we can't, we've had to try to use different parts of your body and it can get pretty hard."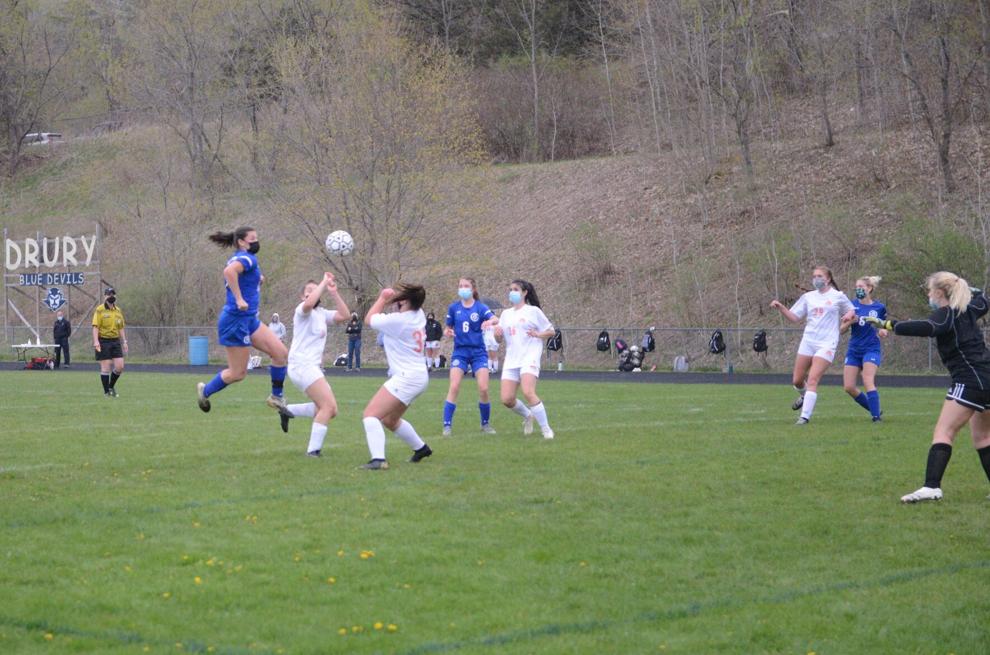 From snow storms to rain storms and adjustments to how games are played, the Fall II season has featured many transformations — including an inexperienced Drury squad morphing into championship contenders.
"At the beginning of the season we were a really young team and [early] we were working on making [the younger players] comfortable," McGrath said. "Throughout practice we push each other hard. Us juniors and seniors push the seventh and eighth graders so when it comes to playoffs, they're ready to compete at a high level. That is where we are at today."
The work on-and-off the field is apparent in the results, but one more challenge awaits the Blue Devils, who will host Hoosac Valley in the championship game on Friday.
"We're super excited, especially to play Hoosac," McGrath said. "We tied them earlier in the year and we know we can beat them.
"Come Friday, we're going to come out, play hard and do everything we can to beat them."
———
Lee 1 0 — 1
Drury 1 3 — 4
First Half
D — Kayla McGrath, 26:35.
L — Lena Simone, 2:00.
Second Half
D — McGrath (Elli Miles), 26:15.
D — McGrath (Samantha Kogut), 25:07.
D — Madison Saunders (Miles), 6:45.
Saves — L: Maeve Finnegan 7; Mackenzie Dobbert 4.