WRENTHAM — Making it to the MIAA All-State meet was a great source of pride among the seven Berkshire County teams and four individual student-athletes who qualified to run in the championship races on Saturday at the Wrentham Development Center.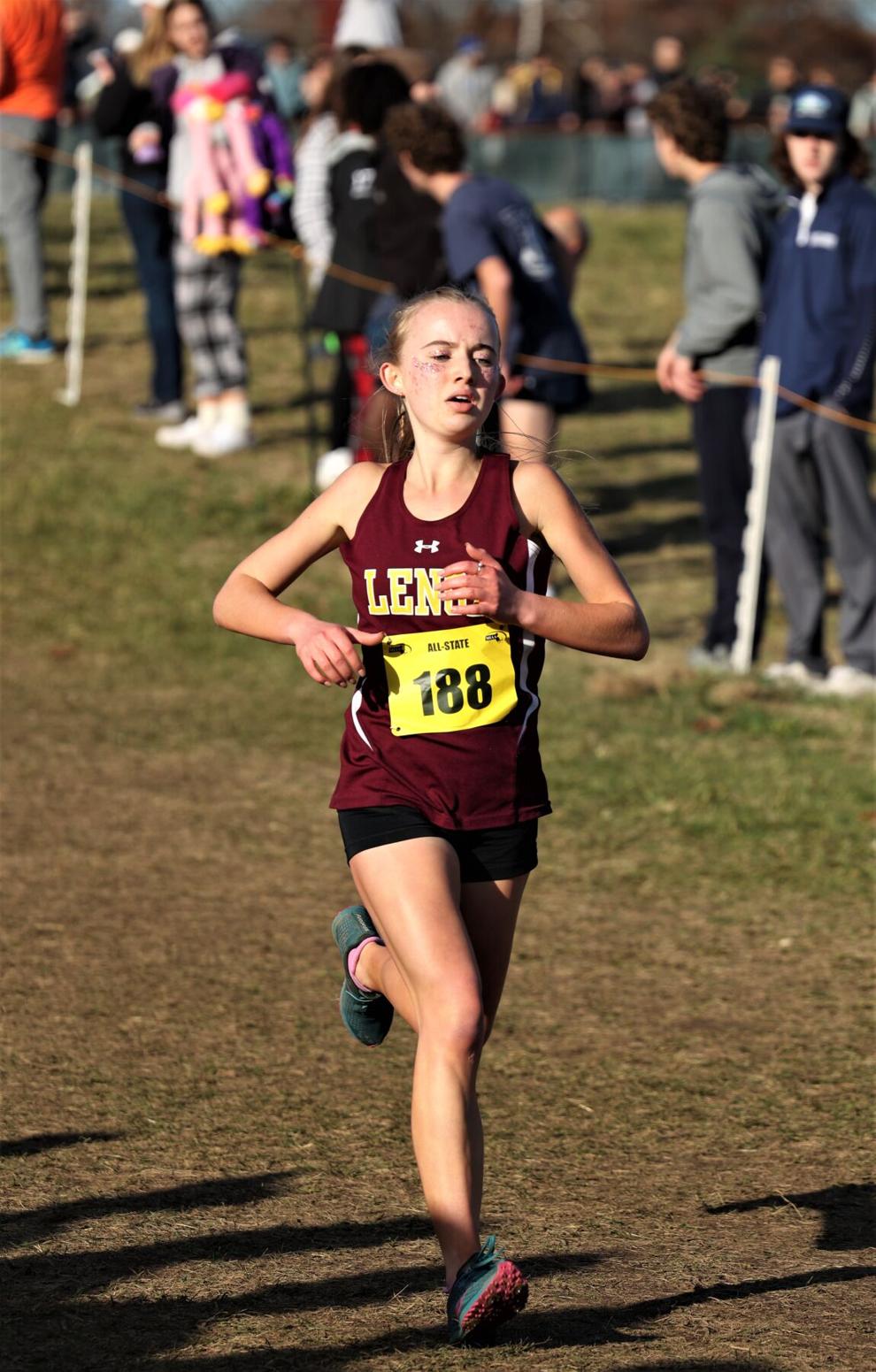 That was the pervasive vibe after all six waves were run, trophies were awarded and tents were being packed up after a long day of traveling — both by bus and by foot.
"Honestly, it was freezing this morning, but we got here and the sun came out. Weather was fantastic, can't ask for much for than that," said Monument Mountain senior Kiera O'Rourke. "It was perfect running with the sun out. Refreshing, a good day."
O'Rourke's teammate Maddie Mullen echoed the sentiment, "The energy here is so much fun. There's so much adrenaline. Everyone wants to be here. It's just really good."
Beyond the Mount Greylock girls and Lenox boys, it was the Lenox girls with the strongest showing on Saturday.
"I'm really proud of everyone, everyone ran their best possible race," said Lenox senior Grace Elliot. "It's crazy that we all got season PRs. I think we were really nervous this morning, and it was a long wait. We left the school at like 7:15 a.m., and had to wait like seven hours until our race, but we kept it together and were ready when it started."
Elliot placed sixth overall in the Division III state final, with teammate Alice Culver a second behind in seventh. That duo led the Millionaires to a fourth-place finish as a team. Elliot finished in 18 minutes, 55.1 seconds, with Culver, a sophomore, in 18:56.8.
From there, Lenox put eighth-grader Elyssa Scrimo in 44th, with sophomore Audrey Touloukian 52nd. Junior Jessie Scrimo gave the Millionaires five scoring runners inside the top 100 with a 99th-place finish, holding off a Hampshire runner by less than half-a-second.
"There was definitely a lot of nerves. There's been some unfortunate circumstances the past couple weeks, but I was really proud of the attitude everyone took this morning," said senior Julianne Harwood, who couldn't race due to a back injury. "They all came out ready to work their hardest, and it was so much fun to watch."
Elliot was the lone Lenox senior racing, as the program that won a state title in 2019 continues churning out high-quality runners.
"When we have the little seventh and eighth-graders, it's kind of our job to keep them under our wing," said Chloe Doyle, another sidelined senior. "That's where a lot of our speed comes from when they can come up and take over."
"We just stayed very organized, cohesive as a team," added Elliot, who herself missed both the county championships and last week's state qualifier. "When we were younger, running with the older athletes was what made it so fun. I hope we got to do that for our younger girls too."
Berkshire County sent four full rosters to the girls D-III state final, and after Elliot and Culver, it was Monument Mountain sophomore Madeleine Rocheleau-Holmes who was next across. She finished 30th in 20:19.5, and her senior leaders can't wait to see what she does next.
"She's amazing. That girl is a machine, and she has so much potential as only a sophomore. And she's got a great team here supporting her," said the Spartans' O'Rourke. "I'm so proud of all of them. I'm excited to see it, she's got a fantastic career ahead of her."
Monument was the final qualifying team in its heat at Stanley Park, and the Spartans didn't take the opportunity to run at Wrentham for granted.
"There's so much support from the whole team," said Mullen, another senior. "Everybody wants each other to succeed and I think that's a huge part of it."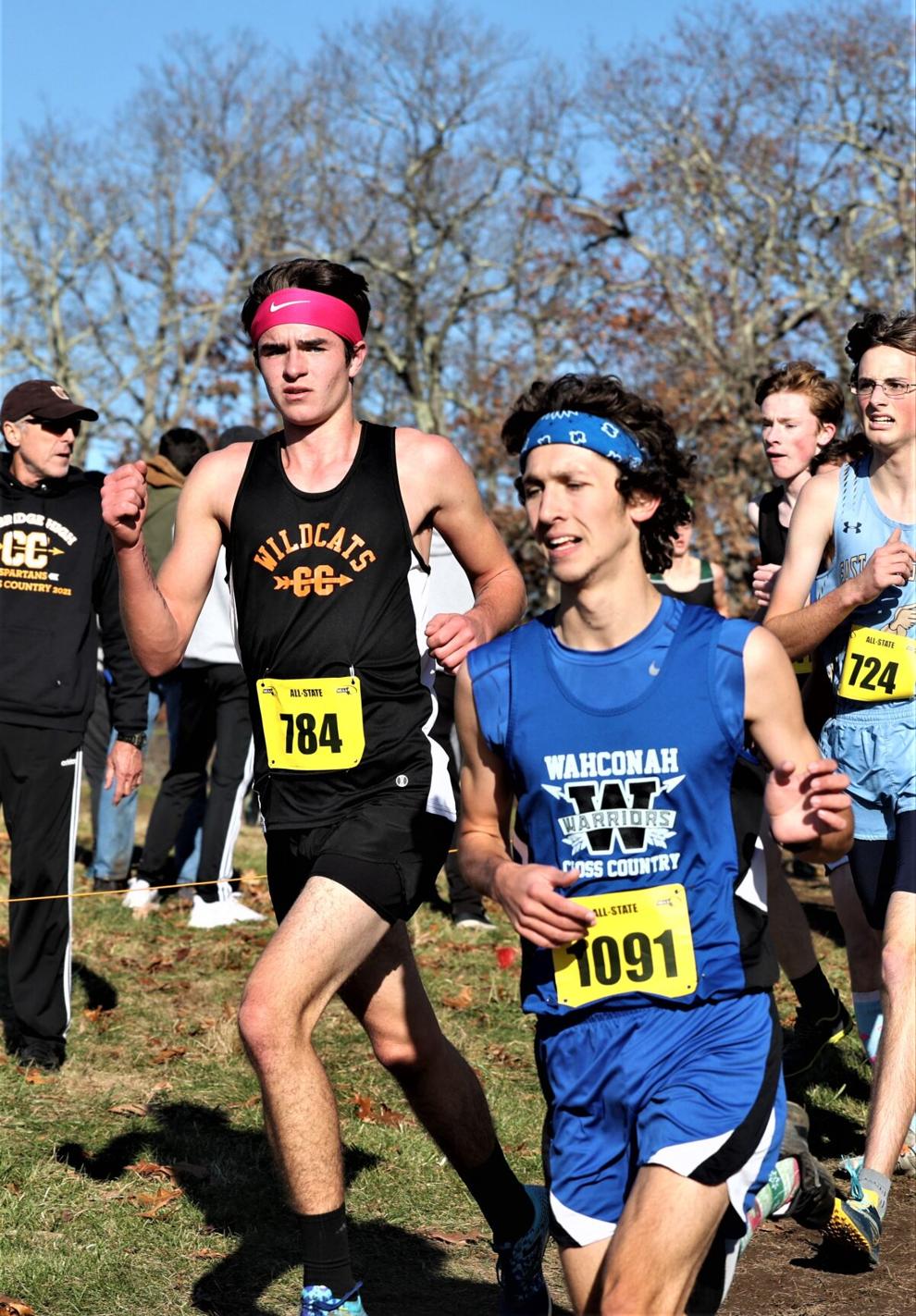 "There's a lot that goes into it," added O'Rourke. "It was crazy this year, coming off the COVID year. A huge team effort, for sure. Everyone pushing each other on the course. Maddie and I have been running together and encouraging each other since freshman year. That's all you can ask for. "
The Lee girls also returned to the state meet as a full team for the first time in 40 years, and in Year 1 of a new head coaching duo. That was the shift that stuck with senior Brianna Kelly.
"It's been a really fun season. My other years were fun, but this one was different. We got new coaches and were just such a family," said Kelly, who finished 101st to help the Wildcats to the No. 15 spot. "I bonded with everyone on the team and we all had so much fun, and improved so much."
Among those improving were sophomore Emily Holian and junior Anna Martin. Holian was the first in a Lee jersey to reach the finish line in 65th, with Martin 71st.
"We had to leave pretty early, like 8 a.m., but everyone was still excited, pumped up for the race," said Kelly. "Everyone was a little nervous, so I was trying to calm them all down a little bit. But once we got here and started running, like I told them, we do this every day."
On the boys side, in addition to Lenox's runner-up finish in D-III, both Wahconah and Mount Greylock submitted full varsity rosters to the meet. And when the initial results came in, the Warriors and Mounties were locked up at 387 points a piece.
Ezra Holzapfel in 36th and Andrew Petropulos in 52nd were the top two finishers in that matchup, both coming in for Mount Greylock in under 17:30. Wahconah landed the next four finishers, though, led by Riley Gladu in 67th. Greylock's Rafael Mellow-Bartels was 120th, beating Wahconah's Shaine Dowd Smith by .4 seconds. But Dowd-Smith was Wahconah's fifth scorer. Greylock's final two tallied 110 and 111 points each, evening up the score. However, Wahconah was more than ready with the tie-breakers. Cadighan Gladu finished 126th, and both he and Cooper Calvert beat Greylock's Nos. 4 and 5, leading to a win and sole possession of 15th for the Warriors.
Individually, there was a quartet of strong outings with Justin Levesque, Josh Perrier and Colby Sweet racing in D-III, and Pittsfield's Jack Archey competing in Division II.
Levesque, a Hoosac senior, had the best time of the group, placing 50th in 17:28. Monument's Sweet was 60th in 17:39. Perrier, a Lee senior was 94th in 18:05. Archey, another senior for the Generals, raced alone in D-II finishing in 17:43, which would have placed him 68th in D-III.
The Eagle's state championship cross-country coverage will feature three stories. The Mount Greylock girls championship and Lenox boys' runner-up finish appear in separate articles at BerkshireEagle.com/sports.
———
Berkshire Finishers
Girls
Lenox (4th place, 151 points) — 6. Grace Elliot 18:55, 7. Alice Culver 18:56, 44. Elyssa Scrimo 20:41, 52. Audrey Touloukian 20:54, 99. Jessie Scrimo 21:52, 137. Sydney Wilk 22:55, 167. Chloe Young 25:02.
Lee (15th, 384) — 65. Emily Holian 21:14, 71. Anna Martin 21:20, 101. Brianna Kelly 21:53, 104. Emma Ranzoni 21:56, 168. Raeanne Hickson 25:13, 174. Ava Lopez 26:02.
Monument Mountain (19th, 410) — 30. Madeleine Rocheleau-Holmes 20:19, 116. Rae Geddes 22:16, 122. Kaelin Havens 22:31, 132. Evie Grossman 22:48, 143. Zadie Laska 22:59, 185. Kiera O'Rourke 24:56, 172. Maddie Mullen 25:39.
Boys
Wahconah (15th, 387) — 67. Riley Gladu 17:43, 88. Lucas Wildrick 18:02, 106. Aidan Garcia 18:15, 111. Fritz Sanders 18:23, 18:23, 121. Shaine Dowd Smith 18:34, 126. Cadighan Gladu 18:38, 136. Cooper Calvert 18:56.
Mount Greylock (16th, 387) — 36. Ezra Holzapfel 17:15, 52. Andrew Petropulos 17:30, 120. Rafael Mellow-Bartels 18:33, 137. Vincent Welch 18:56, 138. Parker Winters 18:57, 151. Ezekiel Singer 19:08, 155. Ryan Ketin 19:12.
Individuals — 50. Justin Levesque (HV) 17:28, 60. Colby Sweet (MM) 17:39, 94. Josh Perrier (Lee) 18:05.
Division II — 113. Jack Archey (PHS) 17:43.