The goal was simple, get a few runs in on a reasonably sunny Wednesday afternoon.
I opted for Bousquet to try and get one more use of my season pass, before I was out of commission following the birth of my wife and I's first baby. It's also less than 15 minutes from the house, so worst-case scenario I get the contractions phone call while riding the blue chair up and bomb down Beeline right to the parking lot to floor-it home.
But, I arrived to an empty parking lot and no lift movement. Bousquet was closed up for the day in a mad dash to get the new triple chair up and running before school vacation just over 48 hours away.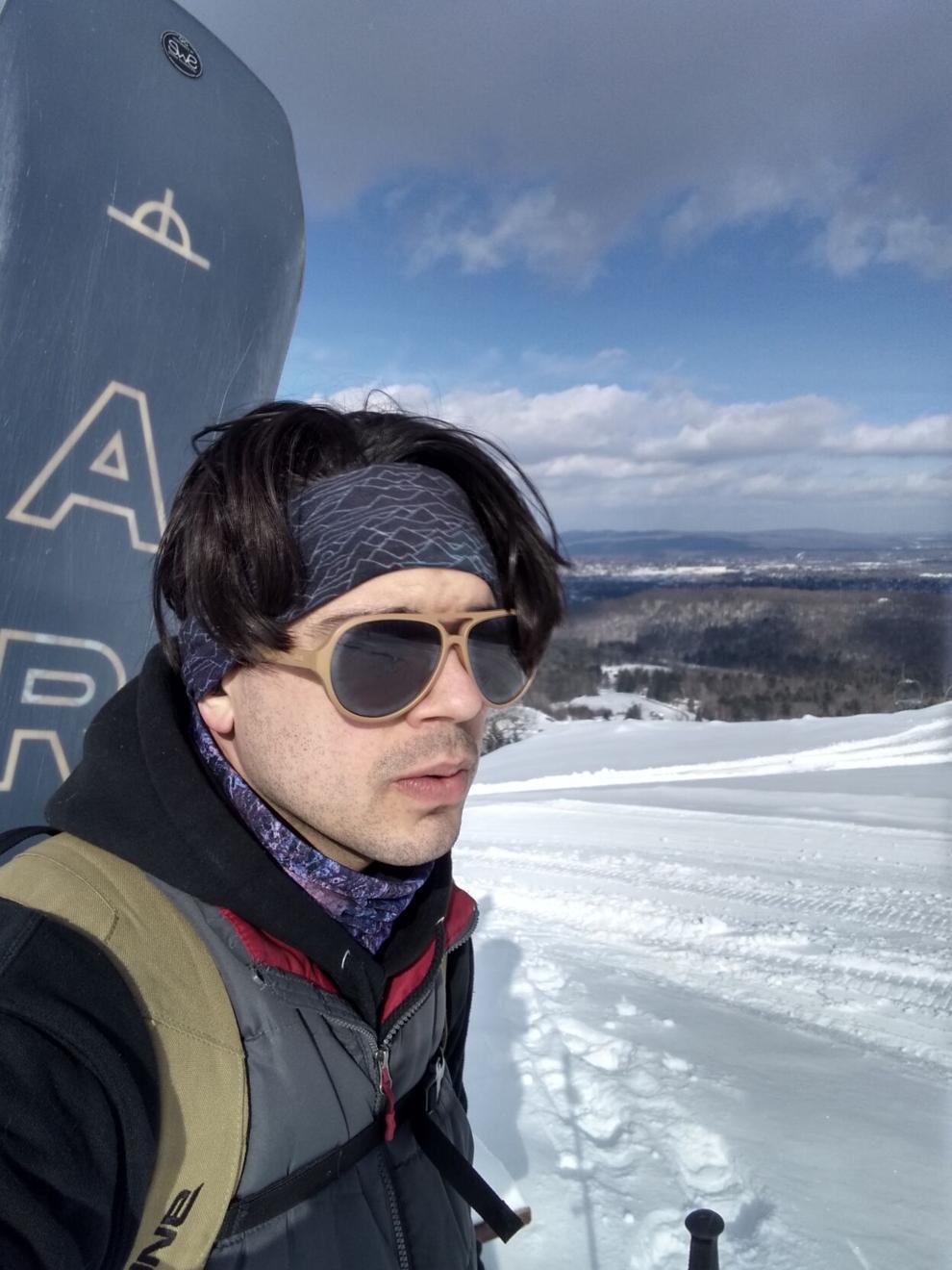 A las, that allowed for another usage of everyone's favorite 'P' word during the pandemic — pandemic is incidentally everyone's least favorite word.
I pivoted.
Back in the parking lot, out came the snowshoes and backpack. I had my board strapped up to my back and was looking over the trail map within a few minutes. With Baby Holmes due mid-February, this was my Thunderbolt.
To my surprise, I wasn't alone. A much-cooler looking dude with a big, bushy beard was laying some skins on a snazzy-looking split-board. While I took off up the Mahanna Cobble route toward Drifter, he opted for the straightforward approach up the stage-right side of Beeline. We saw each other again briefly at the intersection of Easy Rider, and exchanged a quick "Wow, what a day. Nobody's touched this? Nobody but us," when we breached the summit.
I didn't see him again, because by the time I strapped into my board and ripped up the untouched powder to the base, I didn't waste any time. A quick text to the mother-to-be to be sure we were still in the clear, and I was ascending again, chasing that rush and hungry for more self-propelled shredding.
I'm still entirely a novice when it comes to backcountry skiing and riding, but was glued to last week's Natural Selection Tour. It's obvious to any of us first-chair lift junkies that there's been a boon of late in the uphill category. Especially while we're still in the midst of that other 'P' word.
"Increase in popularity is an understatement," Jonathan Shefftz told me recently. "For years at Berkshire East, it was just me and a few friends. Then we had to institute a formal policy, because all these people were showing up who we didn't know. Then this year, especially before Greylock was skiable, it was spectacular how many people were there. Same with Wachusett."
Shefftz is director for the New England Rando Race Series, currently in it's somewhat abbreviated, somewhat limited 13th season. The Amherst resident raced in school when Amherst College had NCAA-sanctioned alpine, before coaching a bit at Harvard. Over the last 20 years, though, he's gotten into more cross-country and backcountry skiing, and is now a member of the ski patrol at Mount Greylock and Northfield Mountain.
He started the NE Rando Race Series in 2008-09, and they've managed to get in six races this winter, with two more on the horizon, in addition to this coming weekend's Thunderbolt at Greylock. The Thunderbolt is held in cooperation with the Thunderbolt Ski Runners and Thunderbolt Ski Patrol groups as well.
"It certainly has dampened participation," Shefftz said of the COVID-19 season, "but realistically having fewer people makes everything easier to do. So far we've had two races at Berkshire East on the weekends, and four weeknights, and we're looking good for Greylock.
"We have about 16 patrollers who have already been vaccinated for COVID, they qualify under the state's first responder rollout. I've sent out packs of KN95 respirator-grade masks to all of them, and I'll start marking the course [Monday]."
Work for this season, and the 'bolt in particular, 0began long before late-February, though.
"In mid-January I was out there with a chainsaw, cutting through deadfall," he said. "It was getting into a dangerous situation where it was partially covered with snow and ice, kind of a lurking tip-of-the-iceberg situation."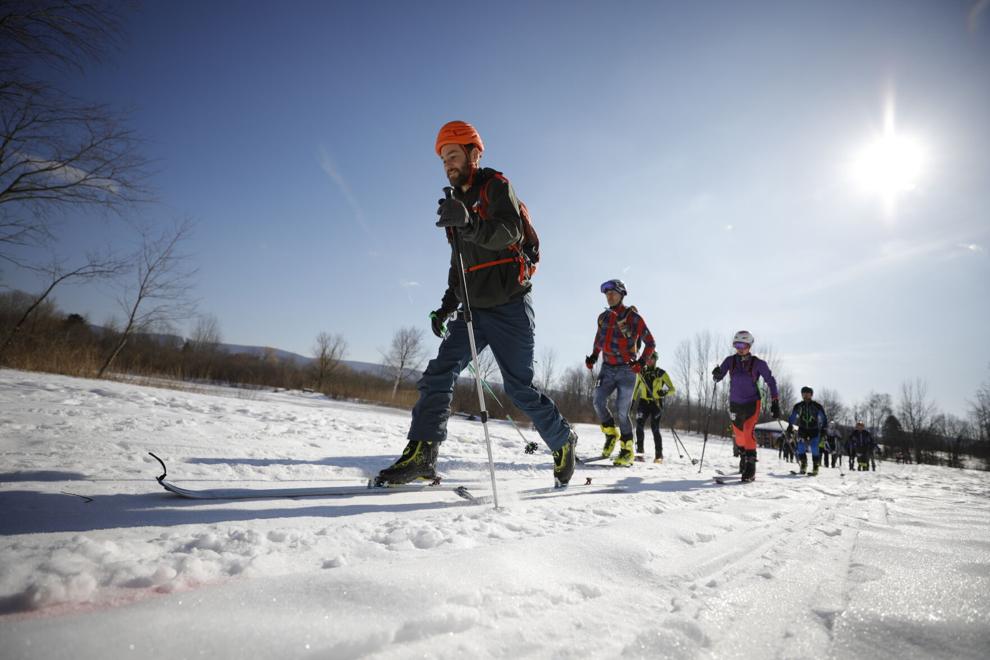 Shefftz has seen the rise in ski-mountaineering bubble through the 2010s. It triggered on the east coast at Magic Mountain, which was the first spot to institute a formal uphill policy. But, stuck in western Massachusetts, Shefftz and his buddies set their sights on Berkshire East.
"Berkshire East was a bit of a harder sell," he said. "I approached [Berkshire East owner] Roy Schaefer, and he was certainly reluctant. It took a lot of work to convince him. But, now that the next generation is in charge, they're really into uphilling. [CEO] Jon Schaefer has been a big supporter and a great ally to have."
The Thunderbolt is slated for Feb. 27 with a 9:30 a.m. start time. Registration, mapping and full information is available at NERandoRace.blogspot.com. Trails will still be open to the public, hikers are just asked to follow the green blazes marking the uphill course, which will minimize interaction between the downhill racers and keep everyone safe. Aside from the 'bolt, the NE Rando Race Series has one more Thursday night competition scheduled at Berkshire East on March 4, and then a final USSMA-sanctioned race on March 13, which may also be at Greylock.
While the course looks solid with plenty of snowpack, Shefftz wasn't willing to predict any numbers for racers or results. He says he, personally, has a "Draconian enforcement of Massachusetts cross-state travel restrictions." Which has been frustrating because while Greylock may be 15 miles from Vermont or New York, and 150 miles from Boston, out-of-staters are subject to to a different set of rules.
"People from Boston are allowed to come, even though that's more than 2 hours away, and a major metro area with higher infection rates, whereas people from Connecticut, New York, Vermont and New Hampshire are close to Greylock, and mostly in lower-population areas," he said. "People go through a lot of hoops to do these races, whether they're also willing to go get a COVID test in order to race — or not race — is up to them."