LENOX — Remember those old airline commercials where a bad day somewhere beats a good day almost anywhere else?
Like a catchy Olivia Rodrigo lyric, that line stuck in my head Saturday morning as I lugged my paddleboard down a short path to the Woods Bridge Boat Launch on the Housatonic River.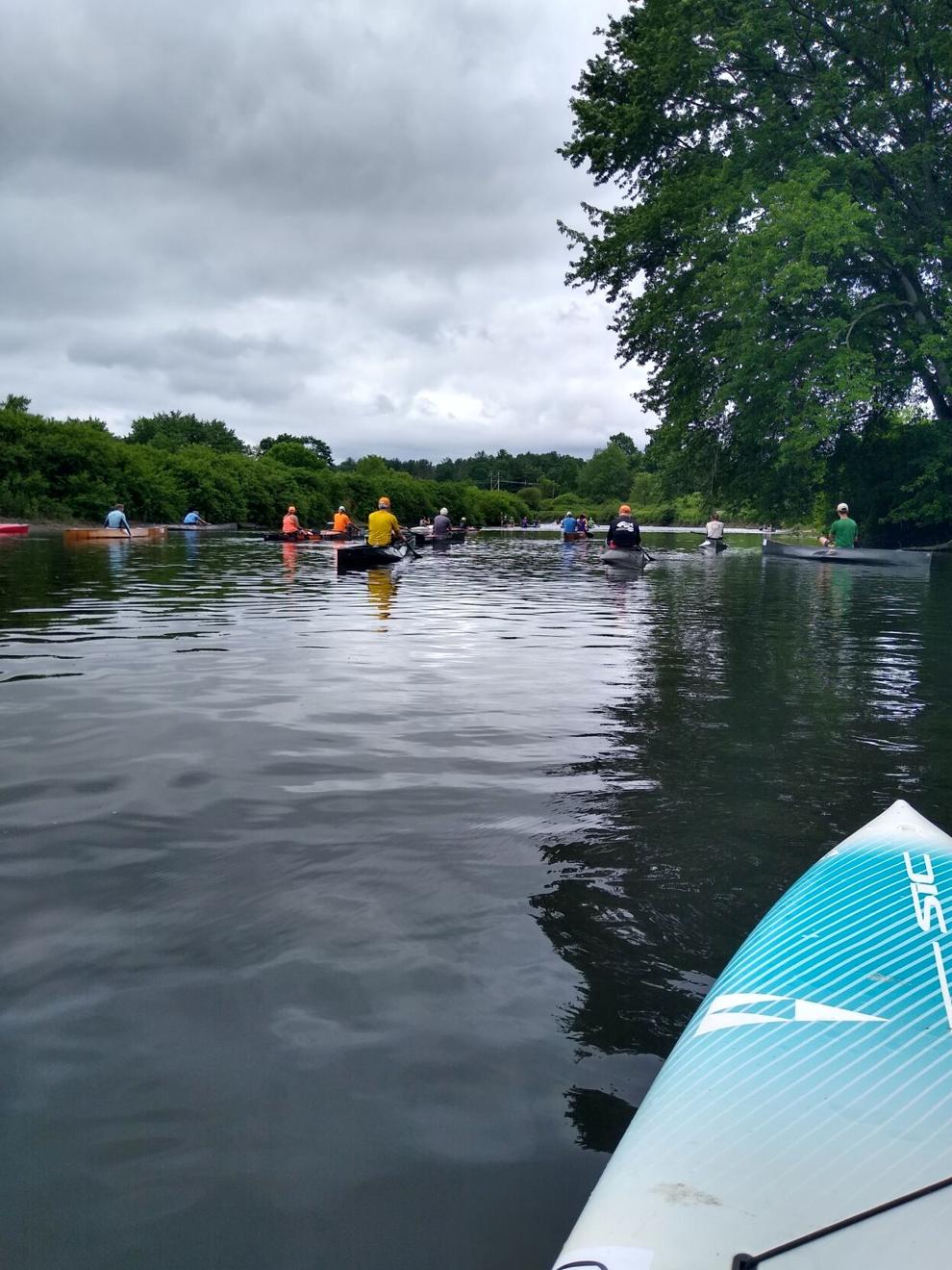 Since our son was born in February, and my wife went back to work teaching in April, some of my days have gotten a little stale. We work second shift in the sports department, so from 7 a.m. to 4 p.m. I'm on baby duty, and then I'm on the clock until midnight. Exacerbated obviously by the past year-plus of pandemic-altered life, it's been hard not to feel like a bit of a shut-in. With a newborn and working from home, there are full multi-day stretches over the past month in which the only words I've heard myself say are in baby speak asking if someone needs a clean diaper.
Needless to say, fitness took a backseat and competition, well after a year of virtual races and endless postponements, competition was in the trunk.
Until Saturday, when I got the chance for the first time to drop my SIC Sonic — purchased before the rush at the outset of COVID-19 last spring at Arcadian Shop — and compete with other paddlers in a real, live, timed race.
The Wild Goose Chase was hosted by Josh Billings race director Patty Spector, and had 36 entrants, yours truly included. The majority of the participants were in kayaks, surfskis and canoes taking part in the 8.2-mile course down the Housatonic and back to the launch. I, being the lone SUP and in the midst of infant-hindered training, opted for the five-mile recreational course.
It was my first time piloting my board in a race and my first time on a river, which meant contending with shallow water, downed trees, sharp bends and some rather persistent horseflies. But, I loved it. The adrenaline was pumping as hard as my stroke on the straightaways. There was sun, scenery and sweat, who could ask for anything more? To the rest of Berkshire County's SUP racers, I'm coming for ya... as soon as I warm this bottle up and perfect my peek-a-boo.
Naturally, I brought up the rear, but it mattered little. There was someone in front of me to chase — when I could keep up with Patty enough to see her boat. There was a goal. There were brats and beers at the finish line, yes, but we're here because the Wild Goose Chase was a welcome back to adult in-person competition in the Berkshires.
Of course the race week coincided with an email from Shiobbean Lemme with a press release from Berkshire Running Center detailing their upcoming race slate. The release is in response to Governor Baker lifting pandemic restrictions, and they will be the first local, in-person road races since March of 2020.
The Glen Meadows 5/10/15K is June 27 at the Greylock Glen loop, then they'll host a Firecracker 5K on the 4th of July in Dalton — the city of Pittsfield canceled the parade and regular Independence Day 5K. There's the Greylock Road Race on Sept. 5 for those masochistic enough to want to run up the road to Mount Greylock for eight miles. I suppose it could serve as a good hard run two weeks before the Josh Billings RunAground Triathlon returns on Sept. 19.
Finally, the Steel Rail Races will mercifully return on Oct. 3. I've already signed up for the half marathon, because a day spent exercising and competing beats a good day almost anywhere else.
———
Wild Goose Chase Results
ICF Kayak and Surfski — 1. Greg Lesher 1:08:36; 2. Bill Ross 1:14:00; 3. Kurt Kuehnel 1:17:15; 4. Ken Ostrowski 1:18:44; 5. Chris Weaver 1:22:00; 6. Wes Denering 1:22:13; 7. Dave Grainger 1:22:16; 8. Ed Dvorchek 1:24:38.
Men C2 — 1. Kevin Boss/Andy Holt 1:14:42; 2. Adam Gelinas/Jack Morse 1:14:51; 3. Dell Cummings/Ted Kenyon 1:16:05; 4. David Vandorpe/Nick Lyesiuk 1:22:37; 5. Tim Allen/Bob Allen 1:23:48.
C2 Mixed — 1. Dave Dugas/Karen Pleasant 1:22:38; 2. Dave Peterson/Suling Nettlau 1:36:16.
C2 Women — 1. Pam Fitzgerald/Vicki Cummings 1:23:04.
Non-ICF Kayak — 1. Andrea Goodman 1:29:08; 2. Christopher Duguay 1:34:28; 3. Lara Denmark 1:45:28.
C1 — 1. Stephen Miller 1:18:36; 2. Michael Fairchild 1:21:43; 3. Dylan Kirk 1:24:03; 4. Michael Melnikov 1:25:02; 5. Paul Dyka 1:28:28; 6. John Casale 1:31:37
Recreational — 1. Kurt Stample 1:03:36; 2. Patty Spector 1:07:00; 3. Mike Walsh (SUP) 1:08:49.