The University of Massachusetts men's basketball team is basically going from zero to 60 this week.
The Minutemen, who had two weeks off due to COVID-19 issues away from the program, but on the Amherst campus, have just returned to practice and will quickly go off to play a pair of road games that could help determine if the Minutemen get a double-bye in the upcoming Atlantic 10 Conference Tournament.
"There's a big sense of urgency," guard Carl Pierre said. "These next two games mean a lot. They're very important."
UMass will travel to Virginia for a Tuesday night game against Richmond. Tip-off is set for 6 p.m., and the game will be live-streamed on ESPN+. Coach Matt McCall's team will conclude its regular season with a game Monday at Saint Louis. Richmond was the preseason pick to win the A-10, and Saint Louis was second.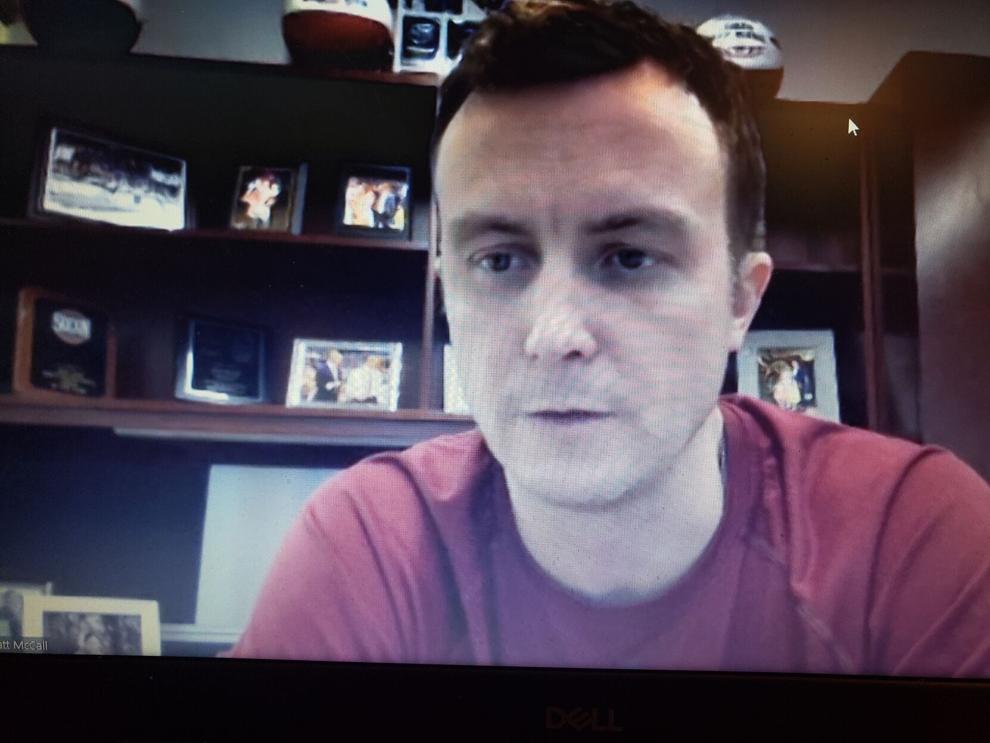 "This is great," McCall said Monday. "We're paying two of the best teams in our league. The focus is [practice] today and Richmond tomorrow, going down there and playing inspired and playing really, really hard."
The Minutemen won't be going to Virginia shorthanded. When asked during a mid-afternoon Zoom call with reporters, McCall did not commit to center Tre Mitchell and point guard Noah Fernandes starting or playing a ton of minutes against either Richmond or Saint Louis. But the fourth-year coach did say that he was leaning toward having both in uniform and available.
"It's kind of hard for me to give you a complete update, considering that we've had essentially one day of full five-on-five practice, and we did have everybody in there," McCall said. "Today will essentially be our second day of competitive practice. As of right now, everybody's doing well. We'll see how everyone responds, and hopefully have a full lineup ready to go [Tuesday]."
"The only one not available would obviously be Dibaji [Walker]."
Walker announced during UMass' February pause that he was going to have surgery to relieve an injury to his right wrist, an injury that had been plaguing him all season.
Going into the week, St. Bonaventure and VCU are tied for the A-10 conference lead with 9-3 records. UMass is third at 6-2, while Davidson is fourth at 6-3. Richmond is 5-3 and in fifth place.
Saint Louis is seventh at 4-3, but the Billikens played only one game between Dec. 20 and Jan. 26.
The Minutemen are 6-2 but have gone 5-1 in their last six conference games. Of course, that also includes five games that will not be made up. Two of those games, against Dayton and St. Bonaventure were to be played at the Mullins Center.
Because of how the COVID-19 pandemic has wreaked havoc with conference schedules, the A-10 adjusted how it would seed the tournament. According to the conference release: "Teams above 60 percent of the median number of conference games played by all 14 teams will be seeded by conference winning percentage. Teams below that 60 percent threshold will be seeded using the NCAA NET ranking, relative to all A-10 teams. Additionally, teams below the 60 percent threshold will not be eligible for the regular season title."
If UMass wins its final two games and the teams ahead of it lose theirs, UMass will have played 60 percent of its conference games and could earn a double-bye to the A-10 tournament.
"The only way that happens is if we focus on today and getting better today," he said. "This is not going to be easy, especially tomorrow. You look at what we did down there last year. We were down 26 at the half. Obviously they had fans and the place was going bonkers. Their style of play is not easy to play against. They've got veteran players. They're a much older basketball team than we are.
"We've got to go down there and play really well to have a chance to win that game."
It was a 95-71 win for Richmond last year in the Commonwealth of Virginia. In that game, all five Spiders starters scored in double figures.
Richmond, coached by Chris Mooney, runs a version of the Princeton offense. It's like going against a triple-option football team that a team doesn't see that much, or like a non-ACC team trying to dissect the Syracuse zone defense.
The Spiders have five players averaging in double figures. Guard Blake Francis is tops at 16.4 points per game, followed by 6-foot-10 forward Grant Golden at 13.2. Jacob Gilyard, a 5-9 point guard who was one of the preseason favorites for A-10 Player of the Year, makes the Spider offense go.
Pierre and graduate student Mark Gasperini are the lone upperclassmen among the scholarship members of the UMass team. Of the 12 scholarship athletes on the roster, nine of them are either freshmen, redshirt freshmen or sophomores. That's a far cry from Richmond's lineup that has four graduate transfers, three seniors and three juniors.
"We're just trying to take things day by day," Pierre said, when asked about keeping this young UMass team on the right path. "We've been in these situations before. We're just trying to focus on the task at hand right now."
The Minutemen will return home after the Richmond game before heading out to Saint Louis for the game, which had originally been scheduled for Sunday. The game will be played a week from Monday at 6 p.m., on CBSSN. UMass will go right from Saint Louis to Richmond for COVID testing. The tourney begins on March 3 and will run through the semifinal round on March 6. Those games will be either in Richmond's Robins Center or VCU's Siegel Center.
The A-10 will then take a week off and play the championship game on March 13, in Dayton. The gap is there in case games need to be postponed.
Whatever happens in the next week, UMass knows it has a formidable task ahead of it.
"Obviously, we're not in a position to get an at-large bid" to the NCAA Division I tournament, McCall said. "The goal going forward is to make sure that we are in a position to get that, but we're not. We're going to have to go down and win three games in three days, four games in four days."