PITTSFIELD — There is no particular date or game that Mitch Scace is most looking forward to in his first season as head coach of Pittsfield High boys basketball.
It's every day.
"Honestly, just looking forward to every day, being in the gym with these kids working toward our goals," Scace said on Sunday after coaching in the Wahconah Hoop Jam over the weekend. "It's a matter of every day, getting better and building from the ground up."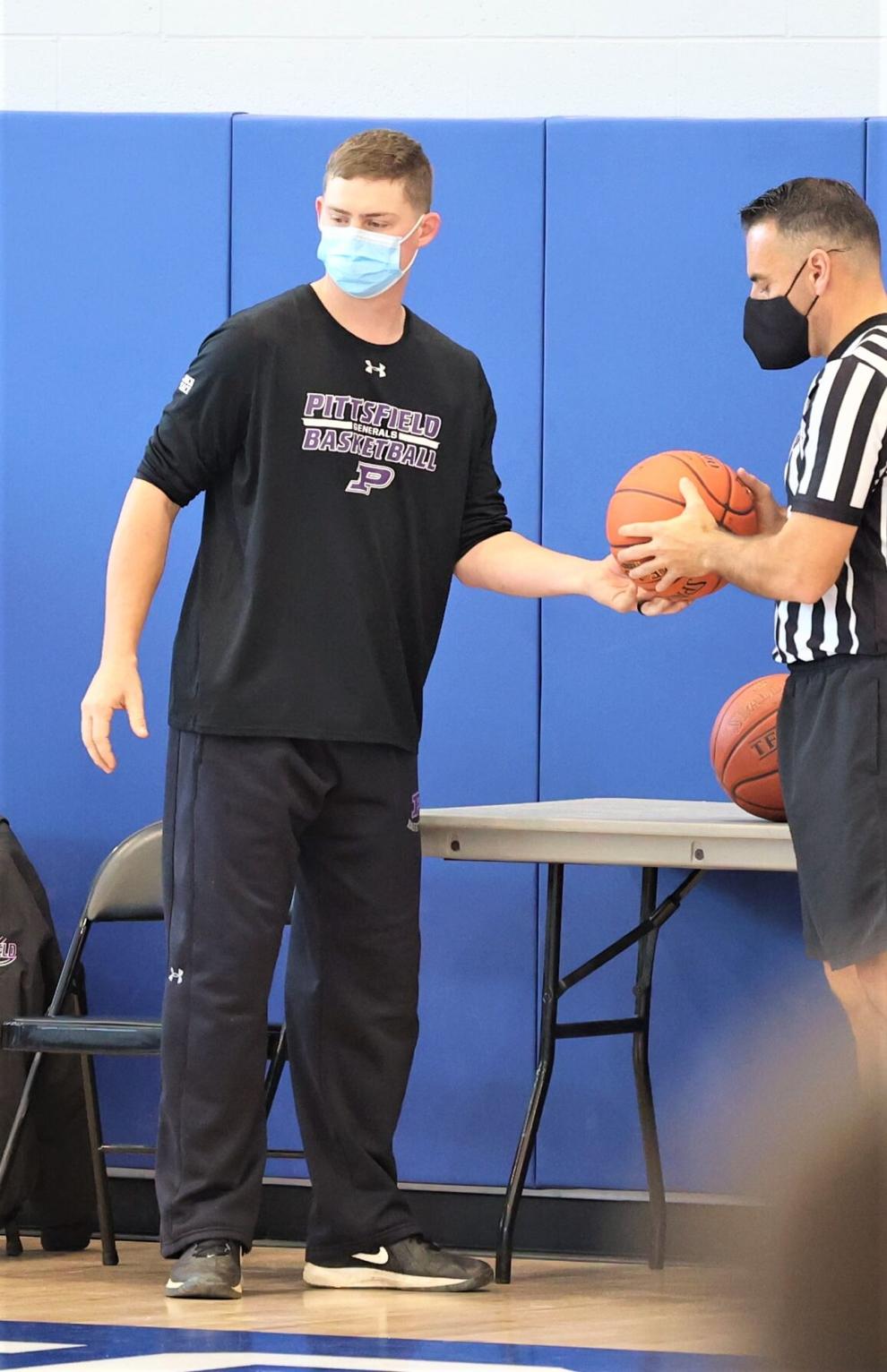 Scace spent the last couple seasons on the staff at PHS under former head coach Brandon Mauer, and only found out he would be the program's new varsity leader not long ago. However, that hasn't stopped Scace and his staff from hitting the ground running.
"It was pretty recent that I found out," he said. "It's something I always wanted to do, and I owe it all to Brandon. He invited me onto his staff and talked to me this summer about it. I always wanted the opportunity, and I couldn't be happier with the guys on my staff."
The Generals are coming off a few lean years in terms of postseason success. PHS was 7-13 two years ago and missed the Western Massachusetts tournament. A year prior, Pittsfield was 13-7, but lost in the first round of the Division II bracket to Longmeadow by 13 points. In three full seasons under Mauer, the team was 29-31 and lost its lone postseason game. During the pandemic-abbreviated season last winter, the Generals were 2-6.
"Honestly, we felt we had the talent and capability to [get into the playoffs]," said Scace. "Some things just didn't go our way, whether it was injuries or guys missing some games.
"If we can get these guys to share the basketball and care about each other, we feel it can become infectious."
Scace will have some continuity on the staff with him, as longtime assistant coach Bob Shade returns, along with junior varsity coach Matt Capeless, who has been with the program for four years. The bench will also feature a pair of big names from their playing days in Keiland Cross and Lavante Wiggins.
On the floor, Pittsfield will be led by senior captain Toby Gaulden-Wheeler, a multi-year returning starter on the wing who averaged 9.13 points per game last winter. Per Scace, "He's a kid who has always shown up and played hard. The kids follow him well."
Outside of Wheeler, there will be a lot of new faces on the varsity court after last year's handful of games served as the swan song for 10 seniors. Wheeler, classmate Carmello Southard and now junior big man Carter Mungin were the lone non-seniors on last season's roster.
Scace said he wants the team to mirror some of what he brought in his playing days as a scrappy, mentally tough athlete. He wants to see energy and enthusiasm every day when he steps foot in the gym on East Street. That's what he said he liked from what he witnessed on Saturday at Wahconah.
Pittsfield looked very much in rhythm as a varsity unit, taking on three perennial powers in Hoosac Valley, Taconic and Wahconah in a series of 20-minute scrimmages. The Hurricanes were the County's top team during last season's hodgepodge of games, while Taconic has won 10 straight against its cross-town rival.
Speaking of the city rivalry, Scace is actually a Taconic alumnus, where he played varsity ball under current head coach Bill Heaphy, before suiting up a few seasons at MCLA.
"Mitch was a great player for me; All-Berkshire, All-Western Mass. He averaged probably around 18 points per game and did a bit of everything," Heaphy said of Scace, who served as a senior captain for Taconic in 2008-09. "He's well-suited for that job, and I have nothing but good things to say about him."
The matchup between Pittsfield high schools will take on a slightly different form in 2021-22, as the county has broken up into the Pioneer Valley Athletic Conference. Pittsfield and Taconic are now members of the Suburban North, where they will still play one another twice, but won't see as many Berkshire teams beyond that. West Springfield, Minnechaug and Agawam make up the rest of the Suburban North, while the Suburban South features Amherst, Pope Francis, East Longmeadow, Westfield and Chicopee Comp.
"That's going to be quite an interesting dynamic," Scace said about matchup up against his former coach. "It's going to be a good battle between us for sure."
Those PHS-Taconic games are scheduled for Jan. 11 and Jan. 31. Pittsfield opens its regular season on Saturday as part of the Pioneer Valley Tip-Off at 4 p.m. at the Mullins Center in Amherst against Chicopee.