GREAT BARRINGTON — Baystate Academy head coach Dion Byrd Sr. warned his team not to celebrate during a couple unstoppable stretches of basketball early on Monday night.
The Bulldogs heeded that advice and were thus able to withstand some thrilling counterpunches by Monument Mountain in a 79-69 road win in Bi-County East play.
Photos: Monument Mountain boys basketball hosts Baystate Academy
On Monday night in Great Barrington, Baystate beat Monument 79-69.
To view a full gallery or purchase photos from this game, click here.
Baystate used a 12-0 run in the first quarter to take a 10-point lead into the first break. Then, the Bulldogs scored the first six points of the second quarter and went on a 16-5 run to take a commanding 35-14 advantage.
Tyreeq Evans (20 points) hit on back-to-back 3-pointers to highlight that streak, answering an and-one by Monument's Kyle Wellenkamp (23 points) with six straight to demoralize the hosts.
Coach Randy Koldy's Spartans, however, found their footing. Specifically, the area behind the 3-point arc. Wellenkamp's triple around the 4-minute mark of the second was Monument's first made 3-ball of the night, and it cut the deficit back to 18.
"They were pretty comfortable in the beginning. They looked really comfortable running their offense," said Koldys.
Wellenkamp hit another off a feed from Devon Hanavan and it was 39-27. The Monument junior had 12 of his team-high 23 points in that second quarter.
Senior Caden Gidarakos (14 points) drained a deep 3-pointer at the halftime buzzer and the Bulldogs' lead had shrunk to a more manageable 47-35 gap.
(tncms-inline)1485776481351614465[0](/tncms-inline)
Baystate did keep throwing up roadblocks on the path to a comeback by the Spartans. The teams traded buckets for a stretch, and when Travis Jordan knocked home a 3-pointer in the middle of the third quarter, it was 55-45.
The Spartans kept grinding. Gidarakos hit a baseline jumper, and then Kenzel Chandler-Ellerbee found Khalil Carlson (18 points) in transition to draw Monument within six and force a Baystate timeout with 2:55 on the third-quarter clock.
What may have been the Spartans' golden momentum opportunity, got mucked up, though. The two teams that combined to score 54 points in the second quarter, went 2 minutes completely scoreless, before Jordan sank a pair of foul shots in the final minute. Chandler-Ellerbee did get the last laugh of the frame, finding Wellenkamp on a nice cut to make the score 59-52.
He also made the first play of the fourth quarter, doling out another kick assist to Hanavan for a 3-pointer that put the deficit at four. A series of turnovers followed, but Monument could only keep Jordan off the board for so long.
Jordan finished with a game-high 35 points. He hit a jumper with 7 minutes left, and the Spartans fell cold again. A trio of consecutive missed 3-pointers led to four more Baystate points, with Jordan hitting the rack in transition for the 65-55 advantage with 5:30 remaining.
(tncms-inline)1485775010484600838[1](/tncms-inline)
Wellenkamp got a 3-pointer to go to make it 65-60 before the midway point, but Jordan answered with a trey of his own at 3:43, and then a euro-step layup not long after and the lead was back in double digits.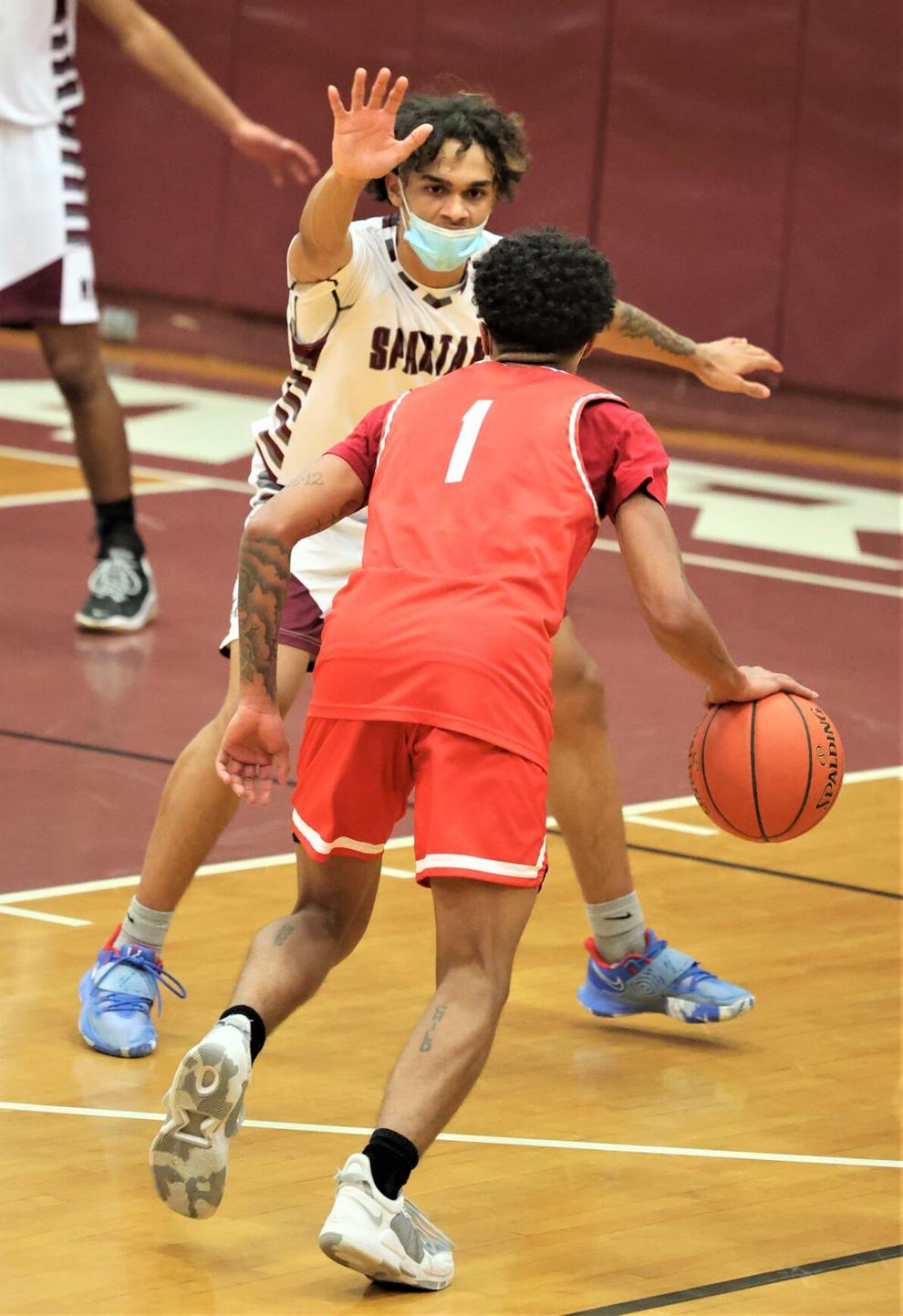 A Gidarakos triple with 15 seconds left brought Monument within seven, but that was as close as the Spartans could get.
Monument had a four-game win streak snapped, dropping to 5-3 overall and 3-3 in the division. Baystate is 5-2 and 4-1.
———
BAYSTATE (79)
Jordan 13-5-35, Deangleo 1-0-2, Roman 0-0-0, Christie 5-0-11, Byrd Jr. 1-1-3, Evans 7-3-20, Casey 0-0-0, Mayfield 1-1-3, McCrimmon 2-1-5. Totals 30-11-79.
MONUMENT MOUNTAIN (69)
Chandler-Ellerbee 2-2-6, Kronenberg 0-0-0, Gidarakos 5-1-14, Buffoni 0-0-0, Hanavan 1-2-5, Carlson 8-2-18, Wellenkamp 8-4-23, McElroy 1-0-3, Arienti 0-0-0. Totals 25-11-69.
Baystate 19 28 12 20 — 79
Monument 9 26 17 17 — 69
3-pointers — B 8 (Jordan 4, Evans 3, Christie); MM 8 (Gidarakos 3, Wellenkamp 3, Hanavan, McElroy).