SHEFFIELD — It's been a work in progress since new head coach Parker Snyder took over the Mount Everett volleyball program.
On Saturday afternoon, the Eagles put some of that forward movement on display. Mount Everett dispatched visiting Mount Anthony with a 3-0 sweep, sending the Patriots off on a long bus ride north to Vermont with an astounding 25-1 victory in the third set.
Photos: Mount Everett volleyball vs. Mount Anthony
Mount Everett defeated Mount Anthony 3-0 at home in Sheffield on Saturday.
To view or purchase photos from this gallery, click here.
"I looked over and remember asking, 'did they only rotate once?'" said Snyder after the match. "I couldn't believe it. It's awesome. I'm very proud of these girls. I went to Mount Everett and played here, so it's awesome to take over, give back and be here."
The Eagles won the opener 25-17 and only got better as the match went on. The second set was a 25-13 victory, and then the Patriots were granted one point on a missed serve by Mount Everett in the third and that was all the visitors could manage.
"We've been waiting for it. Last night was our fourth game that's gone to five sets. So we really were waiting on this win today. Our first win," said Snyder. "They deserved it. They've been working hard, and they finally played like a team today."
The dominant string probably started more in the middle of the second set, when Mount Anthony closed an early gap to within 10-8 on an errant Eagles hit. The next point returned service to Mount Everett and senior captain Nadia Makuc.
Makuc broke off a pair of aces and served the hosts through a MAU timeout and out to a 19-8 lead.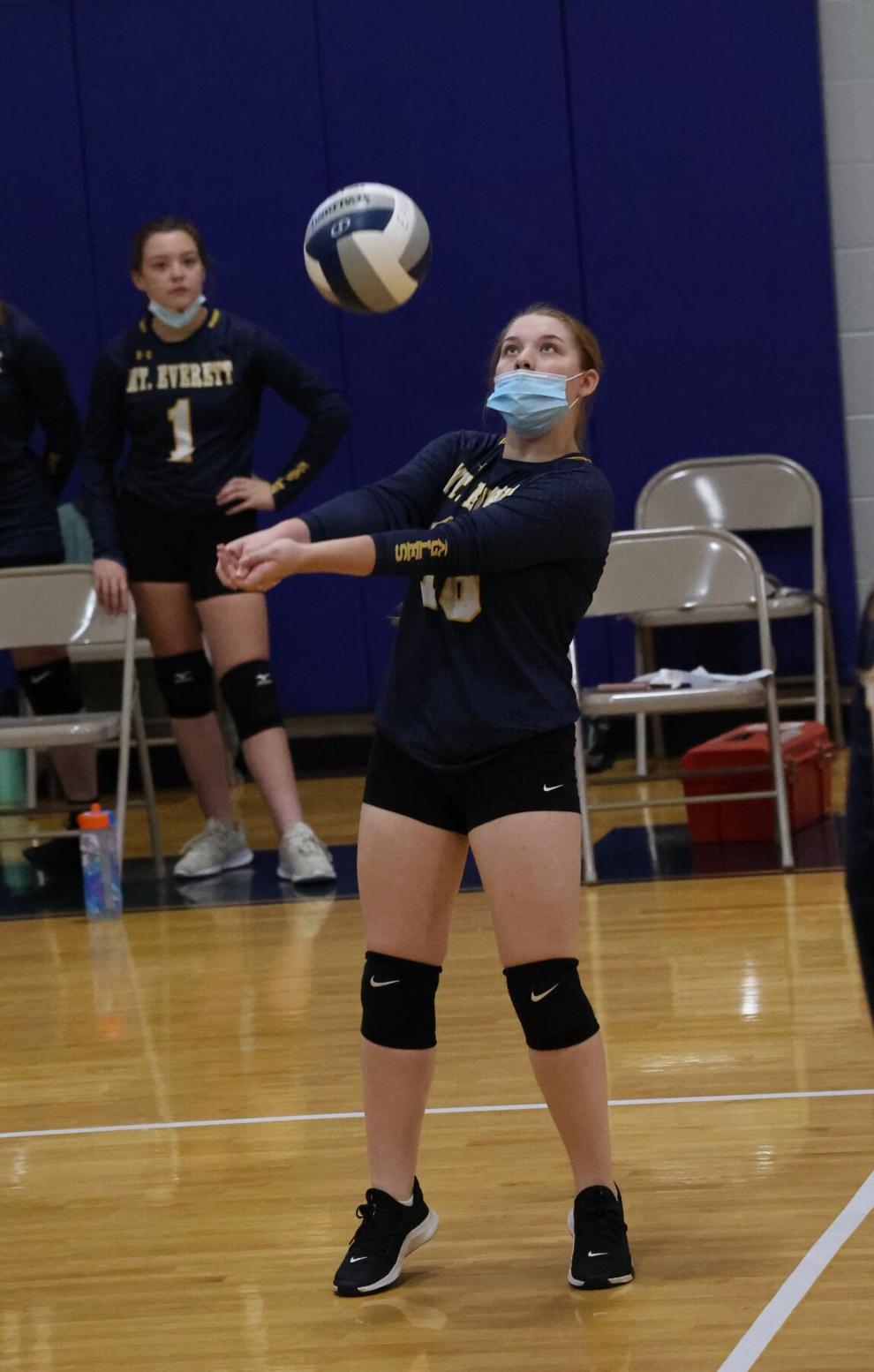 "We've had a lot of games go to five sets, and we've lost them," said Makuc. "We've had a lot of practice. It was a tough start to the season, but we haven't given up and I think this is a testament to that. We prepared for the moment when we could take off and get our win. That's all we were thinking about."
Shira Sawyer scored on a block and then served an ace to make it 21-9 and the Eagles made quick work of the rest. From that 10-8 lead through the match point, Mount Everett outscored its opponent 40-2.
During the stretch, it wasn't just the serves all landing in play. The Eagles were a wall defensively, constantly filling holes and coming up with clean digs and passes out to the perimeter.
(tncms-inline)1441886136050364416[0](/tncms-inline)
Another senior, Alexis Atwood had the steady serve that granted Snyder's crew the ability to get on a roll in the third. Atwood opened the final set with an ace and had two more while her team leapt to an 8-0 lead before surrendering a point.
Serve returned immediately to the Eagles, and Sawyer didn't relinquish it for the next 16 points. Mount Everett was firing on all cylinders, as the other senior captain Caroline Haiss got her sets calibrated with freshman hitter Kelly Krom and the Patriots were powerless to stop it.
"It was crazy. I don't think any of us would've believed that. We were saying, in one of their timeouts, how we really felt like a team," said Makuc. "It was awesome, a great feeling."
Krom had five of her team-high nine kills in the third set. Sawyer finished with six aces in the match to go with three kills and two blocks. Makuc and Atwood had five aces each, and Haiss added three more. Krom had one as well, giving the Eagles 20 aces on the day. Haiss had 15 assists.
Mount Anthony led 5-2 in the first set, but a Krom kill tied the game up and back-to-back aces by Haiss made it 7-5 Mount Everett. MAU never led again. The Patriots did get a kill from Skye Colvin to draw within 21-17, but Atwood responded by setting up Sawyer for a kill. Makuc served up an ace to make it 24-17 and the Eagles were off to the races.