WILLIAMSTOWN — The Mounties were in command for most of Wednesday night but every great game needs a bit of a twist.
The Mount Greylock boys basketball team led by 11 after three quarters, before Tim Besaw and the Wildcats decided to cause some havoc.
Besaw's golden ball from deep in the game's closing seconds completed Lee's comeback and forced overtime. The Mounties, however, never let go of the rope and countered the comeback with a strong OT performance, pulling away for a 50-44 victory.
Mount Greylock boys basketball hosts Lee
"It was a good, hard-fought game," Greylock coach Bob Thistle said. "A lot of things we wish we could do over, but the bottom line is they outplayed us in the fourth quarter."
Wednesday marked Lee's second game in the new year but the Wildcats (1-5) looked battle-tested in the fourth quarter. Despite the frame beginning with a double-digit deficit, Lee was ready to play spoiler.
Alejandro Smith led the charge with 18 points on the night and started the quarter with a layup before four straight points by Evan Trombley made it a five-point game. Smith created a turnover and finished at the rim to make it a three-point game with less than a minute remaining.
A stout possession from Lee's defense had Smith running down the court with the clock dwindling under 15 seconds. He drove into the paint and took two defenders with him, opening a clear line for Besaw's 3-pointer.
"They played physical, good defense and we didn't run our stuff effectively," Thistle said. "This was a gut check — it wasn't how we drew it up, but so what?
"Now you're in overtime and you have to find a way... our kids found a way."
The Mounties (7-3) were out of answers in the fourth with just three points in the frame. However, in overtime, a handful of players seemed to have found their study guides. Chase Doyle hit a pair of free throws with the game tied at 40, before Adam Sandifer's steal-and-score pushed Mount Greylock to a four-point advantage. Sandifer matched Smith with 18 points, scoring eight of Greylock's 15 first-quarter points, and brought down five rebounds. Doyle closed with 16 points and nine rebounds.
Jackson Shelsy stole the ball with just 100 seconds left in overtime and Max McAlister knocked down a pair at the stripe. Suddenly, it was a six-point ball game. Shelsy scored just twice on the night but was vital to Greylock's success on offense with six assists.
The free throws, and McAlister dropping a dime to Sandifer for two points, gave Greylock all it needed to secure its seventh win in eight games. Despite the success, a 67-42 loss to Hoosac on Monday and a 64-35 loss to Drury right before a six-game winning streak, is where Thistle has learned the most about his Mounties.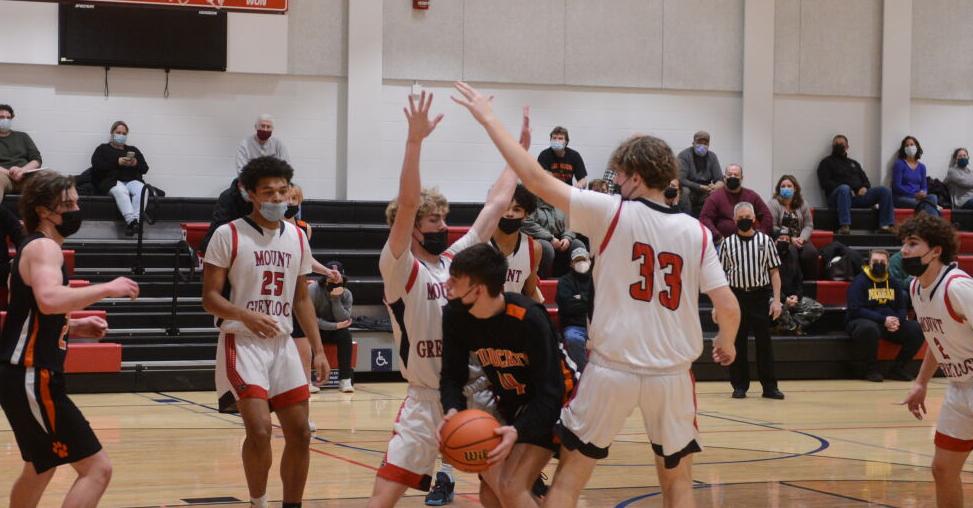 "I think you learn the most when you take a tough loss to Hoosac, a good team that came in and pushed us around," Thistle said. "Drury is another good team that pushed us around. These kids went into the gym and decided they were going to work hard."
Additionally, the needle is pointing up for a pack of Wildcats that fell to Greylock 47-30 on Dec. 17. Smith's 18 points were the most scored by a Lee hooper this season. Meanwhile, Dylan Ely added eight points and five rebounds.
Each team is off until next Tuesday. The Wildcats will host Athol, while the Mounties travel to Franklin Tech.
———
Lee 6 11 7 14 6 — 44
Greylock 15 9 11 3 12 — 50
LEE (44)
Ely 3-0-8, Trombley 2-2-6, Clarke 1-1-3, Smith 8-1-18, Cooper 0-2-2, O'Brien 0-0-0, Besaw 2-0-5, Perrier 1-0-2. Totals 17-6-44.
MOUNT GREYLOCK (50)
Robinson 1-0-2, McAlister 1-4-7, Doyle 6-3-16, Shelsy 2-0-4, Barnes 0-1-1, Art 0-0-0, Cobb 0-0-0, Sandifer 9-0-18, T. Martin 0-0-0, J. Martin 1-0-2. Totals 20-8-50.
3-pointers — L 4 (Ely 2, Smith, Besaw); MG 2 (McAlister, Doyle).