WRENTHAM — Mount Greylock freshman Vera de Jong had already run a full cross-country race, finishing 49th overall as the Mounties' final scoring athlete. But, she had a bit more running to do.
In the time since senior Kate Swann crossed the finish line in third place, and the final team results were tabulated at the Wrentham Development Center on Saturday, the Mounties had somewhat scattered to greet friends and family who were taking in the MIAA All-State meet. When head coach Hilary Green got official word, de Jong and teammate Grace Malone were the only ones still mulling around the finishing corral.
Photos: Mount Greylock girls cross-country wins MIAA D-III State Championship
On Saturday in Wrentham, the Mount Greylock girls cross-country team won the MIAA Division III state championship. The Mounties held off Weston 97-100 behind a third-place finish by senior Kate Swann.
Lenox, Monument Mountain and Lee also qualified full teams to run in the D-III meet.
To view a full gallery or purchase photos from the meet, click here.
So, the two underclassmen bolted. After all, that's what state champion cross-country runners do best.
"I was mid-sentence talking to my cousins who came out, and someone grabbed me and was just, 'Kate, we won!' And I ...," that's when Kate Swann let out another of her great many screams. "We all went crazy, it was so fun. We've been working toward this all season."
Swann was third overall in 18 minutes, 32.5 seconds, as Mount Greylock captured its first state title since 2017, when Swann and Josie Smith — the Mounties' two seniors — were eighth graders.
"We all finished and just were looking around like, 'I don't know if we did it,'" said Smith, who rejoined the team this fall after a couple seasons away. "Then we were all kind of walking back and one of our teammates ran up and goes, 'Guys, we won!' and we all just went crazy."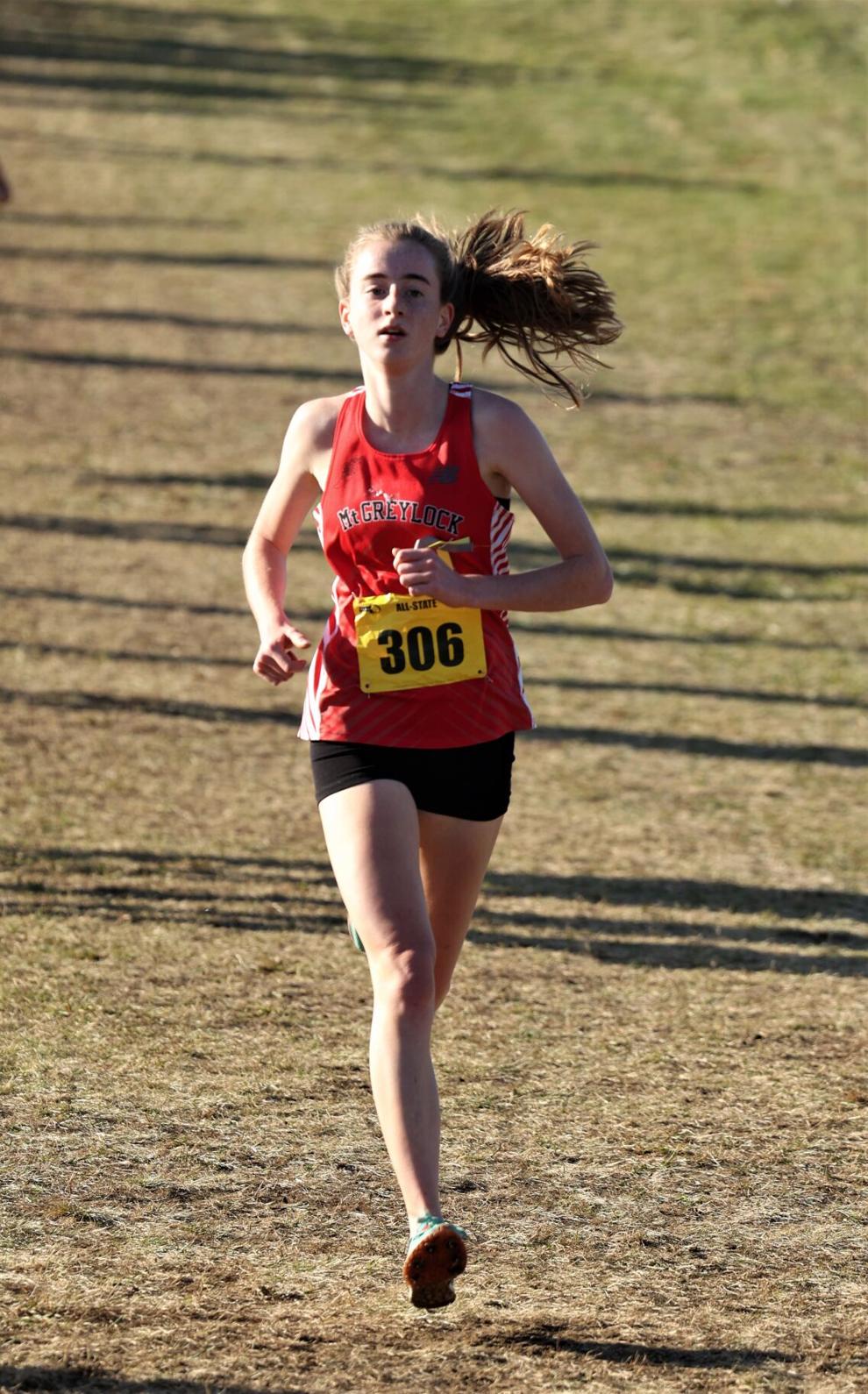 That 2017 title came on the same course in Wrentham, but coach Hilary Green was an assistant with longtime program leader Larry Bell, who retired that following spring. In the years since, Greylock has knocked at the door, but come up just short with a pair of runner-up finishes at All-States. The Mounties were second to Littleton in 2018 and Lenox in 2019, before COVID-19 wiped out last fall.
"I met with Kate over the summer," said Green. "I remember we were having a really nice chat, and she was just like 'I want to win states' and that was even before I knew we had Josie back.
"I know we have a very gifted group and they are certainly capable of a lot. We said at the beginning of the season, if we can stay healthy and really make it so that all of your training builds — because the last couple of seasons we failed a bit at that… So we knew if we could put that perfect pyramid together of reaching our apex here, we could do it."
The pyramid's structure was highlighted by Swann at the top, but was built upon the foundation of five Mounties inside the top 50. Malone, a sophomore, was 15th overall (scoring 13 points) with a time of 19:47, earning an individual medal with Swann. Junior Ainsley Abel finished 29th (22 points) in 20:16, Smith was 34th (25 points) in 20:30 and de Jong crossed 49th (35 points) in 20:47. Greylock also had sophomore Erin Keating in 80th (21:29) and junior Annie Art in 92nd (21:45).
Individual qualifiers not tied to a team did not factor into team scoring. Runner-up Madelyn Germain of Norfolk Agricultural was one of those runners, meaning Swann's third-place finish was good for two points, behind champion Shae Regan of Littleton. Regan won the D-III title in 17:47.4.
"She fought hard," Green said of Swann. "She went out and after the first half-mile or so was leading and was a little bit stunned by it. I think it was adrenaline, it felt comfortable, but really they were going fast. Once she settled in, I was so impressed with how she fought back. She told me when she finished that she knew she needed to get every single point, and really every one of them did."
When the points shook out, Greylock had a nail-bitingly close margin. The Mounties held off Weston 97-100, with Lunenburg third with 147, and county rival Lenox fourth with 151.
"I knew I needed to get out fast, because it was going to get tight," said Swann, who started hot but faded to fifth after the second mile. "So I went and happened to be in the lead and felt fine. Then Shae and the other girl started picking up their pace. I tried to hang, but couldn't. When [Lenox's] Grace Elliott and [Narragansett's] Kylie Marion passed me, I just thought, OK, I know I need to get at least one of them. That's the goal, trying to close the gap.
"Then, half-mile mark again I just went for it. I passed both of them and tried to hold the gap as best I could. Wasn't trying to out-sprint anyone today, that wasn't going to go in my favor. I just knew I needed to do it for my team, I need to get these girls, and that was the motivation, dig deep for everyone."
The idea of personal responsibility was a big one for the Mounties on Saturday, as each girl went out with a goal in mind of picking up as many places as they could.
"We've all worked so hard this season, and last week we had a really good race as a team, so we were really confident coming in," said Swann, who was 69th at Wrentham in 2017. "Today, we all worked hard, we were all thinking about it as we were racing, trying to pick people off. Everyone was so strong and everyone did so amazing."
For Smith, it had been a while since racing at this level after she wasn't active during last week's state qualifiers in Westfield.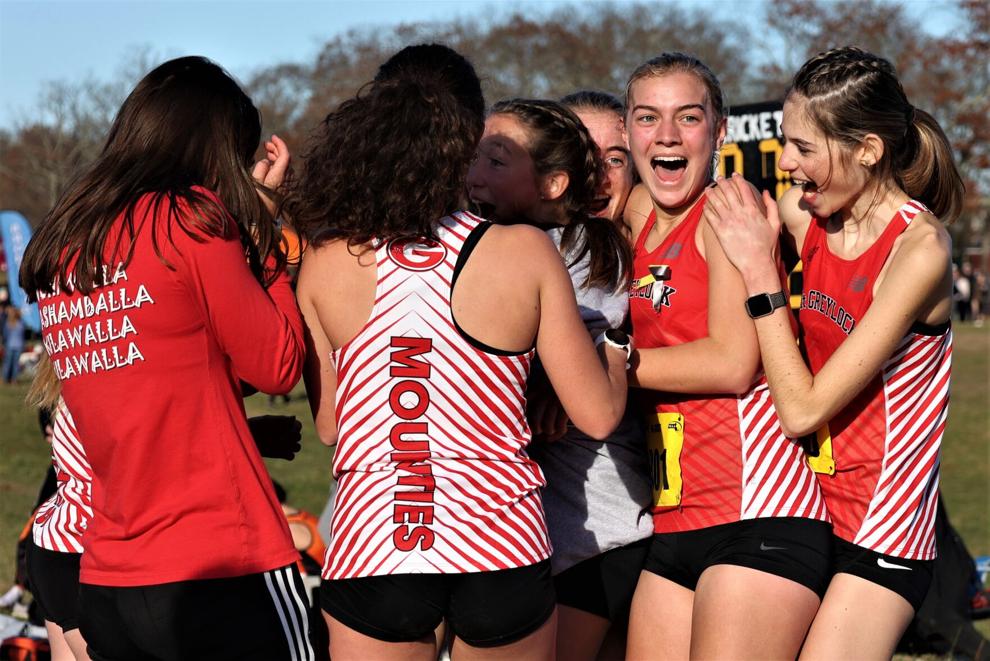 "I was definitely nervous, having not really had that experience with the big race from last week. But I knew I needed to go out and keep picking people off, because every place counted," said the senior. "There was a spot on the hill where our coach was and she said I needed to pick up five more places, so that put some grit in. We all did it, put in the work we needed to to get us here."
Green was offering similar advice to each of her competitors both pre-race and as they came across her along Wrentham's open route.
"It's just a big meet," said Green. "There's going to be a lot of people around you, the race is going to be crowded and every point is going to count.
"Vera is our ninth-grader, our youngest, and she wound up being our No. 5, and I told her mid-race, 'Vera, you need to get five more people, and she just did it. It was definitely a team effort."
And a team effort deserved a team celebration.
"In the end, it's a little difficult. Waiting for results is the hardest part," said Abel, who was there in 2017 but didn't compete. "While waiting I just wanted to be with my teammates, feel the support and support everyone. I was told by a teammate unofficially, but I wanted to see it on paper. When the official came over and congratulated us, it was just a moment of so many emotions. Happy tears of joy just flooding."
Those tears came around 3 p.m. on the other end of Massachusetts on a day that started for the Mounties early in the morning in Williamstown. Greylock — whose boys team also qualified — spent first part of the day wrapped in sleeping bags on a bus with the windows down for ventilation safety, driving over two-and-a-half hours to Wrentham to run in the final race of a six-wave day. But, the Greylock girls had been waiting since August to arrive at the state starting line.
"It was definitely an end goal. We wanted to peak here, in November," said Abel. "We always thought it was a possibility, but to be here and to make it happen is amazing. It's definitely a long day, just getting here and getting focused. Just talking to each other, talking through strategy, getting ready and then going out and running hard and having fun. That's what it was all about."
The Eagle's state championship cross-country coverage will feature three stories. The Lenox boys' runner-up finish and a wrap-up of the other five teams and individual qualifiers competing Saturday in Wrentham will appear separately on Sunday at BerkshireEagle.com/sports.