DALTON — The competition between Wahconah and Mount Greylock Nordic teams on Saturday was almost secondary, an afterthought to the competition against the elements and a pandemic that had kept winter sports in Berkshire County on ice for nearly two months.
"It's just great to be out here skiing. That's what it's all about," said Greylock senior Michael Faulkner. "We just want to have fun."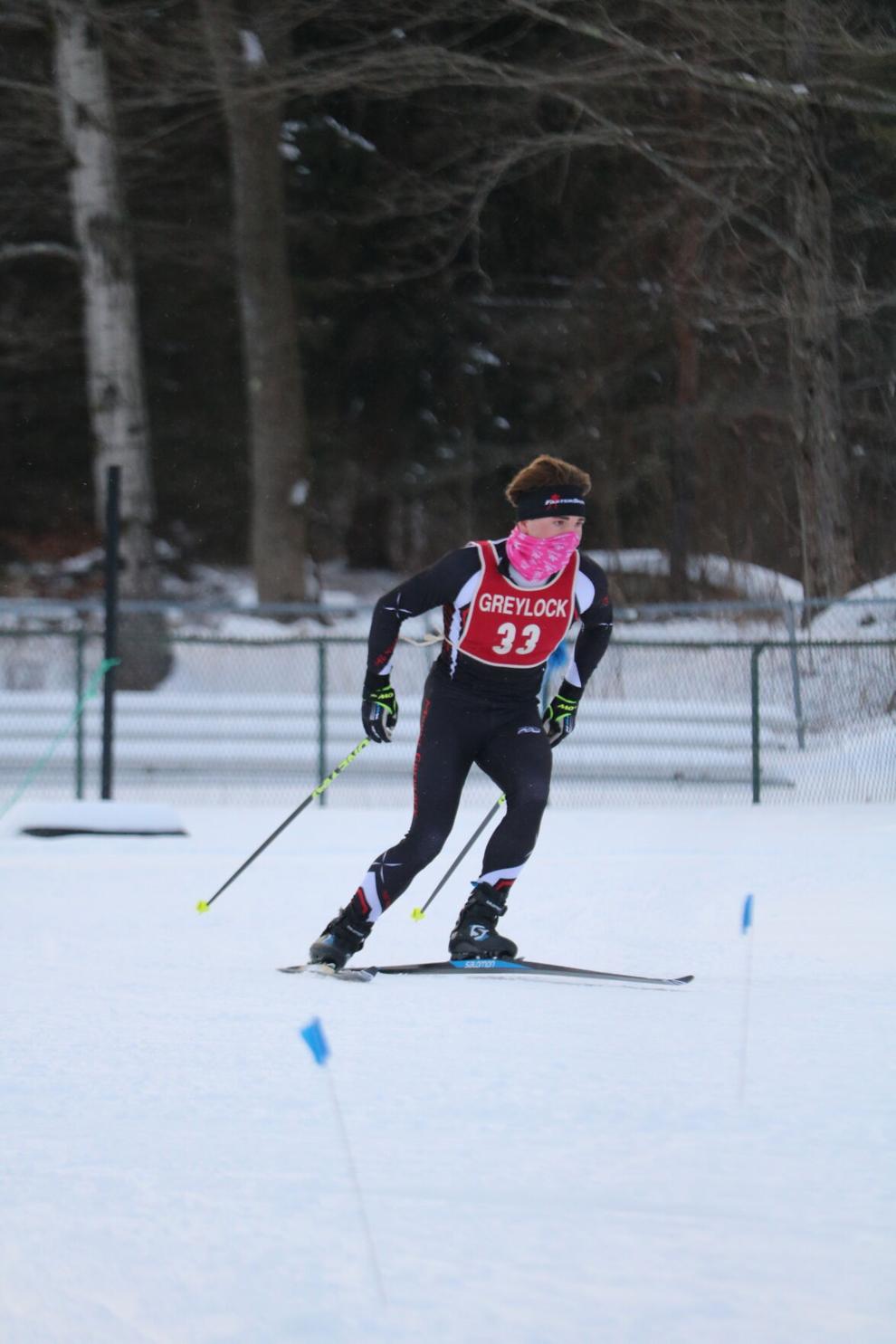 His sentiment was unanimous as winter sports made their return to the Berkshire in the form of a dual Nordic ski meet on Wahconah's campus. A double-loop, four-mile course was groomed to perfection during a snowy week, and the Warriors and Mounties waxed up for a socially distanced, waved race.
"Our mindset is always set on improvement, and getting everything that you can out of the season," Faulkner continued. "You want to work hard, and above all, just ski. So getting the opportunity to be out here in the winter, despite all the procedures we have to follow, is really great."
In terms of actual results, it was a sweep for the powerhouse Mounties. The Greylock boys, defending state champions, took a clean 1-through-7 sweep for a 10-34 victory. Col McDermott picked up right where he left off last year on the county slate with an individual win. McDermott burned up the course to a time of 18 minutes, 12 seconds, more than a minute in front of his closest competitor, which happened to be younger brother Quinn McDermott in 19:19.
On the girls side it was an 11-26 win for the Mounties, who were runner-up at states last February. Senior Jackie Wells was all alone in cruising to a 21:08 time for the top podium spot. Teammate Annie Miller was second in 22:36.
"I feel like ski season last year was kind of the last hurrah for sports, and it's been a crazy year since then," Wells said. "Getting back to it, feels kind of like picking up where we left off. It felt great to be out there."
That was the case from the grittiest of veterans to the freshest-faced rookies.
"I've only been skiing for like two weeks now, it's all pretty new to me," noted Wahconah's Scott Duma. "But, it's a really nice sense of team. Racing with each other is great."
Duma, fellow varsity first-timer Doug Collins and young veteran Aidan Garcia were standing near the finish line, masked up but enjoying the JV races.
"It's been crazy, but fun," said Garcia, Wahconah's second finisher, in ninth overall. "I've been doing it for a couple years. Everything is pretty much the same, just a little less social. I miss that, but I'm really happy to be out doing it."
(tncms-inline)1353011281339494401[0](/tncms-inline)
The Warriors boys were led by Fritz Sanders in 21:57, good for eighth overall.
On the girls side, senior Haley Crosier broke into the Greylock pack in fourth overall with a time of 24:39.
"Kind of cross-country with snow," said Crosier, who had a strong fall running season before swapping sneakers for ski boots. "The team is really positive here, everyone is enforcing the 'even if it's cold, even if it's hard, we're all out here together.'
"It's nice though, good to be out there getting exercise and working, pushing ourselves and pushing our team."
And it was cold, around 14 degrees when the Wahconah varsity boys let out in the day's first heat.
"You know, it was a lot of work to put in, but at the same time, overall, the kids are happy, really happy that we got a race in," said Warriors head coach Ryan Touponce, who spent the week grooming and laying out the course. "I'm excited, with everything we've been doing and working on the last month, to actually put it to good use was really nice."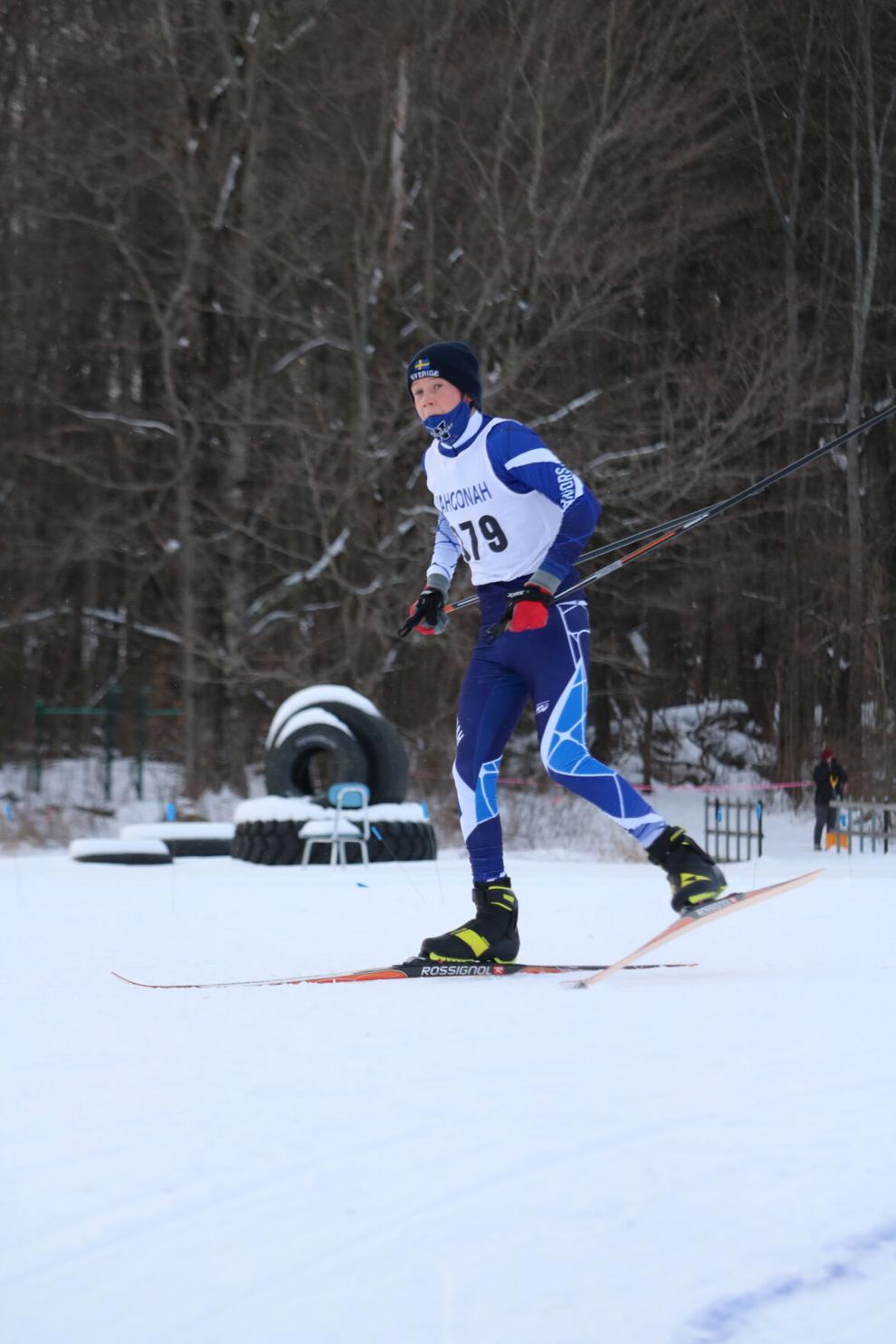 Opposing coach Hilary Greene said Wahconah did an amazing job getting things together on short notice, as the Saturday meet was scheduled mid-week. She spent her morning skiing around the course making sure her stars had support at the start, and her younger athletes were ready for their moment.
"I just feel really smiley," Greene said through a red and black mask before ducking out for a moment to holler encouragement to one of her first-timers. "I'm so happy for the kids, some of them it's their first time racing. I was just over there at the finish of the JV race and some of them did the Jessie Diggins collapse, and it was a thing of beauty, and I'm just like, 'yes, that's what skiing is all about.'"
For cross-country standouts like Crosier and Wells, the taste of competition in the fall gave great hope that there would be a similar mental and physical release this winter.
"It's similar in that we've just been hoping to get snow when we could, hoping to get races when we could. And if not, just have that time with the team and that relationship after school. It's a lot of the same mentality," Wells said.
With cold temperatures sticking around this coming week, another meet is likely on the docket for next week either back in Dalton or up at Mount Greylock Regional. It'll be different again, with no spectators and limited interactions. But it will still be a race and an opportunity to beat the elements and the pandemic for a morning.
"I just love the element of racing," Crosier finished. "Being able to push yourself and knowing that your team is right behind you, and they have you. Having everybody cheering, even if it's not the typical crowd of spectators.
"It's nice to be back racing."
———
Boys
Team Result — Mount Greylock def. Wahconah 10-34.
Individuals — 1. Col McDermott (MG) 18:12, 2. Quinn McDermott (MG) 19:19, 3. Gabe Gerry (MG) 19:41, 4. Foster Savitsky (MG) 20:03, 5. Cedric Lemaire (MG) 20:06, 6. Teague Murphy (MG) 21:07, 7. Charlie McWeeny (MG) 21:42, 8. Fritz Sanders (W) 21:57, 9. Aidan Garcia (W) 22:05, 10. Brennan Anderson (W) 22:11, 11. Logan Newsome (W) 24:03, 12. Shaun Thornton (W) 24:03, 13. Doug Collins (W) 24:41, 14. Owen Tucker (W) 25:53, 15. Scott Duma (W) 27:26.
Girls
Team Result — Mount Greylock def. Wahconah 11-26.
Individuals — 1. Jackie Wells (MG) 21:08, 2. Annie Miller (MG) 22:36, 3. Lily McDermott (MG) 23:31, 4. Haley Crosier (W) 24:39, 5. Juliann Lawson (MG) 25:51, 6. Olivia Langenheim (W) 26:01, 7. Quinn Walton (W) 26:20, 8. Erin Keating (MG) 27:02, 9. Julia Trager (W) 27:08, 10. Jocelyn Sommers (W) 27:09, 11. Maddy Rabuse (W) 27:24, 12. Kaitlyn Olds (W) 27:56, 13. Vienne Peltier (W) 28:19, 14 Julia Langenheim (W) 30:09, Skylar Rosier (W) 31:03.