DALTON — Senior skiers Grace Elliot and Parker Winters race for opposing rival schools, but on Saturday afternoon, the two were in agreement: there's nothing like a Berkshire League Nordic meet.
Photos: Berkshire County Nordic Ski League season opener at Wahconah
On Saturday in Dalton, Quinn McDermott and the Mount Greylock boys, and Mary Elliot and the Lenox girls skied to season-opening wins.
To view a full gallery or purchase photos from this meet, click here.
For the first time in a long while, a full complement of teams converged on the same snow on the campus of Wahconah Regional High School. There were four previously scheduled meet days canceled due to extreme weather or lack-there-of. It was also a year to the day that organized sports returned to the county, though the Jan. 22, 2021 ski meet featured only Mount Greylock and host Wahconah, and no spectators were permitted on the course.
"It's so nice to be back at a league race," said Elliot, after Lenox didn't compete in the pandemic-abbreviated 2020-21 season. "I had forgotten how the atmosphere is so fun and exciting here. Nothing compares to our league races."
On Saturday, Lenox made its return, joining the Warriors and Mounties, along with skiers from Hoosac Valley, Amherst, Mohawk and Simsbury.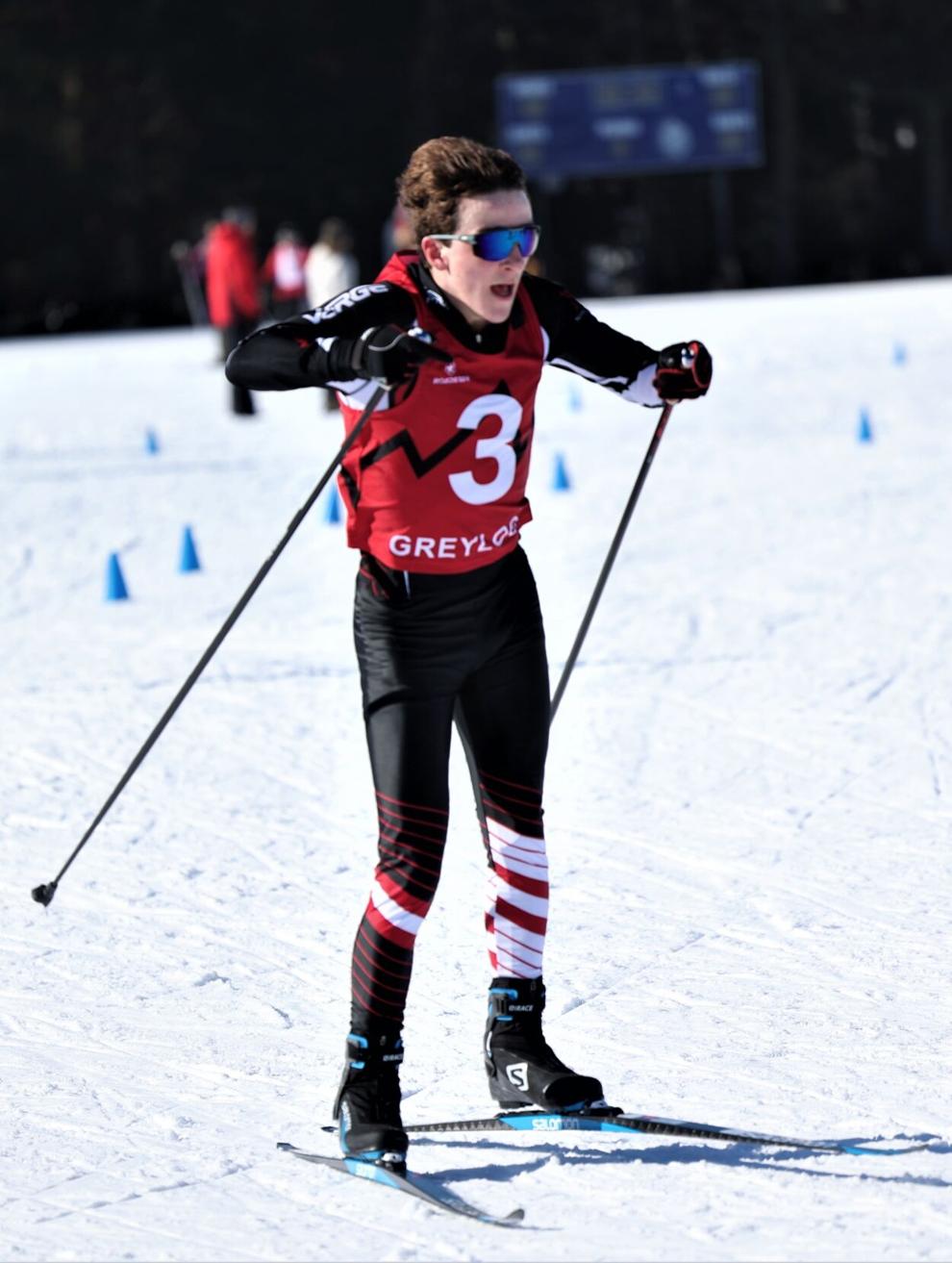 "Last year was very different," Winters said. "This is amazing, being back. I don't know if I can compare it to anything else. It's just a different kind of environment."
With throngs of fans lining the course and a stereo system blasting music, 79 varsity, 62 JV and 32 beginner skiers navigated the tracks in Dalton.
The fastest among them were Mount Greylock's Quinn McDermott and Lenox's Elliot sisters.
McDermott won the boys opener in 14 minutes, 46 seconds. Mary Elliot and Grace Elliot started in different heats, and when the times were tabulated, Mary held a one-second win. She finished in 17:41 to Grace Elliot's 17:42. The duo was backed up by teammate Aidan Burns in third, leading to a team victory with 15 points. Mount Greylock was second with 28, followed by Wahconah (43), Mohawk (67) and Amherst (98).
"It's been really fun," said Grace Elliot. "Me, Mary and Aidan have been spending a lot of time together training. It's been nice to have that pack to work on intervals with. We're all trying to move on to the college level. We've been going over to Butternut to ski, and we did our yearly trip to Lake Placid. We've made some weekend trips to race places too.
"We did a 10K last weekend, so I knew [today] was going to go by really fast. So I tried to treat it like a sprint and gave it my all on the uphills. Didn't hold back at all, and it worked out."
A pair of Mounties filled out the top five, with Anne Miller in 19:07 and Cornelia Swabey in a tie for fifth with Mohawk's Sylvie Mahon-Moore in 19:20.
Wahconah was led by Vienna Mahar and Olivia Langenheim in ninth and 10th, respectively. Hoosac's Natalie Pompi was 17th in 21:39. Amherst's Zoey Candito was 25th in 23:37, and Simsbury's Leah Mueller was 31st in 33:33.
McDermott raced in the morning's opening heat, and cruised to a healthy winning margin. But out of the second wave, Hoosac Valley senior Justin Levesque set out to make things interesting.
"Second heat, mindset is just get faster with every person you catch. First heat, that's tougher if there's no one to really go after," Levesque said after placing second overall in 15:34, 48 seconds off McDermott's clock. "The goal is to get a little quicker each time you get someone in the woods.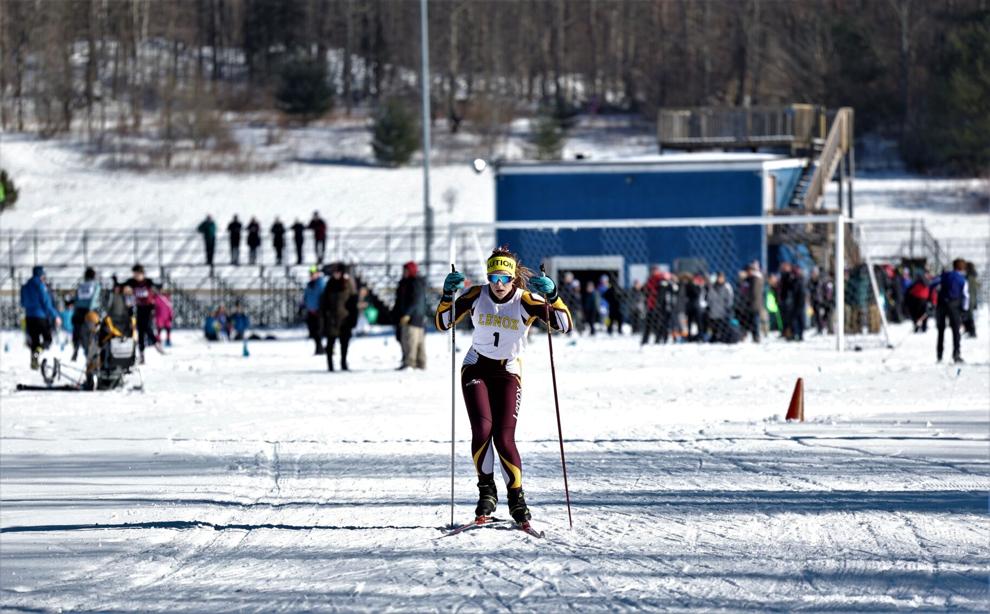 "The course was really, really fast today. Only two real hills, so it's really all about just throwing down the skis and go super fast on the flats. I haven't seen times yet, but I'm guessing they're going to be insanely fast today."
The Mounties hammered out their team win from there, with Foster Savitsky and Oliver Swabey in third and fourth, respectively. Only the host team's Fritz Sanders broke up an impressive run of red and black, as Teague Murphy was sixth to wrap up Greylock's scoring.
"We've lucked out a bit in that we've been able to ski on some crunchy ice, and then we did get some snow," said Winters, a senior captain for the Mounties. "A lot of dry-land training, but we have a great system of coaches and captains, and we just tried to get it done. It's an amazing team with us.
"We had some injuries, but I think we overcame a lot and showed what Greylock is against some great competition. The team was ready for this."
Sanders placed fifth in 16:06, leading five Warriors in the top 15. From that effort, Wahconah was second as a team with 38 points, behind only Greylock's 15. Lenox (54) was third, with Amherst (79) fourth and Mohawk (90) fifth.
"The team has been doing a lot of roller-skiing around because there's been minimal snow. It's great to get some finally," Sanders said. "The snow is great. We have some great waxing coaches for our skis. I felt pretty good, and it's just so much better than last year. It's finally great to be able to actually race against teams instead of just being by yourself. My goal is to just have fun, No. 1, but be better than last year. I like that."
Amherst was led by Sam Woodruff in ninth, while Mohawk's Vincent Gauthier was 19th to top the Warriors in 19:39.
The Nordic league is tentatively scheduled to continue with a second meet next Saturday back at Wahconah. Speaking for himself and many others, Levesque will be there.
"I've been getting up insanely early and going to Berkshire East to ski before they open," he said of the delayed start to the season. "It felt like a celebration, finally having some snow to ski on."
———
GIRLS
Team Rankings — 1. Lenox 15; 2. Mount Greylock 28; 3. Wahconah 43; 4. Mohawk 67; 5. Amherst 98.
Individual Top 15 — 1. M. Elliot (LX) 17:41; 2. G. Elliot (LX) 17:42; 3. Burns (LX) 18:05; 4. A. Miller (MG) 19:07; 5. (tie) Swabey (MG) and Mahone-Moore (M) 19:20; 7. McDermott (MG) 19:28; 8. Walton (W) 20:11; 9. Collins (LX) 20:18; 10. Mahar (W) 20:19; 11. Langenheim (W) 20:22; 12. L. Miller (MG) 20:23; 13. Rudzinskaite (LX) 20:30; 14. Sommers (W) 21:11; 15. Lawson (MG) 21:20.
BOYS
Team Rankings — 1. Mount Greylock 14; 2. Wahconah 38; 3. Lenox 54; 4. Amherst 79; 5. Mohawk 90.
Individual Top 15 — 1. McDermott (MG) 14:46; 2. Levesque (HV) 15:34; 3. Savitsky (MG) 15:35; 4. Swabey (MG) 15:39; 5. Sanders (W) 16:06; 6. Murphy (MG) 16:43; 7. Leger (L) 17:04; 8. Andersen (W) 17:10; 9. Woodruff (A) 17:11; 10. Bakija (MG) 17:19; 11. Rogers (MG) 17:37; 12. Garcia (W) 17:45; 13. Duma (W) 18:01; 14. Love (LX) 18:04; 15. Gladu (W) 18:20.