DALTON — Saturday's Nordic meet was the second race of the season at Wahconah High School, but there was an added bit of flavor.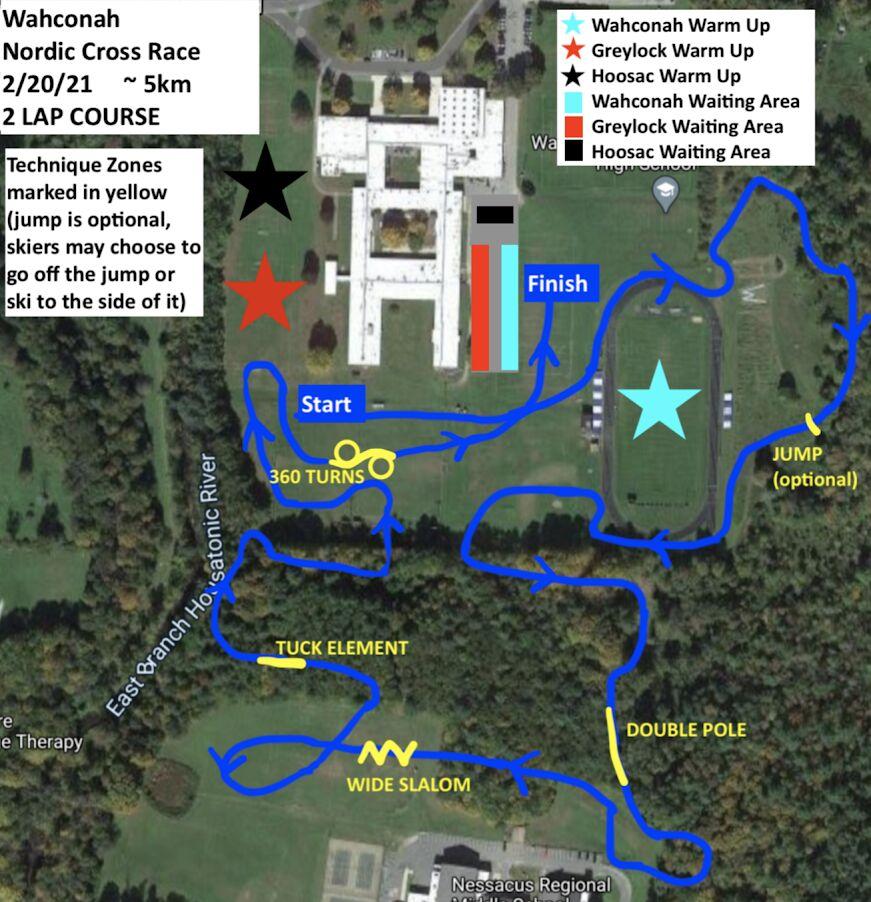 360 turns, tuck elements, a wide slalom, double pole and even an optional jump were all featured as technique zones throughout the course that spanned roughly 5 kilometers around the high school.
Skiers from Hoosac Valley and Mount Greylock joined the Warriors on Senior Day and it was the Mounties who left Dalton with a pair of wins.
An additional race is being added the the Nordic ski season, according to state tournament director Joe Miller.
Instead of ending the season at Greylock on Feb. 27 with a relay, a March 6 race at Wahconah has been added to the schedule, marking the first time the league will race seven times.
BoysFoster Savitsky finished the course with in 14 minutes, 40 seconds, which was good for first place and just one second quicker than fellow Mountie Corban Miller.
Mount Greylock swept the top-six spots with Gabe Gerry (14:56), Teague Murphy (14:57) and Cedric McWeeny (15:06) each finishing the course in under 15:10.
Mount Greylock finished with a score of 10, followed by Wahconah, which had a 38. Hoosac's Corben Craig crossed the finish line in 15:20, the best time among non-Mounties. Wahconah's Fritz Sanders came in eighth and fellow Warrior Aidan Garcia finished in tenth place. Mount Greylock's Jude Bakija came in ninth to round-out the top-10.
———
Team Result — Mount Greylock def. Wahconah 10-38.
Individuals — 1. Foster Savitsky (MG) 14:40; 2.Corban Miller (MG) 14:41); 3. Gabe Gerry (MG) 14:56; 4. Teague Murphy (MG) 14:57; 5. Cedric Lemaire (MG) 14:58; 6. Charlie McWeeny (MG) 15:06; 7. Corben Craig (HV) 15:20; 8. Fritz Sanders (W) 15:51; 9. Jude Bakija (MG) 15:57; 10. Aidan Garcia (W) 15:58; 11. Brennan Andersen (W) 16:22; 12. Logan Newsome (W) 16:35; 13. David Scholz (HV) 16:38; 14. Declan Rogers (MG) 16:38; 15. Scott Duma (W) 16:57.
GirlsMuch like the boys' race, there was a herd of Mounties earning top times for the girls. Jackie Wells was a step ahead of the competition with a time of 15:46, more than a minute ahead of the field. Fellow Mounties Annie Miller (17:21) and Lily McDermott (17:52) earned second- and third-place finishes.
Mount Greylock finished with a score of 11 and Wahconah closed with a score of 31. Wahconah's Haley Crosier completed the course in 17:54, just one second ahead of Greylock's Lainey Gill, who earned a fifth-place finish. Vienna Mahar was the first Hurricane to cross the finish line with a time of 18:37, the day's sixth-best time.
Juliann Lawson provided the Mounties with another top-10 finish, coming in seventh with a time of 18:52. A trio of Warriors in Jocelyn Sommers (18:59), Julia Trager (19:15) and Maddy Rabuse (19:16) earned the final spots inside the top-10.
———
Team Result — Mount Greylock def. Wahconah 11-31.
Individuals — 1. Jackie Wells (MG) 15:46; 2. Annie Miller (MG) 17:21; 3. Lily McDermott (MG) 17:52; 4. Haley Crosier (W) 17:54; 5. Lainey Gill (MG) 17:55; 6. Vienna Mahar (HV) 18:37; 7. Juliann Lawson (MG) 18:52; 8. Jocelyn Sommers (W) 18:59; 9. Julia Trager (W) 19:15; 10. Maddy Rabuse (W) 19.16; 11. Erin Keating (MG) 19.22; 12. Olivia Langenheim (W) 19.23; 13. Kaitlyn Olds (W) 20:15; 14. Vienne Peltier (W) 20:31; 15. Natalie Pompi (HV) 20:40.
Mathias Bartels Community Nordic Ski virtual celebrationA virtual celebration will take place at 4 p.m. on Feb. 28 to share experiences, along with remembering and celebrating Bartels and the love of the outdoors. Bartels was a junior and member of the Greylock Nordic Ski Team when he passed away in his sleep on Jan. 31, 2004 of sudden cardiac arrest, due to heart arrhythmia of unknown cause. Donations to the event are welcomed and proceeds benefit the Mathias J. Bartels Scholarship Fund and the Mount Greylock cross country ski team. The scholarship is awarded to a graduating senior annually who exhibits integrity, kindness and commitment to excellence, which was shown by Mathias. More information is available by contacting Hilary Greene at hgreene@Williams.edu.