Avien Peah is going to look a little different when he takes the field for the University of Massachusetts in the fall.
Peah will still stand out at 6-foot-2, 280 pounds. The UMass defensive end will look different because he'll be the first Minuteman player to wear the number "0."
"Coming into this year, I was like, this is my final year. I was thinking of a single digit. Zero just happened to come to mind," Peah said. "That's what I'm going to go with."
The "0" isn't going to slim Peah down, and the Providence, R.I., native admits that he feels the same wearing that number as he did wearing "87" last year.
"It's a cool look. It's better than the '87,'" Peah said in a video conference with reporters last week. "I think that's the new wave. With our generation, you like the single digits.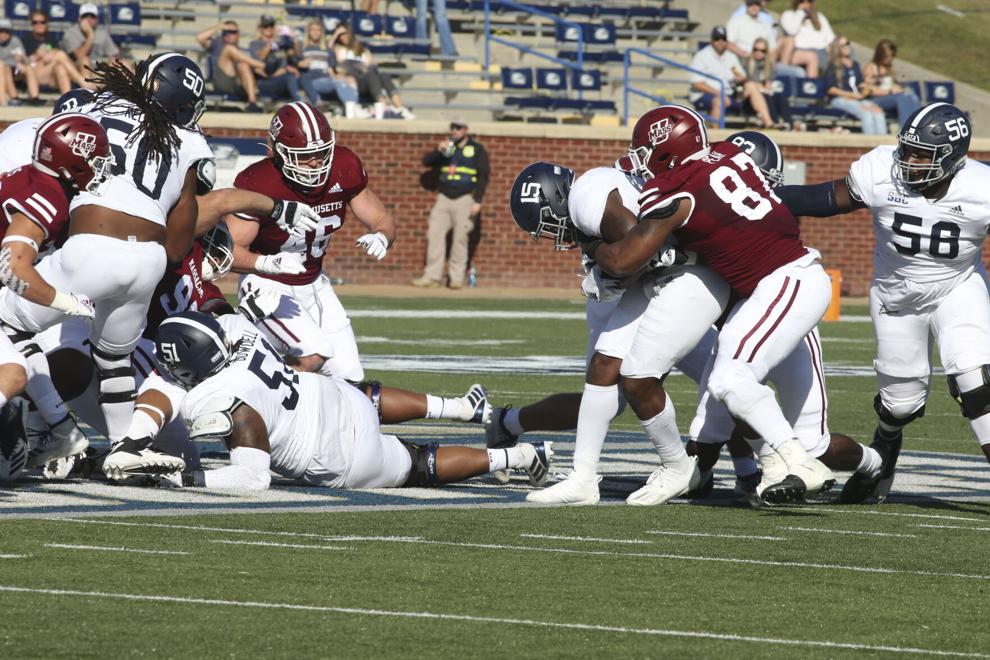 "Look good, play good."
Single-digit uniform numbers for defensive linemen and linebackers are being seen more and more frequently in college football. Some teams actually hand them out to players the coaches perceive to be the toughest or the hardest working. While UMass coach Walt Bell does not, in fact, hand out single digit numbers to players for being tough or hard workers, Peah would fit the bill were that the case.
The third-year coach says Peah is one of his team's true leaders.
"That's one thing that Makes Avien special, he has been through a lot of adversity," Bell said. "He has been through a position change, through two significant injuries, he just moved to the D-Line a year ago. It was his first year to really get playing time. Just from the ability to handle and persevere, go through tough times and come out on the other side, as one of our team leaders is huge. Not only does he provide that physical leadership piece, but doing things the way they're supposed to be done, day-in and day-out. It's because he has earned that respect from his teammates because of what he's been through.
"Now, he can provide some vocal leadership, which is much needed as well."
Peah was recruited to UMass by former coach Mark Whipple. The LaSalle Academy graduate was initially recruited as a defensive end, as he was a two-time, All-Rhode Island pick. After being converted to tight end, then suffering two serious knee injuries, he came back last fall and played defensive end for the Minutemen.
In four games, he registered six unassisted tackles, 13 assisted tackles, six tackles for loss and one sack. He led the team in tackles for loss. Peah is also the top returning tackler for the Minutemen.
The UMass offensive and defensive units do go after each other during segments of the three practices per week. It does, occasionally get a little heated. It is always, Peah said, competitive.
"It's super competitive," he said. "We're constantly going at each other all the time. The guys are chirping. We're chirping at the running backs, they're chirping at us. The O-Line is chirping and we're chirping back. It's super competitive, but there's a whole lot of love.
"Football's a game you've definitely got to have fun with, you've got to enjoy it while you're out there."
Peah is listed as a defensive lineman, but instead of having his hand "in the dirt" as a down lineman, he's on the end and rushing from a standup position.
"I'm standing up pretty much all the time," Peah said. "I don't think I'll ever have my hand in the dirt unless I'm playing inside. I'm most playing outside now. So I'm a standup guy."
And how different does that feel?
"At first, it was a little different getting adjusted to it, especially in trying to pass rush out of it," he said. "As practices have gone on, and I'm getting more comfortable, it's a lot easier now. I don't mind it at all."
The Minutemen played their spring game over the weekend and have less than four months before the 2021 season opener on Saturday, Sept. 4, in Pittsburgh against the ACC's Panthers.
"It feels like it's around the corner," Peah said. "I remember when we first got back for winter workouts, it felt like it was just yesterday. Now we're already, basically, at the end of spring ball. Before you know, in a blink of an eye, September 4th will be here."