ADAMS — On a rainy, overcast, soaked evening at Soldiers Memorial Field, Pittsfield American looked sharp in all three phases of baseball, routing Adams Cheshire, 22-1, to open the District I Don Gleason 10-12 year old tournament with a win.
"We had a good infield, outfield to start, in pretty much pouring rain," said Pittsfield head coach Ty Perrault. "I was amazed that we even got the game in. I thought that set the stage for us to be able to play in some pretty adverse conditions. We gave up a quick run, but we figured we'd been hitting pretty well, so we could score some runs."
Sebastian Herrera started on the mound for Pittsfield. He gave up one run in the top of the first to Adams, but otherwise shut out the opposition to earn the win. Herrera was also lethal in the batters box.
The only returner for American's Massachusetts Final Four team in 2021, Herrera kicked off Pittsfield's scoring with style. Slapping a two-run home run out of the park, with his whole dugout waiting for him at home plate to celebrate. While the game was over by the second, Herrera showed the homer wasn't a one-off. With the bases loaded, he smoked a ball well over the centerfield fence for a grand slam to cap off the Americans' win.
"He plays on my house league team," Perrault said. "He's the only holdover from last year's team. He was 11 last year and he actually pitched in the state finals so he brings the experience to the group."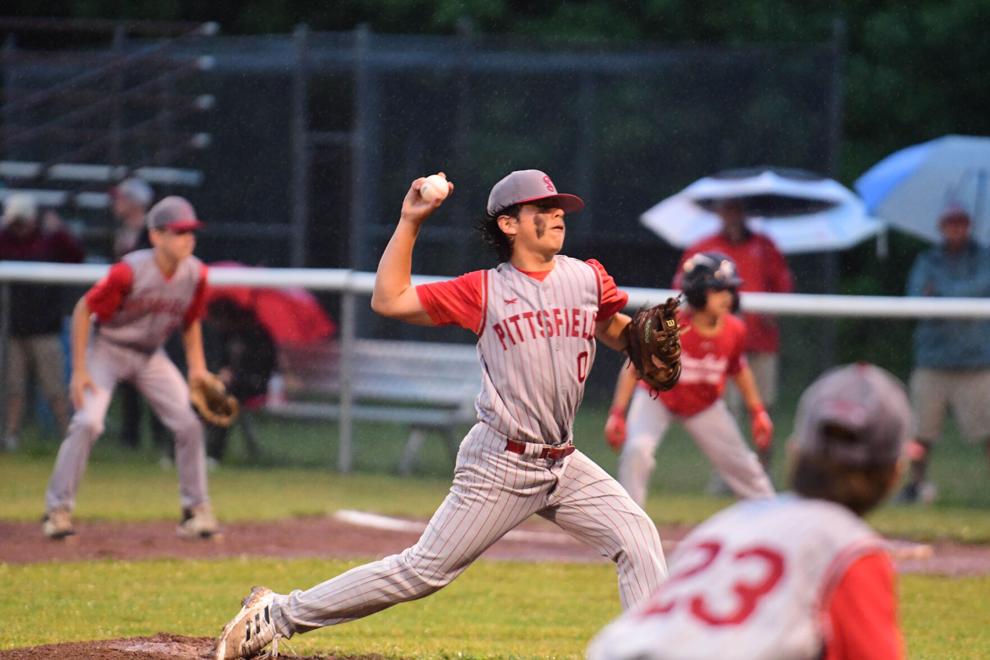 Brendan Merwin finished up for Pittsfield, pitching in relief for Herrera, who was pulled with one out to go in the top of the second due to pitch count. Merwin allowed no runs and struck out two batters.
"We went 35 with the first two guys so they can pitch again on Thursday," explained Perrault. "In pool play, pitching is always something you've got to count on. Get the most out of what you have. They'll both be ready for Thursday."
Merwin also had an RBI single and was walked twice. Pittsfield scored 13 runs in the first inning to build up its lead. Aiden Arseheau had a two-run RBI single while Ben Sykes and Mario Zerbato had RBI singles each. Mason Daley knocked a two-run RBI double to make it 13-1 in the first.
Zerbato hit a two-run RBI double of his own in the second, making it 15-1 Pittsfield. Sub Eli Kristenson hit an RBI single while Sykes hit another.
"First game you're always getting your feet wet anyway," said Perrault. "Get your pitchers out there, see what everybody is like and get the jitters out. I think for our first game, everything went pretty well. Hitting, fielding, pitching, it was pretty solid, we're expecting some tough games before we're done."
———
Adams Cheshire 1 0 0
Pittsfield 13 9 x
Durant (1/3), Mebaca (1 1/3) and M. Durant; Herrera (1 2/3), Merwin (1 1/3) and Daley. W — Herrera. L — Durant. S — Merwin.