PITTSFIELD — It has been a while, but the Pittsfield City Championship is back on East Street.
Quarterback Patrick Rindfuss had 158 yards in total offense, ran for two touchdowns and threw for two more as Pittsfield rolled past Taconic 40-3 on Senior Day Saturday at Gene Dellea Field.
The Generals trailed 3-0, but then scored 40 unanswered points to earn their first regular-season win over their city rivals since opening day of the 2015 season. The Taconic winning streak was four regular-season games and a fifth win came in the 2015 Division V football semifinals.
Pittsfield vs. Taconic Gallery
"Definitely," said Rindfuss, when asked if it felt good to be city champs again. "This is what we worked for. We're talking in the offseason in the weight room about getting ready for this game. It felt awful to lose to these guys [in 2019]. To come out here and beat them like this, it means the world."
Rindfuss finished the day with 14 carries for 74 yards. Anthony Johnson went over the 100-yard mark in the first half and finished his afternoon with 17 carries for 152 yards.
Pittsfield's junior QB was 8-for-11 passing for 84 yards and touchdowns of 34 and 14 yards, both to Bryson Jezewski.
The PHS defense did its job as well. The Generals held Taconic to just a first-quarter field goal and 30 yards in total offense.
"Our guys had this one circled," Pittsfield coach Brian Jezewski said. "We worked really, really hard in the offseason. Our kids worked really hard in the weight room. Jamie Law, our strength coach and in my opinion, the best strength coach in Western Mass., you could see that up front."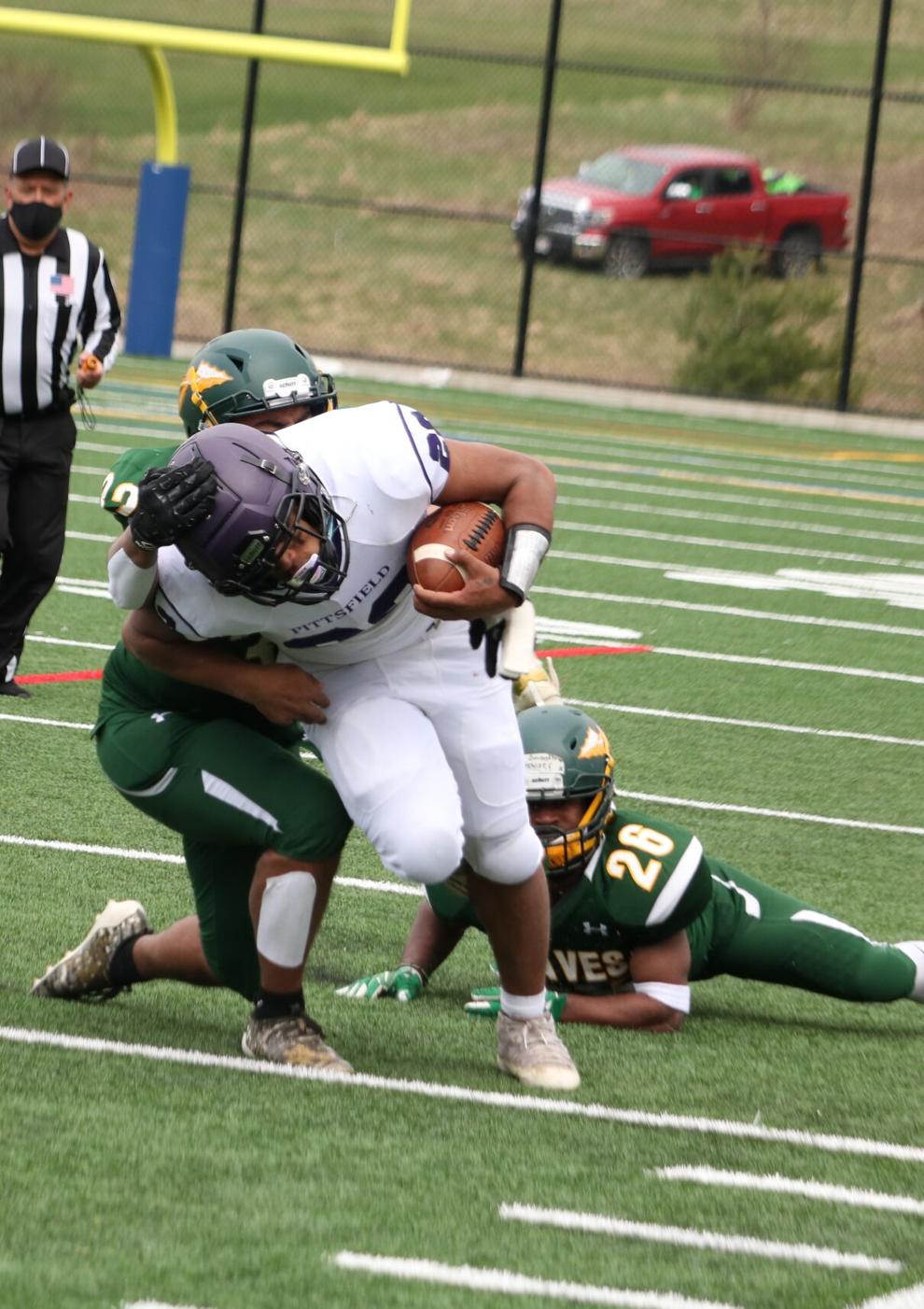 It wasn't a perfect game because the Generals still committed a pair of turnovers. One of them led to points, but turned out to not be too costly.
"It was sloppy early. I think we've had like 14 turnovers in this game the last two years. Way too many. I think we had two today," Coach Jezewski said. "That's too many for me."
That first turnover came on Pittsfield's first series of the game. The Generals had moved from their 25-yard line to the 48. Facing second down and 13, Rindfuss juggled the snap and Taconic's Xavier Nichols plucked the ball out of the air. Nichols ran the ball to the Pittsfield 12-yard line, with the Generals' quarterback saving a touchdown.
The Pittsfield defense stiffened and after a quick three-and-out, Taconic's Frank Boua boomed a 30-yard field goal, putting the Green and Gold up 3-0.
Instead of feeling down, the Pittsfield offense went right back to work on the next series. The Generals marched 70 yards in 10 plays. All the plays were on the ground and Rindfuss capped the drive with a six-yard touchdown run. The junior kept the drive alive with an eight-yard gain on third-and-four from midfield. The other big play of the possession was a 15-yard run by Johnson that put the ball on the Taconic 20. Taconic's Nick Hall did make a touchdown-saving tackle. But, after Rindfuss ran the conversion in, Pittsfield led 8-3.
The next three times Pittsfield had the ball, the Generals got into the end zone. The first score came on a two-play drive. On first down, Rindfuss hit Sincere Moorer for a seven-yard gain. It was Moorer's first catch of the season in his first game, and the senior caught four passes for 23 yards. On the next play, the Pittsfield line blew open a hole Johnson could have driven a semi truck through. Instead, the senior back scampered through the gaping hole and went 43 yards for a touchdown. The missed conversion made it 14-3.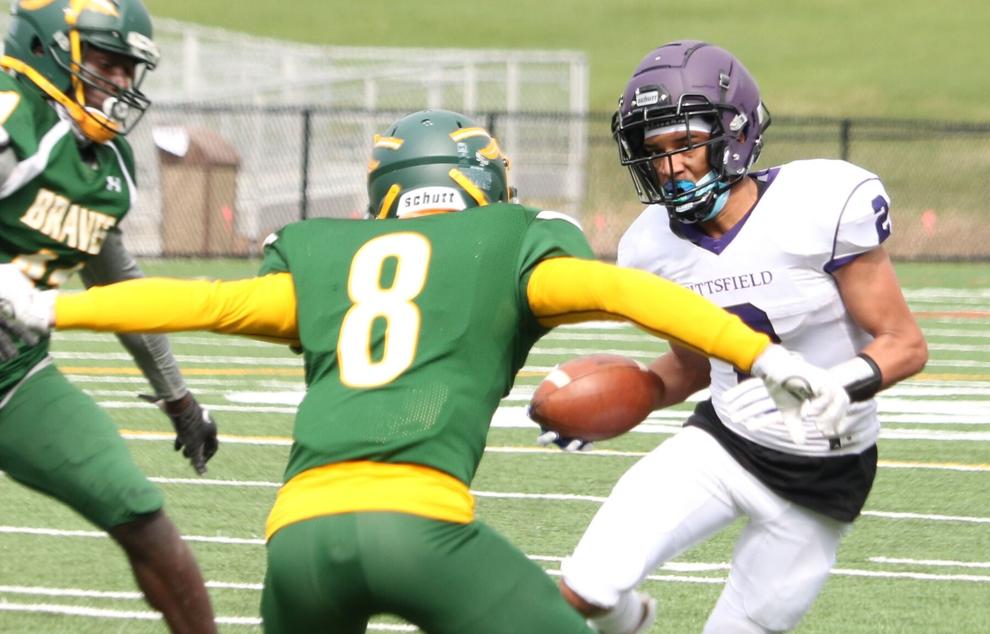 Following another three-and-out, PHS went 49 yards in six plays to score again. Again, the Generals did it all on the ground. The key play was a 23-yard run by Johnson and Rindfuss scored on a one-yard run.
If Taconic had any outside shot to make a comeback, it was dashed on the ensuing kickoff. Perrin Pettel's kick was a high one and bounced in front of Taconic's Warren Dews. Pittsfield recovered the ball and, two plays, later, Rindfuss found Bryson Jezewski open for a 34-yard touchdown pass. Jezewski had gotten behind Cedric Hudson on the play and fell backward into the end zone. It was the first passing touchdown for Pittsfield this season. It also made the halftime score 26-3.
"It was very tough" not being able to get anything going or stopping Pittsfield, Taconic coach Jermaine Sistrunk said. "We preached all week about being tough. Our line, as you've heard me say, is the most important part of any football team. If they don't do their job, we can't pass, we can't run, we can't get to the quarterback."
Emmanuel Nda, Pittsfield's "home run hitter" at running back, was on the sidelines this week as he missed his second straight game. While Pittsfield did run for 227 yards in the game, only one run was for longer than 25 yards. That was the 43-yard TD run by Johnson in the second quarter.
(tncms-inline)1383487478993022995[0](/tncms-inline)
"You can't do that if you're not strong, if you're not conditioned," the Pittsfield coach said of the more ground-and-pound offense his team has been running this year.
"These guys have bought into our program," he said. "The proof is on the scoreboard."
Pittsfield will put its 2-0 record on the line Friday afternoon at undefeated Wahconah. Taconic, now 0-2, will play Lee on Friday. Both teams will be looking for their first victory.
———
Taconic 3 0 0 0 — 3
Pittsfield 14 12 8 6 — 40
First Quarter
T — Frank Boua 30 FG.
P — Patrick Rindfuss 6 run (Rindfuss run).
P — Anthony Johnson 43 run (Run failed).
Second Quarter
P — Rindfuss 1 run (Pass failed).
P — Bryson Jezewski 34 pass from Rindfuss (Pass failed).
Third Quarter
P — Jezewski 14 pass from Rindfuss (Sincere Moorer pass from Jezewski).
Fourth Quarter
P — Michael Charles 27 run (no point after play).
———
INDIVIDUAL STATISTICS
RUSHING — PHS: Patrick Rindfuss 15-117, Anthony Johnson 17-152, Michael Charles 5-39, Sincere Moorer 3-(minus-3). Tac: Merced Dezequiel 1-(minus-1), Ian Hadsell 11-0 Warren Dews 5-1, Frank Boua 4-18, Nick Hall 1-0, Sean Harrigan 2-9.
PASSING — PHS: Rindfuss 8-11-0 84. Tac: Hadsell 3-9-0 3, Harrigan 1-1-0 9.
RECEIVING — PHS: Moorer 4-23, Bryson Jezewski 2-48, Johnson 1-10, Charles 1-3. Tac: Cedric Hudson 2-0, Wesley Ahoussi 1-3, Boua 1-9.