PITTSFIELD — It didn't seem like the Generals were ever going to get over the hump Thursday night. As the clock grew thinner, Pittsfield High kept getting within a possession of visiting Minnechaug, only for the Falcons to flap a little harder and create some distance.
Until Toby Gaulden-Wheeler did what senior stars do and wrestled control from Minnechaug and delivered when his team needed him most.
Gaulden-Wheeler scored nine of his 11 points in the fourth quarter of a 60-58 victory for PHS on Thursday night in front of a rare home crowd. He scored the Generals' final six points.
Photos: Pittsfield boys basketball hosts Minnechaug
On Thursday at PHS, the Generals beat Minnechaug 60-58.
To view a full gallery or purchase photos from this game, click here.
"We've been preaching effort and energy all year," said first-year PHS coach Mitch Scace. "Little bit of a lull in the middle of the game, but the kids kept their heads in it. They fought back, scratched, clawed. We tell them the tougher team ends up with the W in the end. I'm really proud of them."
Pittsfield played in its home gym for just the second time in nine games, improving to 3-6 overall.
"Finally got some home games, brought the energy back in here and got the win," said Wheeler, after the PHS student section stormed the court.
Minnechaug led 32-23 at halftime and took a five-point advantage into the fourth quarter. In fact, PHS didn't even tie the game back up until its final minute.
With the Falcons up by four and 1 minute, 23 seconds remaining, Scace called a timeout.
Out of the huddle, Nick Brindle assisted on an open-look triple by Wheeler. Just two tries later, with less than a minute on the clock, Wheeler was fouled on a fast break and tied the game at 58.
PHS big man Carter Mungin stepped in front of a lead pass by Minnechaug on the next possession and quickly got the steal up to Wheeler in transition. The finger roll rolled in with 37 seconds left and PHS had its first lead since the 5-minue mark of the second quarter.
(tncms-inline)1484344548734095365[0](/tncms-inline)
"I was in my head in the first half. Wasn't playing well. But my teammates and coaches believed in me," said Wheeler, who had 16 in the team's win on Tuesday but was scoreless at halftime Thursday night. "I got it together and made some clutch plays to help us win."
The Falcons had a chance to tie or walk it off, but Keanu Arce-Jackson's close-out forced a Colin Leydon miss from beyond the arc. In a paint battle for the rebound, Mungin ripped it away from both Jonas Saabye and Pat Jahn, again quickly outletting as the clock wound to triple zeros and Pittsfield had a potentially season-changing win.
"Toby was huge. He came off the bench there ready to perform," said Scace. "Couple mental mistakes early, but adversity happens to everybody. When adversity happens, you got to fight through and keep your head up. He came in ready to rip and was huge down the stretch for us."
(tncms-inline)1484346278402134016[1](/tncms-inline)
The Generals trailed by as many as 11 early in the third quarter, but continued to hang around thanks to some heavy volume 3-point shooting. Pittsfield put down 11 triples on the night, including six by the sophomore Brindle, who finished with a game-high 18 points. After coming off the bench to start his first varsity season, Brindle has worked his way into Scace's starting five and scored in double figures in four straight games. He's hit 23 3-pointers through nine games.
"He knows he can shoot the ball. We know he can shoot it. He's always had the confidence to do so," said Scace. "It's an instant injection of offense. The defense has to respect him. It pulls them out and opens some stuff up.
"He's been great. Not easy for a sophomore to step in and play those type minutes, but he's done really well."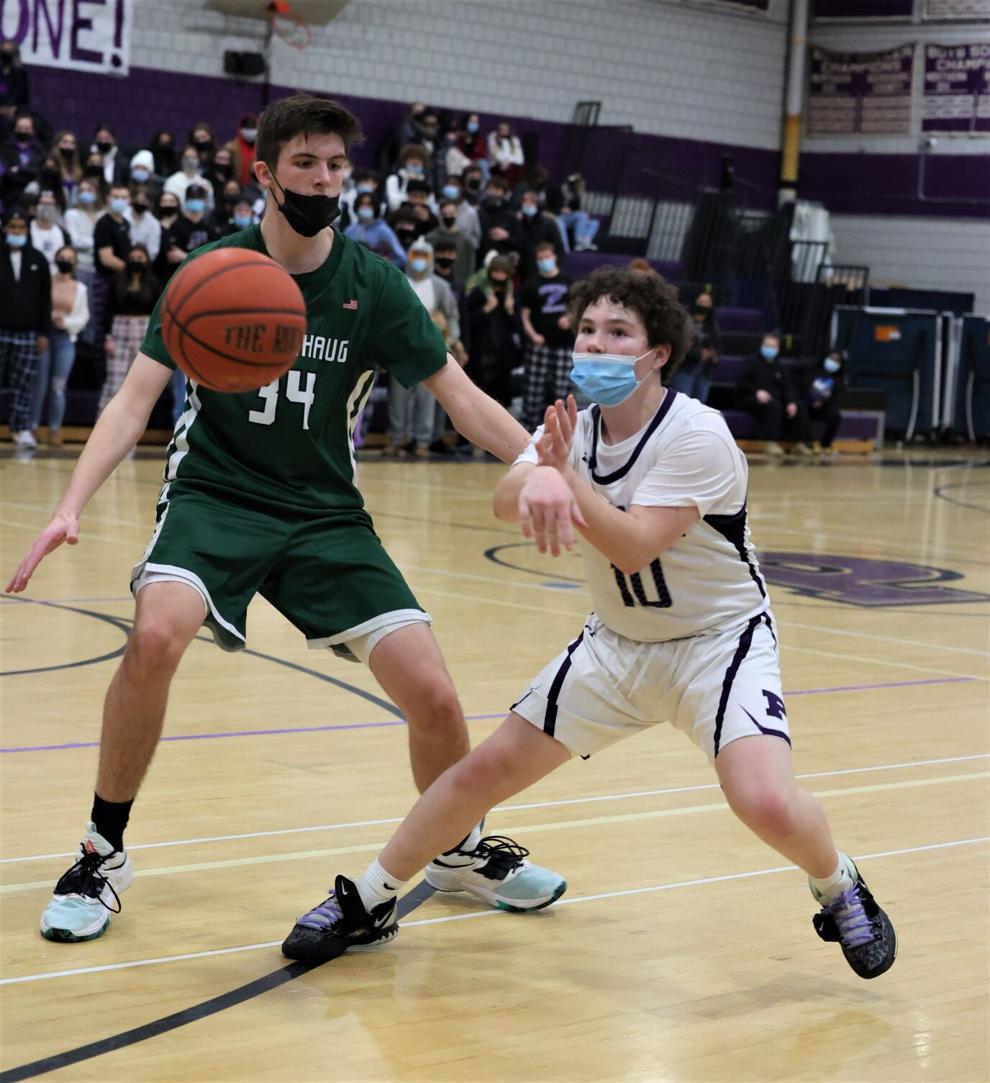 Brindle hit a deep trey early in the fourth quarter to bring PHS within 50-48, before the Falcons slid back out front by five with a couple trips to the foul line. Wheeler then canned a 3-ball and later hit Chase Racine for another to make it 55-54 Minnechaug. The Falcons turned the ball over twice, but Pittsfield missed transition layups on both free possessions.
Chris Moreno scored in the paint and the visitors were back up by four, forcing Scace's timeout to draw up the decisive final 83 seconds.
Pittsfield moved to 1-2 in the Suburban North and will play for the third time in four days tonight at home against Westfield at 7 p.m.
———
MINNECHAUG (58)
Ardolino 2-2-8, Moreno 4-2-10, Finnegan 0-0-0, Leydon 0-0-0, Lopes 1-0-2, Disa 1-1-3, Garnidor 2-1-6, White 4-0-9, Saabye 3-1-8, Jahn 5-1-12. Totals 22-8-58.
PITTSFIELD (60)
Gaulden-Wheeler 4-1-11, Solomon 1-0-2, Arce-Jackson 1-0-2, Brown 3-0-6, Brindle 6-0-18, Mungin 1-1-3, Salvie 2-0-5, Jackson 0-1-1, Racine 5-0-12. Totals 23-3-60.
Minnechaug 8 24 15 11 — 58
Pittsfield 11 12 19 18 — 60
3-pointers — M 6 (Adrolino 2, Garnidor, White, Saabye, Jahn); P 11 (Brindle 6, Gaulden-Wheeler 2, Racine 2, Salvie).