PITTSFIELD — There may not have been many combined wins between the two teams who took to Kirvin Park on Saturday afternoon, and state tournament hopes for Pittsfield and Taconic girls soccer are waning, but there was still something to celebrate.
Bella Penna, Taylor Vidoli and Alyssa Potvin got to lace up their cleats and play soccer on their home field in front of their friends and family, and alongside their chosen sisters.
Photos: Pittsfield vs. Taconic girls soccer
Pittsfield High School and Taconic High School girls soccer teams play in a city rivalry game at Kirvin Park in Pittsfield. Saturday, October 16, 2021.
To purchase these photos, click here.
"It means a lot. To be honest, I've had a rough season," said Penna. "My boyfriend is here, my family is here, it's my last game against Taconic. It's kind of sad, but I'm really glad that I got to spend it with this team."
The cherry on top of the sundae that included a 6-1 victory over the Generals' cross-town rival, was Penna's first ever varsity goal.
Pittsfield High got the scoring started in the 14th minute when Vidoli possessed the ball through contact with a Taconic defender, into the visitors' zone. She tapped a pass over to junior captain Randi Duquette, who gave the ball a quick settling touch before letting go of a blast from the top of the box that beat Taconic keeper Maria Gonzalez.
A little more than three minutes later, it was Penna's turn. The senior dialed up a long-range boot and found the back of the net with 23 minutes, 4 seconds left in the half.
"I was kind of looking for it. The team knew, and they were trying to get it to me as early as possible," said Penna. "I saw an open opportunity, and I kind of went for it. I saw it curve right there and as soon as I saw that I knew it was going in."
From there, PHS racked up a 6-0 lead before Taconic got on the board in the 69th minute. Tiffin Martin bent a beauty off a free kick in the right corner sending Taconic's lone goal arching around and over Generals keeper Jasmine Small (1 save).
(tncms-inline)1449451523902038016[0](/tncms-inline)
Pittsfield, which entered with a record of 0-11-1, wasn't going to let its first win of the fall get away. The Generals tacked on two insurance goals before halftime.
Allie Schnopp pocketed a penalty kick in the 21st minute after getting shoved down in the Taconic box. She swept her try into the bottom-right corner.
The visitors had a few opportunities after that, as captain Diandra Middleton and Kyleigh Pannesco shored up the defense in front of Gonzalez for a stretch. Martin had a breakaway that looked to be a one-on-one shot on Small, but she was chased down and turned away by junior captain Cece Supranowicz.
Pittsfield picked up an own-goal before the end of the half to enter the break up 4-0.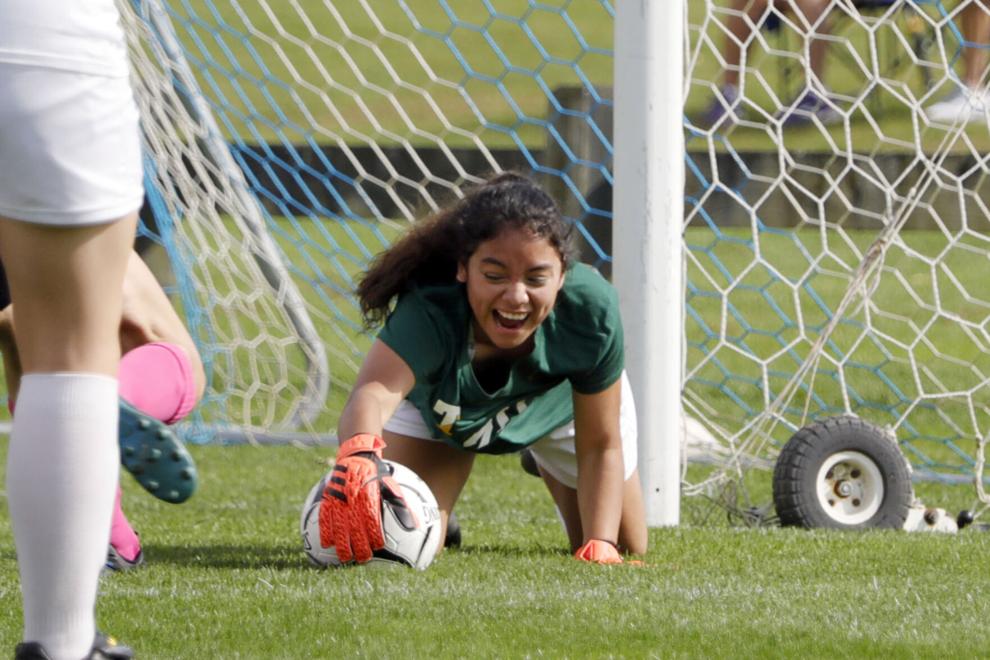 Another Pittsfield captain, Tessa Tierney, set up Schnopp for her second strike of the day midway through the second half. Tierney was in the Taconic box forcing the issue, and caught Schnopp near the top of the 18. She caught onto a loose ball and tapped a pass out that Schnopp was able to one-time by Gonzalez's right for the 5-0 advantage.
Vidoli got a tally of her own to wrap the Generals' offensive explosion. With 16:06 on the clock, she streaked by a defender one-on-one and managed to tuck a shot inside the near post.
"We've grown together a lot just by bonding. Through COVID and everything, we really had to come together. The captains and us, everyone helped a lot," said Penna of her senior season. "Coming together and being a team, and really wanting it has been a big part of keeping us as one."
In the MIAA's latest state tournament power rankings, Pittsfield was 59th in Division III. Taconic, which fell to 2-11-1 is 53rd in D-IV.
Pittsfield boys 6, Taconic 2
PITTSFIELD — Pittsfield High rolled by neighboring Taconic on Saturday morning at Kirvin Park as part of a city rivalry doubleheader with the girls.
The purple-clad boys took down Taconic 6-2, scoring four times in the second half to pull away.
Senior captain Pete Breitmaier highlighted the afternoon picking up three assists in addition to his first varsity goal.
The Generals led 2-0 at halftime after seniors Justice Daniels opened things up with a goal and Nick Apprey followed it up. Apprey added an assist.
Kyle Cardoso scored twice, giving his six goals on the season, and senior Derek Quintero added an assist for PHS.
No stats for Taconic were provided.