It wasn't the "Shot heard 'round the world," but hitting a home run in one's final college baseball at-bat is still a pretty good way to bring down the curtain.
"I honestly never even thought about hitting another home run," said Chad Shade. "I was just trying to get back out on the field."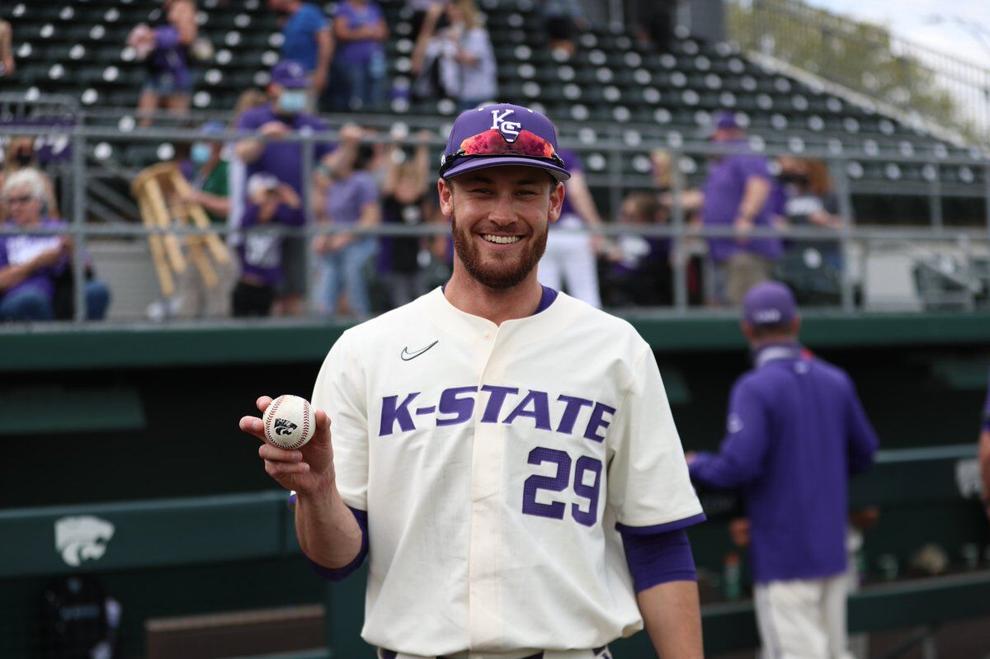 Shade, a graduate student at Kansas State University, made his final collegiate at-bat a memorable one. He hit the first pitch he saw from Texas Southern reliever Jaiden Beck into the home bullpen in left field, plating Dan Carinci and Dylan Caplinger ahead of him. Those three runs weren't all that critical in a 16-1 non-conference victory at home in Manhattan, Kan.
"It was just great to be back out there, to practice every day and play," said Shade, who belted his first homer since April 21, 2010, while an undergraduate at Springfield College. "I wasn't too concerned necessarily about hitting a home run, but obviously, it was a cool experience.
"A lot of the support I had was incredible, which was awesome."
Shade, a Pittsfield High School graduate, is getting a Masters Degree in Academic Advising at Kansas State, with a hope to coach someday soon.
The right-handed hitting outfielder took advantage of the NCAA granting all athletes an additional year of eligibility due to the COVID-19 pandemic. Kansas State was attractive because he had played with head coach Pete Hughes' son Thomas with the 2018 Pittsfield Suns, and also was an assistant with the Suns when Hughes' son Dom played at Wahconah Park. Thomas Hughes is a volunteer assistant with KSU. Patrick Sullivan, another former Suns teammate of Shade's, is at Kansas State as a graduate assistant after graduating from Georgia.
"That was one of the best moves I've made as a head coach is having him being a part of our program because of who he is," Pete Hughes said during a video conference with reporters. "You don't have to hit third our fourth, or be the starting pitcher, to make an impact on the program, and he has."
The home run can be seen on a video posted on the Kansas State Baseball Twitter feed.
(tncms-inline)1388944088653778950[0](/tncms-inline)
It was the second game of a non-conference doubleheader, and was one of the few games that Shade dressed for. According to Pete Hughes, roster limits for Big 12 conference games and road games are 30 players.
"He won't be on our travel squad or our Big 12 Tournament squad or our postseason squad," the veteran coach said. "I just knew that last non-conference game on Sunday was going to be Chad's last game. What an awesome opportunity to send a message to our team that we reward hard work and team-first guys.
"To be able to hit him leadoff, get his first start in his last college game, having him around our program makes all our guys work harder and appreciate what we all have."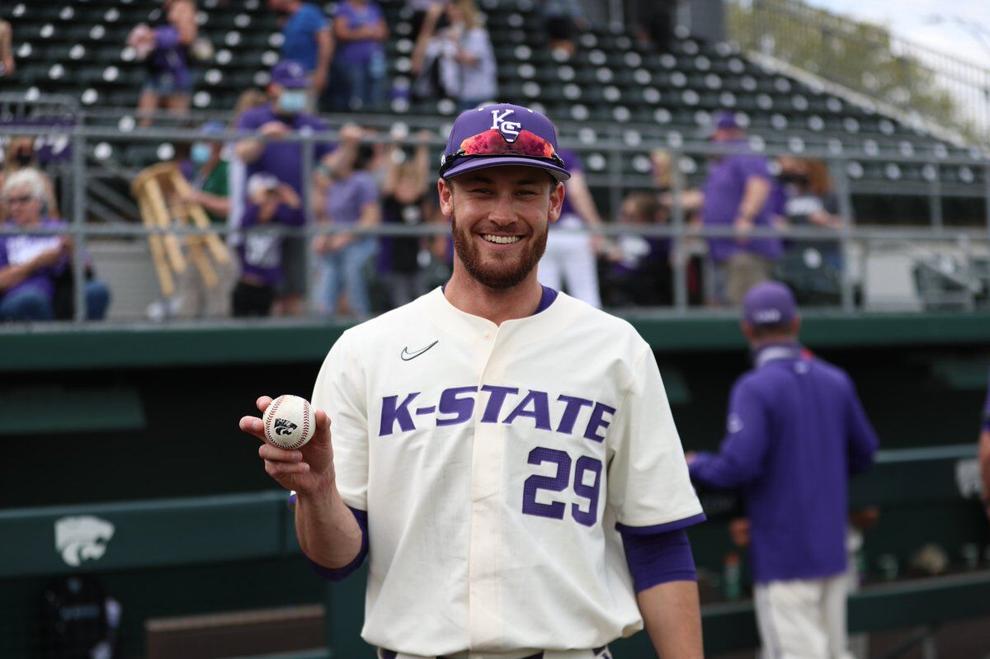 Back to the home run, one that was hit some 1,100 days from when Shade launched one against WPI while playing for Springfield.
He didn't wait very long to see what Beck was offering up in the way of a pitching repertoire.
"I'm definitely a little bit of a free swinger. I probably could have walked more in my career if I was more disciplined, that's for sure," Shade said, in a phone interview from campus. "My dad [Bob] was always just telling me to look for the first pitch. That first pitch might be the best one you get."
So, when the big right-hander sent his first delivery to the plate, Shade was ready to rip.
"I was looking for a first-pitch fastball, something up in the zone that I could elevate. Coach Hughes was over at third base and he kept telling me 'Elevate pull side.' I ended up getting a good pitch to do it," Shade said. "Obviously, it turned out pretty good. I had a good feeling that it was gone. I hit a ball earlier in the game that actually got caught at the wall, and I didn't hit that one as well."
The ball cleared the fence easily and landed at the back of the Kansas State bullpen. But anyone who saw the video knows that the home run itself wasn't quite as exciting as the reaction of the relievers in the bullpen and of the players on the Kansas State bench. They mobbed Shade like he had just walked off a win in the Big 12 Tournament.
"When I got home, I saw all the guys huddled around the front of the dugout," he said. "It was awesome to see that support from those guys. That's honestly what made it such a great experience. It wasn't hitting the home run itself. It was going back there and just receiving all the love and support from those guys.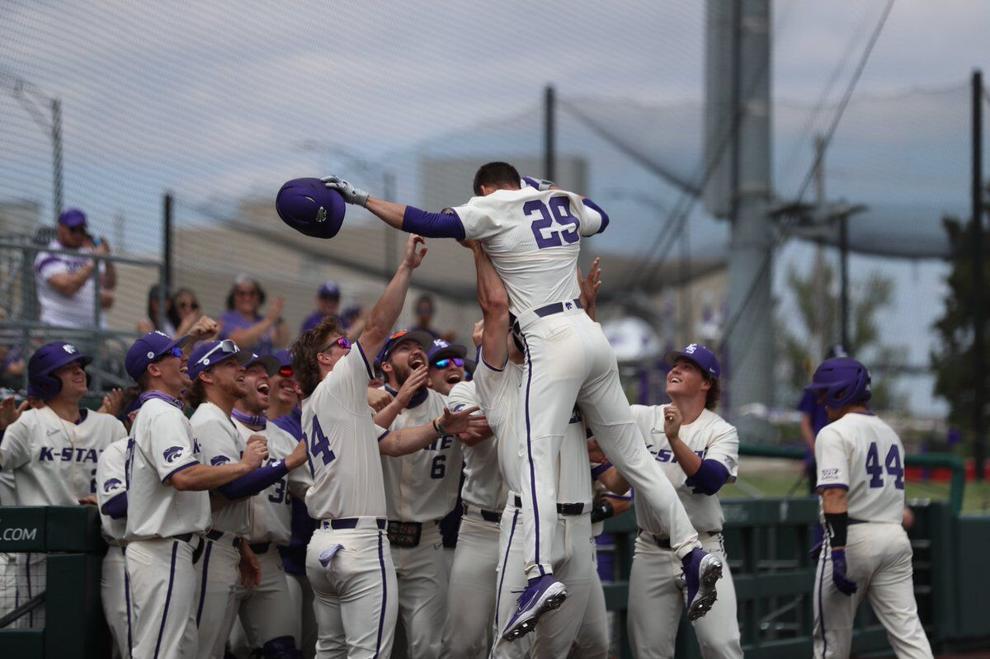 "That was the best part about it."
On the video, watching the relievers is almost as much fun as watching the scrum in front of the Wildcats' dugout.
"I think they call it a 'Starfish,' when they all run to the back of the wall and jump up, and hit it pretty much face first," Shade said. "That was really cool to go back and watch, because I didn't see it live in the moment."
Shade said that during batting practice, several of his Kansas State teammates were telling him he had to hit a home run.
"I'm just thinking in my head, I just want to hit the ball," Shade said. "It would be really cool if I hit a home run, and that's kind of where my swing's been geared toward. Usually when you try to go out and hit a home run in a game, it doesn't usually go well for you. I was just trying to hit the ball hard, and hopefully, something good was going to come out of it."
Although Shade doesn't expect to play in the upcoming Big 12 Conference Tournament or the NCAA Tournament, should Kansas State make it, the Pittsfield native will stick around until the Wildcats' season is over. Kansas State is currently 27-16, and has weekend road trips to Baylor and Kansas before hosting TCU May 20-22.