CHESHIRE — Student-athletes throughout the county are planning to bounce back into action after COVID-19 modifications had the 2020 high school winter season looking like a shell of itself.
Photos: Bucky Bullett High School Basketball Jamboree
The Bucky Bullett Jamboree featuring Drury, McCann, Hoosac and Mount Greylock girls and boys teams, was held at Hoosac Valley High School.
To purchase photos click here
Hurricanes, Hornets, Mounties and Blue Devils descended upon Hoosac Valley High School on Monday night for the annual Bucky Bullett Jamboree. The four-school and eight-team event served as a trial run before the regular season gets rolling throughout the county later in the week.
"Even this, being a jamboree, it feels like basketball," Drury girls coach Ian Downey said. "You can feel that everyone is into it. Teams were competing last year, but this season is a different mindset."
Most of Berkshire County's schools competed in the local winter season but that wasn't the case for McCann Tech, which chose to not compete in the 2020 winter season.
"It's funny, when you're not in it you're not thinking about it as much," Kathy Budaj, coach of the McCann Tech girls, said of getting back into the gym. "When you're back on the floor you realize how much you missed it."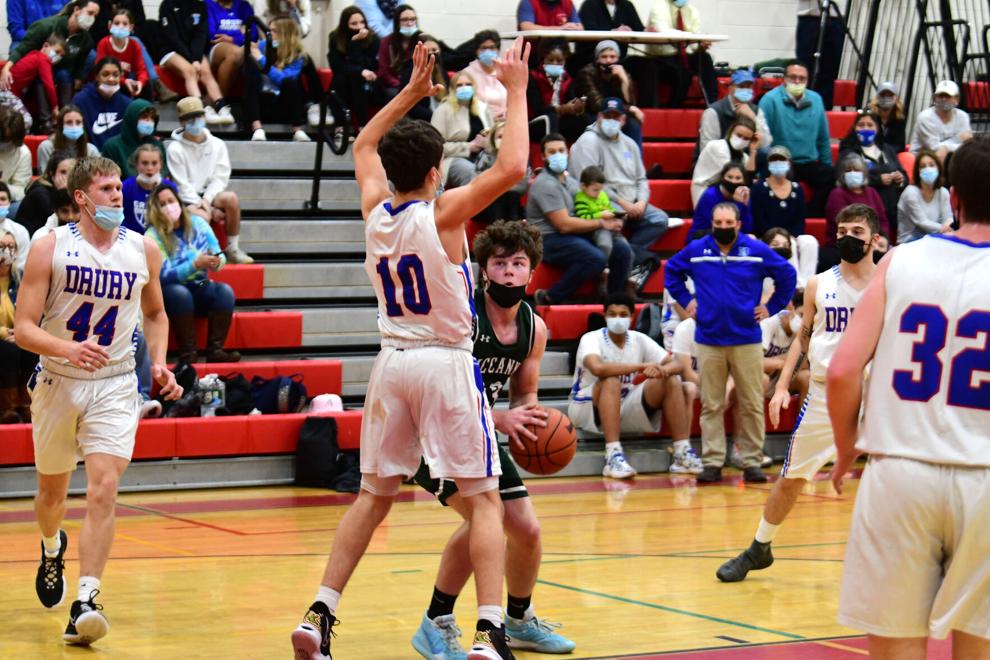 "It feels good, that is for sure," McCann boys coach Chris Bullett said. "We were ready to play, just not ready to play the right way.
"We have a young team and it will take us some time, I think we'll be alright by the end."
The dormant season has the Hornets learning on the fly.
"Not playing last year created a bit of a learning curve this year," Budaj said. "Seeing who we have for players and what they can do, learning strengths and weaknesses.
"You're going to make mistakes and that is fine, but let's fix them and that is how you get better."
"We've been talking about not letting the game speed us up and we'll keep drilling that home," Bullett added.
That youth movement is something every team will deal with this season.
"My team is young and I think others are going to say they feel young, even if they have seniors returning," Downey said. "They might not have played much [as sophomores] and they'll have to get used to the playstyle, speed and preparation."
Additionally, the jamboree is a chance for teams to get accustomed to playing in front of fans after gyms were primarily empty a season ago.
"I think it comes down to how quickly people get up to speed, but since it is a full year, I feel like we're already getting through a lot more stuff in practice," Downey said. "[Preseason jamborees] let us look and see what we need to work on."
The McCann Tech girls and boys both play on Thursday and four local teams, including the Drury and Hoosac Valley boys will compete at the Pioneer Valley Tip-Off on Saturday before all of the county's teams hit the ground running next week.