ROCHESTER, N.H. — An early start out of state was no issue for the Pittsfield 14-year-old All-Stars.
The Western Massachusetts champions started their trek through the New England regional tournament with an 8-2 win over host Rochester in New Hampshire.
It was a 9:30 a.m. first pitch, but a steady outing by Roshan Warriar on the hill set the stage for a brilliant first impression.
Warriar tossed four hitless innings to earn the win, striking out eight batters in a shutout performance.
Warriar also had a pair of hits and a RBI, while Ben Jacob finished 2 for 4 with a RBI as well. Joey Roccabruna knocked in two runs.
Next up for the local 14s is a 2 p.m. game this afternoon against Vermont champion Franklin County.
Braintree 3, Pittsfield 15s 0
TRUMBULL, Conn. — Damon Pause battled hard in his introduction to Connecticut for the New England regional opener, but the Pittsfield 15-year-olds couldn't get their bats off the bus.
Pittsfield fell in its opener 3-0 to Braintree, the Eastern Mass. champion.
Braintree's Jack Connor held the Western Mass. champs to just three base runners in the game. Meanwhile, Pause's outing was good enough to put his team in position to win. He went the complete game, scattering seven hits and getting tagged for the three runs. He struck out three and walked four.
Braintree got on the board in the second inning on a walk and two hits by Rick Dever and Cal Youtious. Another pair came across home plate in the third on three hits and another walk. Joe Grant had a two-out two-run hit for the victors.
Christian Salzarulo and Nick Brindle highlighted the day for Pittsfield, spinning a pair of double plays up the middle of the infield. Tommy Mullin had the team's lone hit against Connor, who struck out 12 batters. Brindle and Pause were the only other baserunners for Pittsfield.
The local 15s get another chance to get in the win column in pool play tonight when they take on host Trumbull at 7 p.m.
Pittsfield 13s 10, Tri-County 2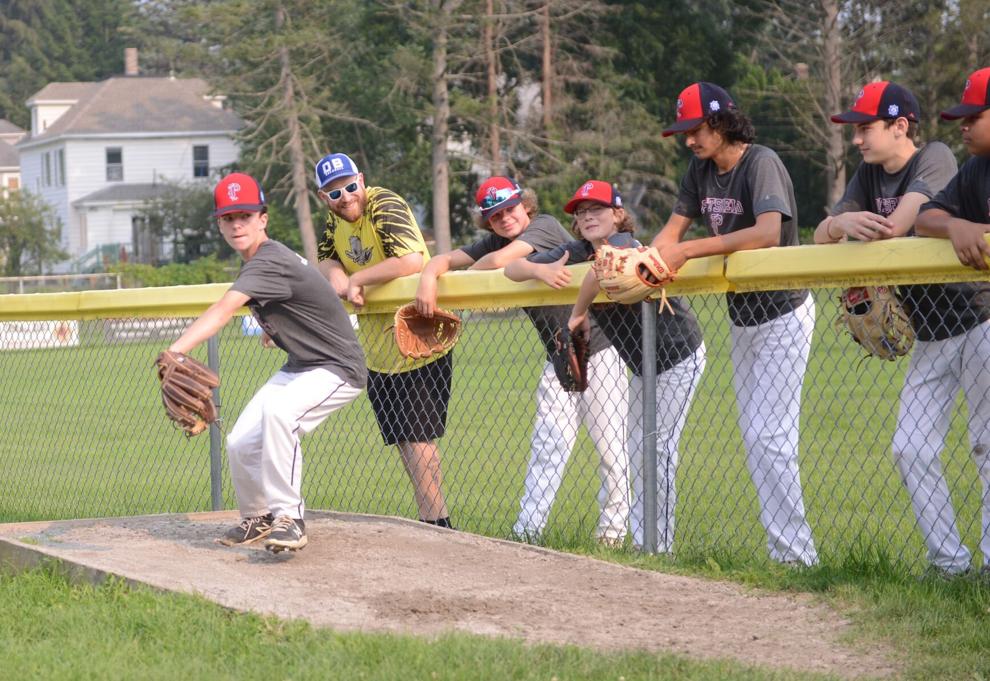 WESTFIELD — The Pittsfield 13-year-old All-Stars poured across 10 runs in a regional route to open New Englands against Maine champion Tri-County.
Pittsfield scored five runs in the top of the seventh to turn a 5-0 lead into a 10-0 runaway.
Jason Codey got the start and allowed just one hit over six-plus innings. He struck out four and walked one, before getting tagged for a pair of runs in the seventh. Matt Egan came on to finish it out with a pair of Ks.
Simon Mele had the big stick for Pittsfield, doubling twice and hitting a triple. He finished 3 for 4 with three RBI and two runs scored. The triple came right out of the gate and gave Codey a 1-0 lead to work with before touching the rubber.
Devin Reynolds had two hits and walked twice, while Connor Devine drove in a pair of runs.
Next up for the local 13s is a 1 p.m. tilt against Vermont champion Lyndon this afternoon.
Little League
The Pittsfield American program has two teams still alive and playing this summer. The 10s are in the state tournament this weekend in Andover, while the 12s are hosting a championship series in the sectional tournament looking to punch their own state ticket.
The District I and Section I champion 10s are playing Section IV champion Andover National in a semifinal game at 10 a.m. today at the Blanchard Complex in Andover. The winner will play for a state title on Sunday at noon back at Blanchard. The other semifinal is at 12:30 p.m. today with Section II champ Swansea playing against Melrose of Section III.
The 12s are still in the midst of their sectional, but have amassed a 2-0 record in the four-team, double-elimination tournament. With wins over Rutland and Longmeadow, they are in the driver's seat with Friday off. They will host the winner of Longmeadow vs. Lunenburg this afternoon at 2 p.m. at Deming Park.
Either foe would need to beat Pittsfield twice to claim the section title, as they both already have one loss.