PITTSFIELD — The Lee girls weren't sure what was actually coming after Tuesday night's game against Taconic at Berkshire Community College.
For a team with nine seniors and a litany of injuries to starters, running around on Gene Dellea Field one more time was enough. That the Wildcats secured a 4-0 victory and advanced to the semifinals of the Berkshire County South Division Tournament, was gravy.
One of those seniors, Lena Simone, went off for a first-half hat trick, and Lee tacked on another goal in the 65th minute, as the Wildcats romped over Taconic.
"We've got five girls out right now, so it's been tough. It was a nice, quick season, but it is like riding a rollercoaster together," said first-year Lee coach Gina Guachione. "We kind of know we have a game the day before, and we're just going with the flow. It's unlikely any other season."
Lee swarmed Taconic from the start, earning five corner kicks in the first 20 minutes of action. The second one junior Caroline Maloney placed on teammate's foot inside the box, but Taconic goalie Tatyaina Curtis made a stellar last-second punch up over the crossbar. On the fifth, though, the Wildcats broke through.
Curtis was first to Maloney's strike, but the ball bounced to Simone, who finished it off on an open net in the 18th minute.
Taconic had its own corner kick a minute later and got a couple of looks from Eboni Gardner and Isabella Pimentel, but nothing stuck. The counter came quick.
Maloney started things once again, taking an inbounds pass up the right side before looping in a pass to senior Ellie Miller, who's shot bounced in and out of the goalie's hands. Simone locked the ball back inside the box, made a nice step-through move to shake a defender, and put a left-footed boot off the keeper and in. The lead was 2-0, 21 minutes in.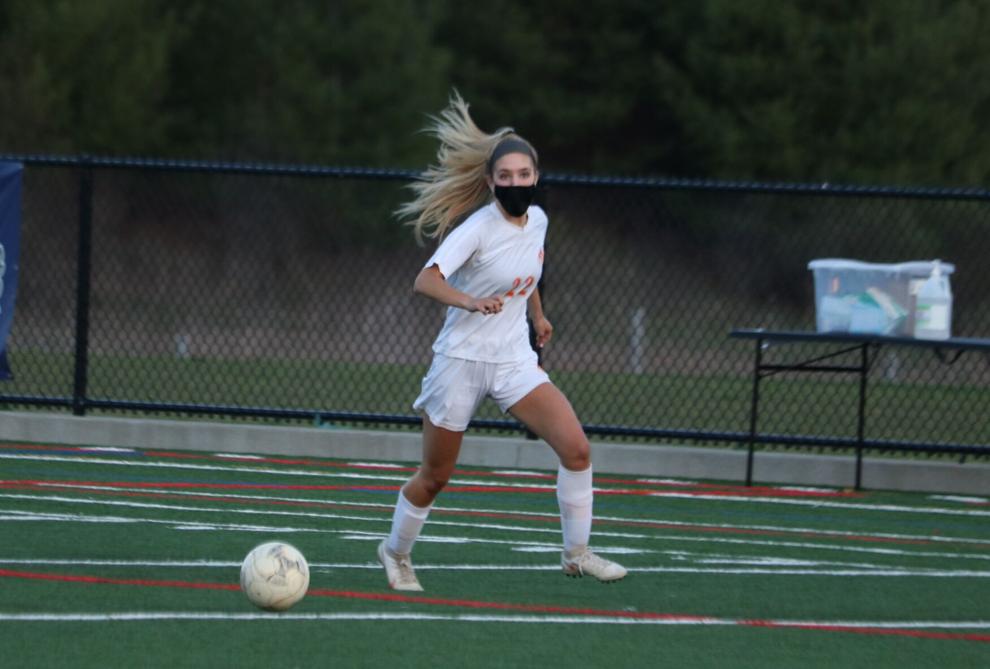 Taconic got a few good runs on a through ball, with Pimentel getting off a shot on goalie Maeve Finnegan, and Diandra Middleton testing the Wildcats defense deep. Ultimately, though the Green and Gold were unable to get on the board, and Lee came furiously with the counter attack again. The Wildcats moved on a long boot of their own, and Miller and Simone wound up with a two-on-one opportunity. Miller tapped off, Simone beat the defender to the spot, and racked up her hat trick.
"It's definitely different. Not ideal, but we have nine seniors so we all just really wanted to make the most out of it," Simone said of the season.
"A bunch of our varsity players from last year have a bunch of injuries, so a lot of girls are stepping up," Miller added. "Maeve stepped up in goal, so did Molly."
Maeve Finnegan polished off her shutout in the second half, withstanding a couple more Taconic attacks, including a blast off the post.
Lee added another insurance goal when Miller knocked a shot off the near post and Kaylyn Retzel finished it off with 14:09 to play.
Per the schedule, Lee now advances to the South Tournament semifinals, at Drury today at 4:30 p.m. Mount Everett and Hoosac Valley play in the other semifinal.
———
Lee 3 1 — 4
Taconic 0 0 — 0
First Half
L — Lena Simone (Caroline Maloney), 18:00; L — Simone (Ellie Miller), 21:00; L — Simone (Miller), 30:00.
Second Half
L — Kaylyn Retzel (Miller), 65:00.