PITTSFIELD — The first batter Avery Vale-Cruz faced on Tuesday evening at Taconic reached base and scored. From that opening frame on, though, the Wahconah ace was lights out.
The Warriors scored a barrage of runs late on the road to pull away from Taconic 11-1.
It was a shaky start for Vale-Cruz, and the Warriors as a whole. Her counterpart in the circle, Rylee Paronto, scored on a wild pitch, and two other batters worked walks in the bottom of the first, before Wahconah got out of the jam down 1-0.
On the flip side, Paronto went 1-2-3 on the Warriors in the first and held them scoreless on one hit through three frames. She struck out six in the game.
That was where the Wahconah offense picked up their hurler. Kaylee O'Bryan and Vale-Cruz were issued free passes to lead off the fourth. An error compounded things and another walk and hit batter kept the inning going. Wahconah scored four runs on one hit, an RBI single from Morgan Marauszwski.
Vale-Cruz was electric from the second inning on. She retired 15 consecutive Taconic batters in — according to the home book — a three-hitter. There were some discrepancies on hits vs. errors between the scorebooks. Chloe Wendling's single with two out in the seventh, which fell just in front of a diving O'Bryan at first base, was one of the lone blemishes. Vale-Cruz struck out nine, and set the hosts down in order coming off that four-run rally.
Wahconah took the drama out of a 4-1 game with a seven-run seventh. O'Bryan led things off with a home run, opening the floodgates, as six more base hits followed. Marauszwski had another RBI single, as did Julia Trager, and O'Bryan drove in another pair in her second at bat of the inning.
———
Wahconah 000 400 7 — 11 9 0
Taconic: 100 000 0 — 1 3 1
Vale-Cruz and Wehner/Quinto. Paronto and Schettini. W — Vale-Cruz. L — Paronto. HR — O'Bryan.
Mount Everett 16, Lee 4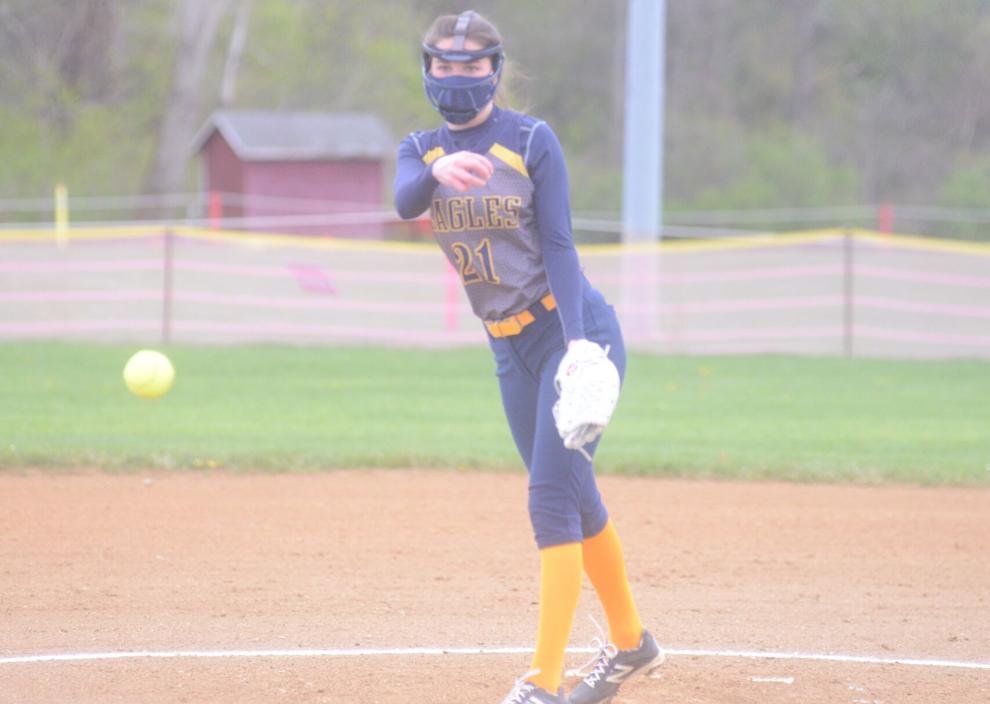 SHEFFIELD — Four runs in the third, followed by another five in the fourth, helped Mount Everett softball break away from Lee on Tuesday afternoon.
The run support was more than enough for Mariah Broderick, who struck out three and allowed two hits against the Wildcats.
Emma Goewey launched a two-run shot in the third inning to give the Eagles a 3-1 lead. Goewey finished the day 2 for 5 with four runs batted in. Hailey Liebenow was 2 for 4 with a double and two runs scored.
Tori Gilmore, batting sixth, scored three runs and singled twice for Mount Everett.
"The girls took a hard loss on Friday and responded the way they needed to, which was great to see," Mount Everett coach Josh King wrote in an email. "[Broderick] continues to work hard in the circle and some timely hitting by Emma Goewey, Tori Gilmore, and everyone helped in today's win."
———
Lee 010 030 — 4 2 1
Everett 104 542 — 16 11 0
W — Broderick. L — Bannon. 2B — ME 1 (Liebenow). 3B — ME 1 (Tomascak). HR — ME 1 (Goewey).