PITTSFIELD — A little bit of home cooking was all the Pittsfield girls needed after suffering a three-point loss at Westfield on Monday.
The Generals could do no wrong in their home under the dome on Wednesday night as a 25-point second quarter highlighted a 64-56 win over Hoosac Valley.
"It was important [to get going quickly]," said Randi Duquette, who had 12 points and 10 rebounds for Pittsfield. "We know Hoosac is a great team, we needed to stay focused and work hard. I think we did that tonight."
Pittsfield's physicality set the tone early on as Jamie Duquette captured offensive rebounds on consecutive trips down the court and converted the boards into four points, giving Pittsfield an early 9-3 advantage.
Jasmine Small got involved with a steal-and-score followed by an assist to Randi Duquette, who kept Pittsfield's six-point advantage with a coast-to-coast trip that ended at the rim.
Pittsfield led 17-9 as the first quarter ended and kept Hoosac off balance with a handful of transition opportunities.
"Fast breaking is a big part of our offense and we're a fast team," Randi Duquette said, "it works really well for us."
Jamie Duquette started the second quarter with two free throws and Randi Duquette found her streaking down the court after a steal. A pair of foul shots by Randi Duquette and an old-fashioned three-point play by Jamie Duquette had the Generals on a 13-4 run to begin the frame.
Pittsfield held a plus-9 advantage on the boards in the first half and Jamie Duquette was the catalyst. She haunted the Hurricanes with a team-high 27 points, 10 rebounds and five assists. Wednesday marked her second outing in three games with at least 23 points.
The Hurricanes trailed 42-20 at the half but weren't ready to let a seven-game winning streak fade away that quickly. Averie McGrath scored five-straight points to begin the second half and a bucket from Taylor Garabedian cut the deficit to 15.
However, two-straight offensive rebounds returned to the sender by Jamie Duquette quickly neutralized the run. Gabby Billetz, who closed with four points and 10 rebounds, scored a bucket and McGrath made it a seven-point game with a layup inside.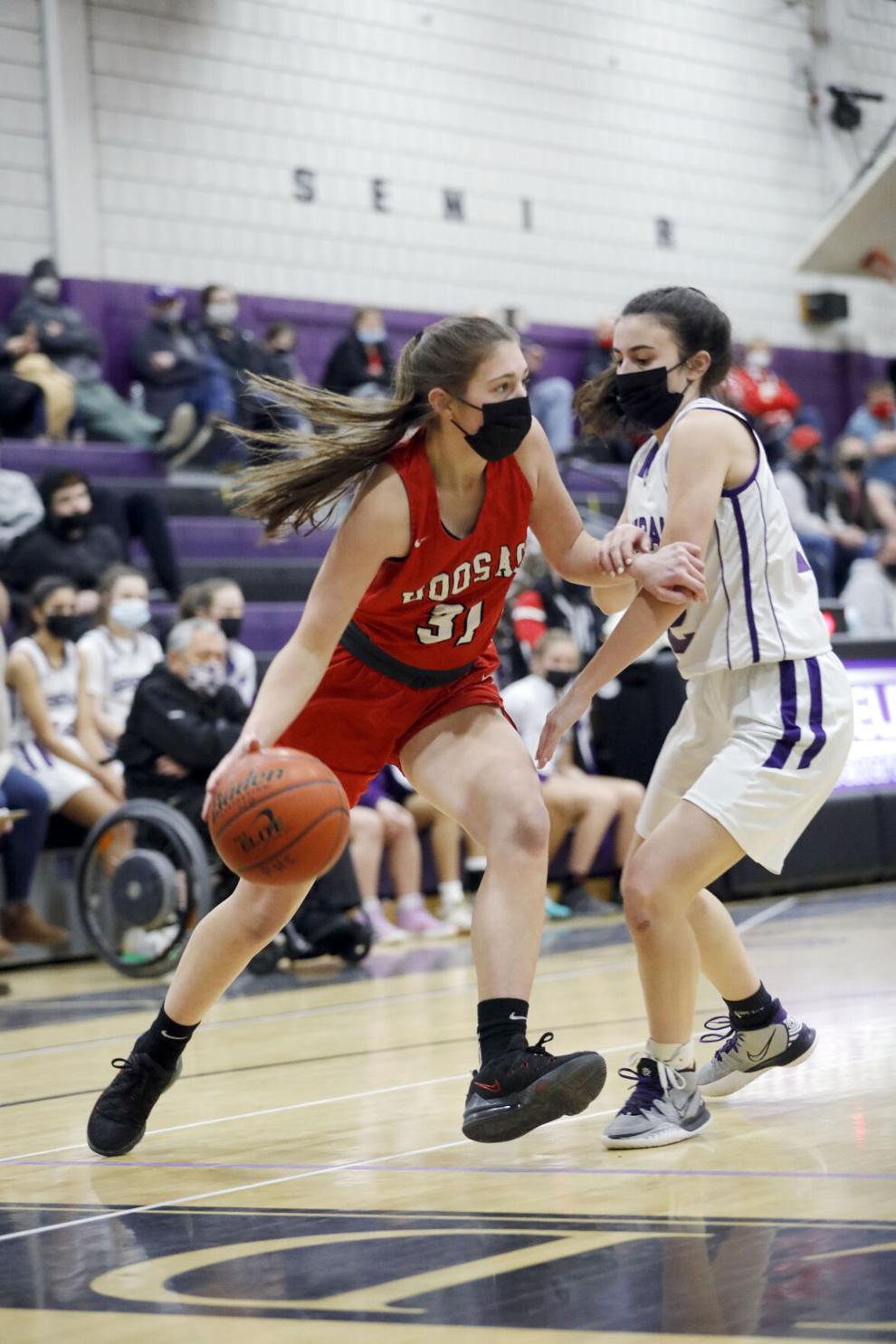 McGrath was the power supply for Hoosac's 19-6 run in the third quarter, scoring nine points in the frame. McGrath finished with a game-high 32 points and seven rebounds.
In fact, Hoosac continued its run into the fourth quarter and outscored Pittsfield 36-22 in the second half, but the first half was too much to recover from.
The loss drops Hoosac to 10-2 on the year and will host Mount Greylock later tonight. Pittsfield has now won three of the last four games and is 7-5 on the year.
Next up for the Generals is a trip to Chicopee on Friday.
"With Chicopee next, this win was important and it gives us some confidence going into that game," Randi Duquette said.
———
HOOSAC VALLEY (56)
Boudreau 1-0-2, Billetz 2-0-4, Shea 0-0-0, A. Garabedian 2-0-4, Lesure 1-0-3, Witek 3-3-9, McGrath 9-11-32, T. Garabedian 1-0-2. Totals 19-14-56.
PITTSFIELD (64)
Goodnow 3-0-6, Supranowicz 2-0-5, Martin 0-0-0, Malumphy 0-0-0, R. Duquette 4-4-12, McNeil 0-0-0, Sadowy 0-0-0, J. Duquette 10-6-27, Small 1-0-2, Powell 4-1-10. Totals 25-11-64.
Hoosac Valley 9 11 19 17 — 56
Pittsfield 17 25 6 16 — 64
3-point field goals — HV 4 (McGrath 3, Lesure); P 3 (Supranowicz, J. Duquette, Powell).