PITTSFIELD — To say that Pittsfield Suns general manager Sander Stotland has a bit of a challenge on his hands might be an understatement. It is, however, a challenge that Stotland has jumped into with full vigor.
"We're putting together everything you would do over a course of a year, especially after a dark season, in 26 days," he said.
Stotland has been on the job for just about a month, working to not only get Wahconah Park ready for the 2021 Futures League season, but to make sure all the I's are dotted and T's are crossed for both the on-field and off-field product to have a successful season.
"I'm here for the citizens of Pittsfield to put a product on the field, a good product on the field," Stotland said during an interview at his Wahconah Park office. "The citizens of Pittsfield deserve a good product on the field, but also a great experience because we've been dark for so long here. People are yearning for something to do. Pittsfield, with its storied baseball background, has been a staple.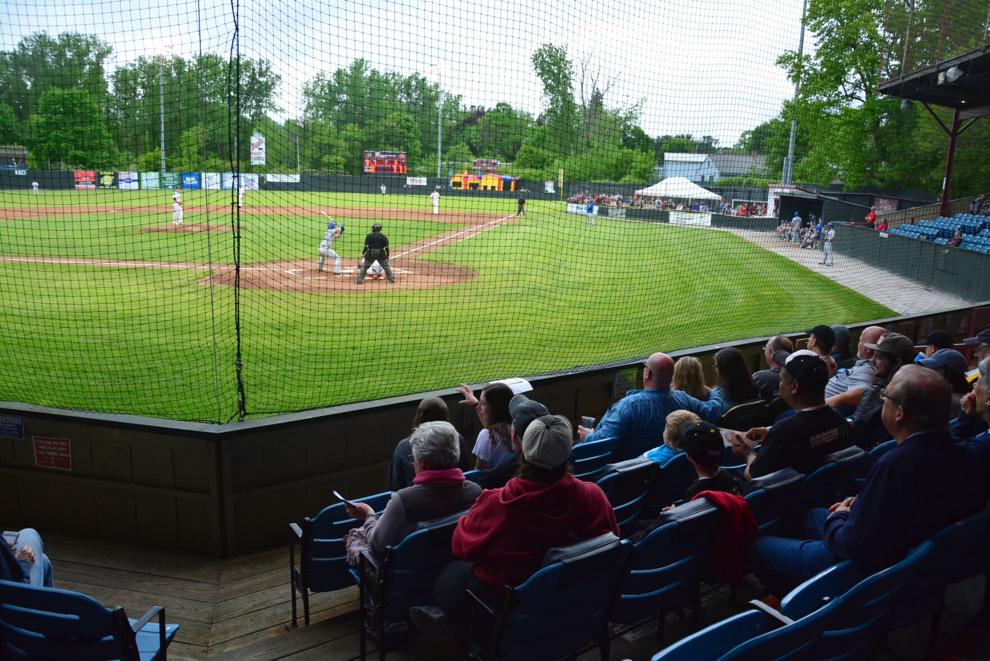 "I'm doing my darndest to put a quality act together in a short amount of time."
The Suns will open their 2021 season on Wednesday against the Brockton Rox. The next day, the Suns will return to Wahconah Park for a 6:35 p.m. home opener against the New Britain Bees.
Wahconah Park has been a beehive of activity. Work on the clubhouse, the concession stands and of course the field have been ongoing. Stotland said the lights checked out fine, and they are working to make certain the scoreboard is up and running on May 27.
The last time the Pittsfield Suns were on the diamond at Wahconah Park was Aug. 4, 2019. The Suns beat Westfield 6-4 in front of 1,720 fans. So, when the Suns take the field for the home opener on Thursday, May 27, against New Britain, it will have been 650 days since the crack of the bat was heard in the ballpark on Wahconah Street.
The Futures League did play a truncated 39-game schedule in 2020. But due to COVID-19 pandemic requirements, the Suns opted out of the league. Nashua won the Futures League title, beating Worcester 2 games to 1 in the playoffs.
The last time the Suns played, they finished 28-27, thanks to that win over Westfield in the regular-season finale. It ended a run of four consecutive sub-.500 seasons.
The Futures League itself will also be looking a lot different since the last time the Suns played. In 2020, New Britain replaced Bristol, so when the Bees arrive in Pittsfield, it will be their first appearance against the Suns. Meanwhile, North Shore left the league, and has been replaced by Vermont and Norwich. Vermont and Norwich are former New York-Penn League franchises that were left behind in the drastic reorganization of Minor League Baseball.
Pittsfield and its Futures League colleagues will play a 68-game schedule in 2021. According to Pittsfield senior sanitarian Andy Cambi, crowd limits will last until Memorial Day weekend.
"For the opening day of the 27th, the capacity and mask restriction is still in place. Beginning the 29th is when all restrictions are lifted," Cambi wrote in an email to The Eagle. For the opener and for the May 28 game against Vermont, that means Wahconah Park will be limited to 25 percent capacity and spectators will need to be masked. When Westfield visits on May 30, those restrictions should be lifted.
For Pittsfield, Stotland said that with an overall capacity of 5,000, the first couple of games would operate with a maximum attendance of about 1,250 fans. Fans will, this summer, be able to congregate underneath the scoreboard in right field. That was where the kids' area had been, but the Suns' GM said that with COVID-19 protocols, keeping the slide and bounce house sanitary was a bridge too far.
"We're going to try to get it as normal as possible," Stotland said, when asked what Wahconah Park is going to be like this summer. "The beer garden will be up and running. We will have some theme nights that I'm trying to work on now."
Normal as possible includes a Fireworks show on July 4. The original Futures League schedule had the Sunday game with Nashua scheduled for 4:35 p.m., It is now 6:35.
As has become traditional, there will be on-field games between innings. There won't be as many because of COVID-19 protocols.
The Suns and Berkshire Medical Center are partnering to have vaccine clinics.
"We'll be having three or potentially four vaccine clinics," he said. "Come and get your vaccination, you and your family will get tickets to the ballpark that night. If you don't want to go on that night, we'll give you a voucher for another night."
Tickets for 2021 are $6 in advance for box seats and $4 for general admission. On game day, the prices rise to $8 and $5, respectively. Senior citizen tickets are $4. Season ticket prices have dropped as well. Box seats are $175, down from $200. General admission season tickets are $125, and Stotland said a season ticket for children under 12 is $25. Groups of 10 or more people get tickets for $3 each.
"The phone lines have been lit up," he said. "I'm not going to lie. I've got pages of people wanting to buy season tickets, wanting to buy single-game tickets and such."
The Suns' home schedule has been adjusted as well. The team will now play five twi-night doubleheaders over the two-plus months of the 2021 schedule. The first doubleheader will be on Saturday, June 5 against Worcester, with a June 1 game scratched off the calendar. The second will be on Thursday, June 10 against Nashua, with a game set for June 8 erased. The third twi-night doubleheader will take place Tuesday, June 22 against Westfield, taking a June 16 game against the Starfires off the calendar. A fourth doubleheader will be played on Saturday, July 17 against Norwich. An Aug. 11 game with Norwich is now off the board. All four of those doubleheaders will begin at 5:35 p.m.
The fifth doubleheader will be played on Sunday, Aug. 1, against Norwich. That replaces an Aug. 4 game, and that doubleheader will start at 4:05 p.m.
The Suns are holding a jobs fair on Saturday from 9 a.m. until 5 p.m., with openings in all departments.