PITTSFIELD — The Pittsfield Suns had plenty to celebrate Monday night.
Not only did the Suns sweep a doubleheader for the first time all season, they did it twice on walk-offs. The second walk-off, coming on Nate Cormier's two-run single in the nightcap, gave Suns manager Matt Gedman his 100th win at the helm of the Futures League team.
The Pittsfield Suns beat Norwich 1-0
The Pittsfield Suns beat Norwich 1-0 during a double-header at Wahconah Park.
To purchase photos click here
"Honestly, it's something I hadn't even thought about," Gedman said, after receiving a water bucket shower. "The goal every year is to go over .500 and make sure we have a good experience and make the playoffs. Unfortunately, we haven't been able to make a playoff run. It's a special group. I love coming to the field every day. These guys have been awesome every day. They compete."
Competing is how the Suns managed to win both games. Javier Rosales' flukey double dropped between two outfielders to score Joel Lara with the only run in a 1-0 victory over Norwich in the opener. In the nightcap, Cormier's two-run single down the left-field line scored pinch-runners Lara and Jack Cooney for a 4-3 walk-off against the Sea Unicorns.
"It's a huge doubleheader win. We're sitting in third place," said Cormier. "We're just working as hard as we can to get back in the position where we want to be going into the playoffs."
While the Suns swept Norwich, league-leading Brockton and second-place Vermont split a doubleheader. So the Rox lead the Lake Monsters by a half-game. Pittsfield is 2 1/2 back, while fourth-place Worcester falls to 4 1/2 behind the leaders.
In 2021, only the top four teams will make the Futures League playoffs, and the top two get home field advantage.
Pittsfield has a 10:30 a.m. game at Westfield on Tuesday, will host the Starfires for two on Wednesday and will travel back to Westfield on Thursday.
Matt Gedman gets a shower for his 100th win as Suns manager. pic.twitter.com/yugu5scFSv

— Howard Herman (@howardherman) July 27, 2021
Game 2
Norwich broke a 1-1 tie with a run in the fifth that scored on a wild pitch by Grant Nicholson and the Sea Unicorns got an insurance run in the sixth. With two outs, the Suns starter hit Michael Torniero with a pitch. Then after throwing a wild pitch that moved the runner up, Ian Battipaglia singled to center to score Torniero to make it 3-1. Nicholson walked Reece DeCastro on four pitches, and Gedman came out to make a pitching change.
Reliever Stephen Quigley struck Tyler Wells out on three pitches and then threw a 1-2-3 seventh. Cormier, playing shortstop, made an outstanding play on what looked like a sure single off the bat of ex-Sun Matt Malcom. Cormier went to his left, made a play on his knees and threw to Cabot Maher at first. Maher made a nice grab of the off-balanced throw to record the final out.
Brendan Jones led off the home seventh (doubleheaders are two, 7-inning games) with a single to left and went to third when Maher hit his second double of the game. Lara came on to pinch run for Maher.
Norwich starter Luke Mathewson had held the Suns to three hits over the first six innings, but all of a sudden, he was in a jam.
The next batter was Tyler Cox, and he hit a shallow fly to left for an out that did not score the runner. Mike Gervasi walked and was run for by Jack Cooney. Caleb Shpur grounded to shortstop, but Kansas State commit Kaelen Culpepper's throw pulled DeCastro off the bag. Everyone was safe and Jones scored.
Cormier was up next, and the Sandisfield resident hit the first pitch by Battipaglia at third. Speedsters Lara and Cooney came around to score, and the Suns locked up the sweep.
"I was seeing the ball well all day, hit two curveballs pretty hard earlier in the game," Cormier said. "He hung one first pitch. I don't pull the ball, but it snuck down that line. As soon as it got inside the bag, I put my hand up, because I knew it was game."
———
Norwich 010 011 0 — 3 5 1
Pittsfield 000 011 3 — 4 6 1
One out when winning run scored.
Mathewson and Keefe. Nicholson 5 2/3, Quigley 1 1/3 and Appel. W — Quigley (2-0). L — Mathewson (0-1). 2B — P: Maher 2, Appel. LOB — N 5. P. 4. T — 1:50. A — 294.
Game 1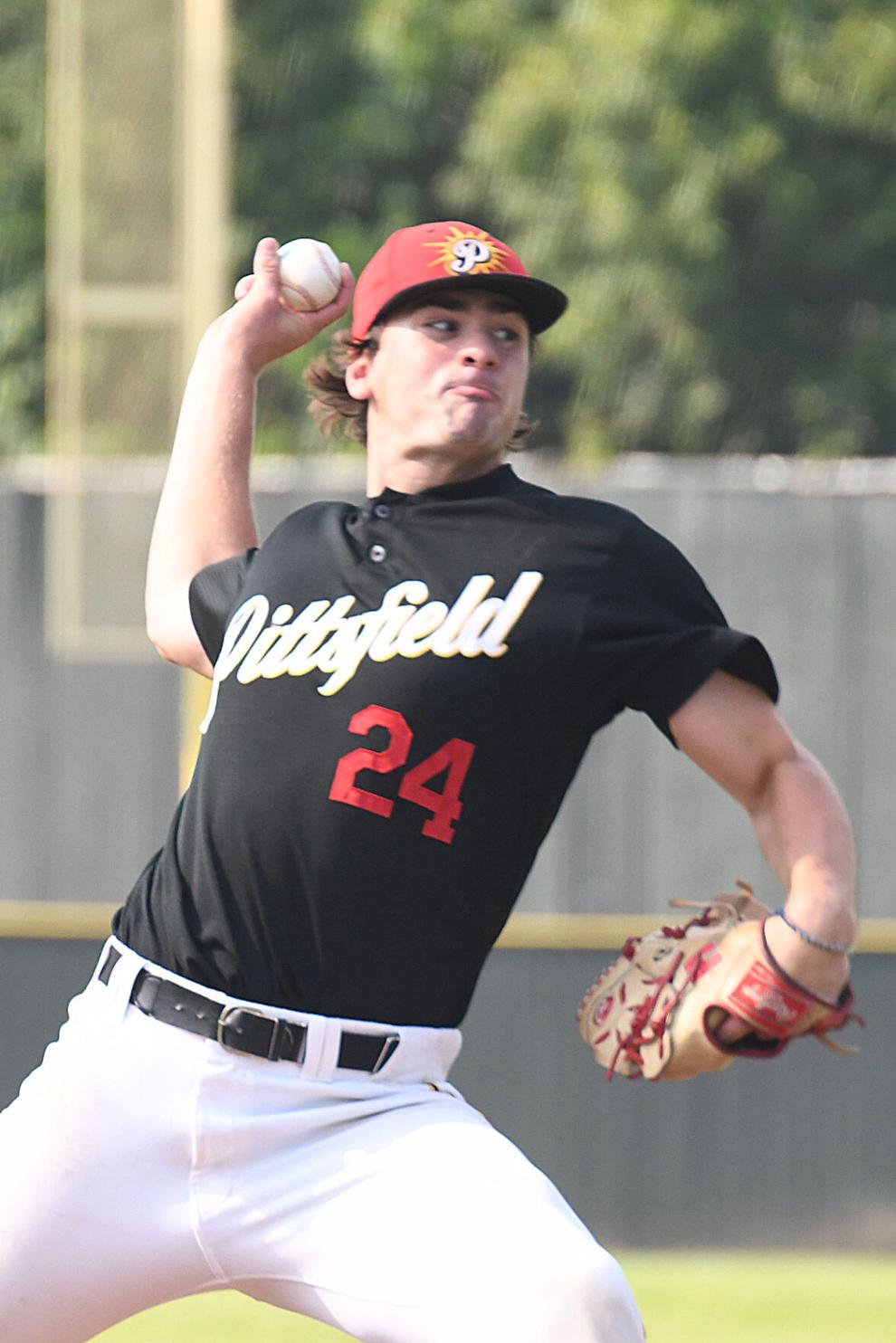 It was a walk-off win in Game 1, but not before a scintillating pitchers' duel between Pittsfield's Izaiya Mestre and Norwich's Brad Lombardi.
Both pitchers threw six scoreless innings. Lombardi had given up six hits and stranded eight, walking four and striking out eight. Mestre held the Sea Unicorns to two hits and two walks while striking out five. Over Mestre's final four innings of work, Norwich did not strand a base runner. At one point, the former Taconic standout retired 12 straight.
"It felt good out there," said Mestre, who had his best outing since June 11, when he threw six shutout innings in a win against New Britain. "I was just trying to fill it up and throw strikes and get back on the right track. After the second, I kind of fixed my mechanics a little bit. I was falling off a little bit, so I was trying to stay through every pitch and that's what happened in three through six. I was feeling good and filling up the strike zone."
Ryan LaPierre came on to pitch the seventh in a Taconic-to-Pittsfield tag team. It was a pretty high-leverage situation, and LaPierre was equal to the task. He retired the side in order on just seven pitches. That set the stage for the walk-off in the seventh.
Leadoff hitter Cole Wojtkowski looped an opposite-field single to right. Brendan Jones came in to run and promptly took second when reliever Tyler Briggs' pick-off attempt got away from first baseman T.J. Keefe. A wild pitch moved Jones to third, but when Seth Werchan hit a hard liner to Culpepper at short, Jones was maybe a step too far down the line and was doubled up.
So, with two outs, Lara worked a 3-2 walk. Rosales, who had two singles and a walk earlier, looked at ball one. He hit a towering fly ball to center, which looked like the third out. But Jared Zimbardo in center and Torniero in left had a miscommunication, and the ball dropped between them. Gedman was waiving his arm like a windmill as Lara sprinted from first and came home with the game's only run.
"We had two outs and I went on contact. I was jogging, and ready to give my helmet to my coach and I see it drop," Lara said. "I was like, I'm scoring and we won. It was ridiculous. Not in the last inning to walk it off, never."
———
Norwich 000 000 0 — 0 2 1
Pittsfield 000 000 1 — 1 8 1
Two outs when winning run scored.
Lombardi 6, Briggs 2/3 and Malcom. Mestre 6, LaPierre 1 and Miller. W — LaPierre (2-0). L — Briggs (0-2). 2B — P: Rosales. LOB — N 3. P 9. T — 1:58.