NORTH ADAMS — There have been a lot of wins at Joe Wolfe Field over the decade. What the North Adams SteepleCats did on Friday night could definitely be something new for the history book.
After all, it isn't very often that a runner gets into a rundown to have a walk-off run score.
"It's the first time I've ever ended a game like that," said North Adams second baseman Mason Hull. "That was crazy."
Photos: North Adams SteepleCats vs. Vermont Mountaineers
To purchase photos from this gallery, click here.
Crazy might be an understatement in describing how Braden Golinski scored from third base as the SteepleCats walked off Northern Division leader Keene 9-8. The SteepleCats had a 6-2 lead after four innings, but were outscored 6-1 until the bottom of the ninth inning as the Swamp Bats almost completed one whale of a comeback.
"Sometimes you don't necessarily deserve to win, but you'll take the win and we'll take it," SteepleCats manager Mike Dailey said. "Any time you can beat the first-place team, whatever you've got to do to get the danged 'W,' we'll take it."
Keene took the lead on Matt Almonte's RBI single in the top of the ninth inning, scoring Noah Martinez from second base. The SteepleCats had a chance to get out of the inning unscathed, but usually surehanded shortstop Jon Kozarian mishandled what would have likely been an inning-ending double play. Instead, the SteepleCats hit one ball out of the infield in the ninth but rallied for the win.
With one out, Matt Shilling reached on an infield single. After Golinski was hit by a pitch from Keene reliever Caleb Corbett, the fifth Swamp Bat hurler, Lucas Donlon grounded the ball past third baseman Troy Schreffler and Shilling scored the tying run. Hull worked a four-pitch walk to load the bases.
The next batter was All-Star starting first baseman John Marti, who hit a weak grounder to second that drove in the winning run.
"With a jam shot to the second baseman? No, I don't think so," said Marti, who also got a water shower on a ball that didn't leave the infield. "I was glad Mason was able to pick me up with the base running."
Now, about that base running.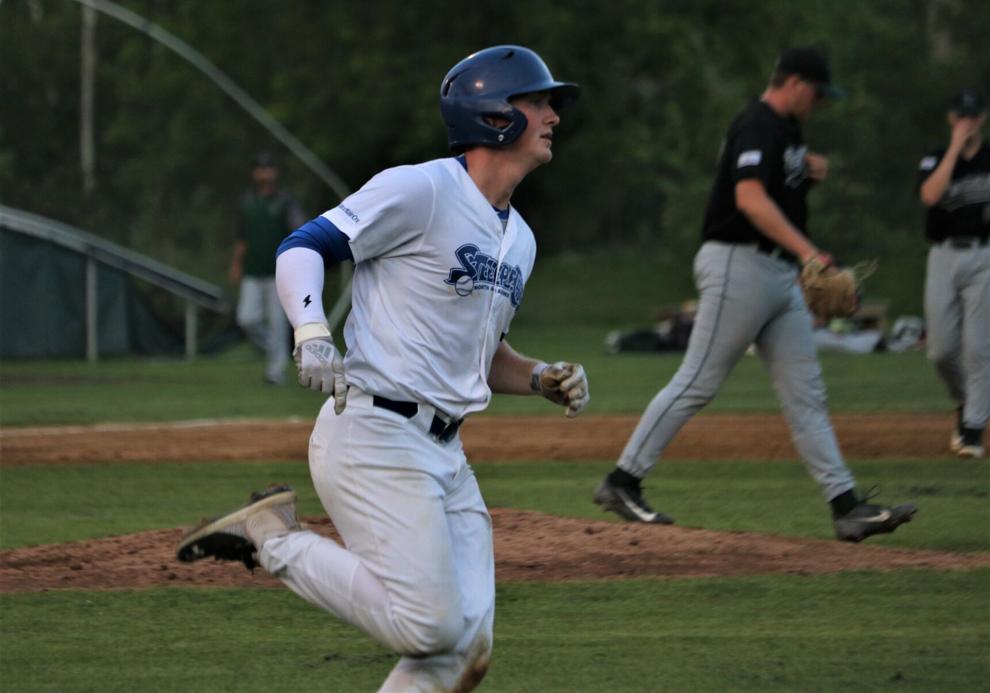 "When [Hull] came over to first, I was telling him the situation, and he was like 'Do I even have to get a lead?'" said SteepleCats first base coach Mason Heyne. "I said no, not really, because the run doesn't really matter. I said don't run into a tag and he didn't respond to me. I wasn't sure if he heard me. I'm pretty sure he did not hear me. He did it on his own."
What Hull did was stop dead in his tracks when Keene second baseman Zach Bushling fielded the slow roller. Hull backed up a couple of steps, forcing Bushling to chase and tag him. The relay throw to first was too late to get Marti and Golinski scored the winning run.
"I was just trying to be smart out there," said Hull, who plays collegiately at Missouri State. "I saw that the second baseman was coming at me to try and get a double play that way. I was like, I might as well make it tough on him and back up. I don't want to give him a double play to end the inning. Marti's gritty. He hustles all the time and I had confidence he was going to beat it out."
The last-inning heroics put the rest of the game in the category of prologue. The Swamp Bats led 2-0 after their half of the first inning on a two-run double by Troy Schreffler. The SteepleCats took the lead in the home first when a wild pitch scored Marti from third and Justin Grech hit a two-run single. The SteepleCats added three runs in the fourth, including a perfectly-placed squeeze bunt by Grech that scored Middleton with the sixth run.
Your final : @SteepleCats 9, @swampbats_keene 8. Got hung up trying to evade a gatorade shower. Cats had bases loaded after Donlan's 1b plated tying run. Marti grounded to second, 2B Bushling tagged Mason Hull as Hull retreated to first. Runner safe, Golinski scores winning run.

— Howard Herman (@howardherman) July 17, 2021
North Adams, however, could have knocked the Swamp Bats out of the game in the first few innings. North Adams stranded eight runners in the first four innings alone, leaving runners in scoring position in all four innings and not scoring after loading the bases in the second.
The Swamp Bats pulled to within 6-4 with two runs in the fifth inning. The SteepleCats got one run back in the sixth to make it 7-4 when Kozarian scored from third on a double-steal.
Keene tied the game with three runs in the eighth inning as Michael Nyisztor's base hit scored Almonte with a run to make it 7-7.
"The problem is we played like we had [a win] in the fifth inning and we went to sleep," said Dailey. "You can't do that against the first-place team. Hopefully, we learned from that."
Jeremy Lea was 3 for 4 with two runs scored, while Grech was 2 for 4 with three RBI. Middleton and Kozarian also had two hits each.
With the win by the SteepleCats, they move to a game-and-a-half behind the division-leading Swamp Bats. Keene and Upper Valley are both even in the games-behind column, but Keene leads with a .607 winning percentage to .600 for Upper Valley.
The Nighthawks will be in North Adams for a Saturday night game. The SteepleCats will look to extend their home winning streak to seven games.
———
Keene 200 020 031 — 8 13 2
North Adams 300 301 002 — 9 11 1
Two outs when winning run scored
Bradley 1 2/3, Stallings 1 1/3, Sabia 1, Y 3, Corbett and Melendez. Yoder 5, Lovrich 2, Benneche 1, Zappulla 1 and Golinski. W — Zappulla (1-1). L — Corbett (2-2). 2B — K: Joseph, Schreffler. LOB — K 10, NA 12. T — 3:17. A — 278.