DALTON — At the end of a first quarter where visiting Paulo Friere didn't score until the final 38 seconds, Taconic held only a six-point lead.
"It was a huge opportunity missed," Taconic's Sean Harrigan said after the Thunder had shut the Panthers out for 7 minutes, 22 seconds.
Instead of putting the pedal down, the Thunder and Panthers played a tight game until fourth-seeded Paulo Friere outscored Taconic built a lead in the final quarter and held on to beat the the top seeds 47-45, in an MIAA Division V Final Four game at Wahconah Regional High School on Tuesday.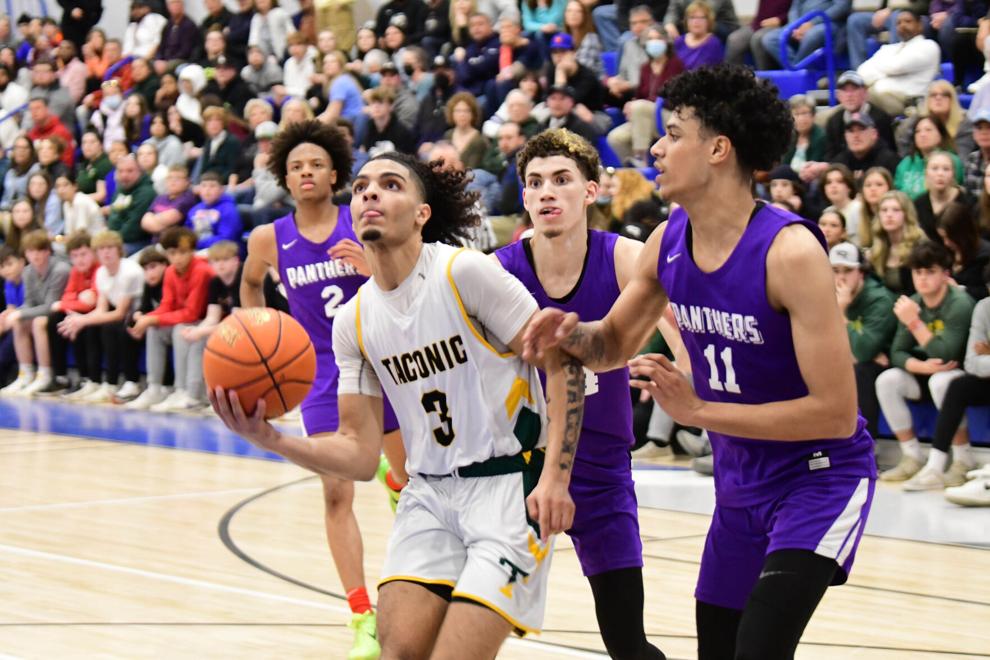 The visitors from Chicopee took the lead for keeps when Manny Cruz Jr. converted off a pass from D.J. Daniels, making it 36-34 with 4:40 left in the game. Daniels, who finished with eight points, 10 rebounds, two assists and three blocked shots, penetrated into the lane and dished to Cruz for the layup. It was the first basket in a game-winning 10-2 run.
It was a seven-point lead with 24.2 seconds left, and five points by Harrigan accounted for the final score. The last was a 3-point shot just before the final horn sounded.
"I thought it was a defensive battle. Both teams had trouble getting good offense going. Unfortunately for us, that was the problem for us the rest of the way," Taconic coach Bill Heaphy said. "We had a lot of opportunities to score with layups and free throws and we just didn't convert. I think their length bothered us somewhat around the basket, but I still thought the opportunities that we should have finished on, we didn't."
Case in point, the Panthers were 17 for 24 from the free-throw line. The Thunder shot 18, six fewer, but made only five. Had Taconic shot the same percentage from the line, 70 percent, it would be moving on to the Tsongas Center instead of putting away uniforms. Taconic was also 4 for 18 from 3-point range. The Thunder didn't make their first 3-pointer until Harrigan hit one midway through the third quarter. That meant Taconic had to work hard to find shots.
The other problem was the fact that nine Taconic shots were blocked in the game, Daniels and Christian Fontanez each had three. Fontanez had a game-high 13 rebounds
"A lot," said Taconic's Sam Sherman, when asked if the Panthers' length bothered them. "It was tough to get shots off. We couldn't really get anything off the dribble or catch-and-shoot. It was tough."
Harrigan had a game-high 18 points for Taconic. Mo Bamba had 12 rebounds, while Christian Maturevich had seven boards. They both factored into the game by being on the bench. Bamba had a cramp in his calf during the second half and missed minutes, while Maturevich picked up his fourth foul with 3:33 left in the third quarter and didn't return until the final four minutes of the game.
With the win, Paulo Friere advances to its first-ever MIAA state championship game. The Panthers will play the winner of Wednesday's game between No. 2 seed Baystate Academy and sixth-seeded Maynard. If Baystate wins, it would make it a metropolitan Springfield state championship game.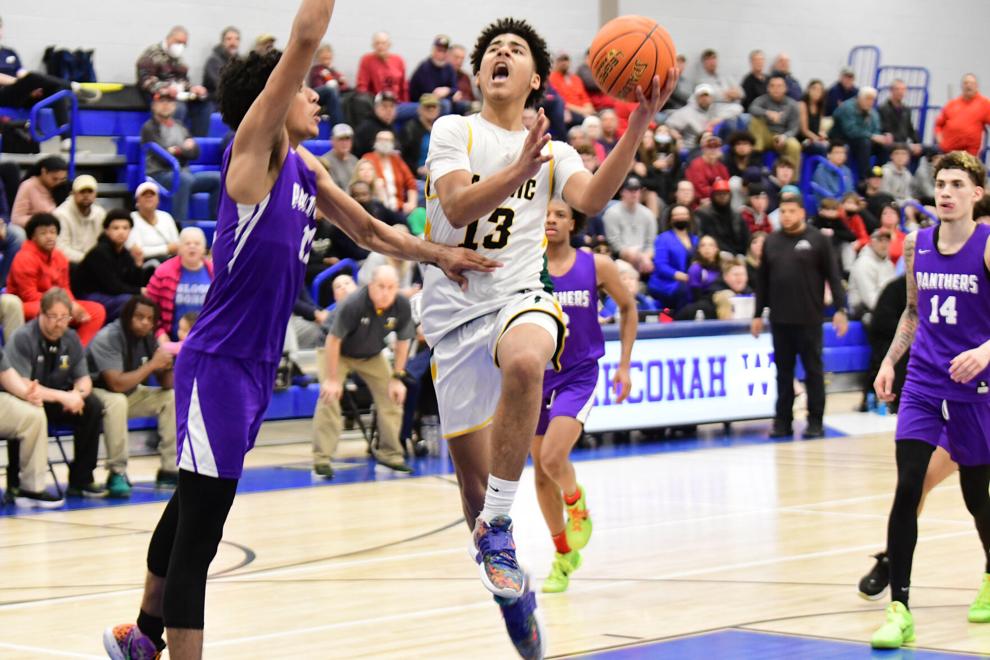 But the team from Chicopee did not get out of Berkshire County without a struggle, and what a struggle it started out to be.
The Thunder took a 9-0 lead in the first quarter, a lead that could have been better had they not gone 4 for 8 from the foul line. While the only Taconic baskets came on putbacks by Maturevich and Bamba, Paulo Friere was going 0 for 12 with six turnovers in the first seven minutes. It turned out to be a lucky 13th shot for Paulo Friere, as after Matt Lee blocked a Jeremy Canales shot, Sandro Diaz scored on the putback which ended the Paulo Friere drought.
Diaz, who finished with 11 points, found himself at the line with 3.5 seconds remaining after Lee fouled him in the act. Diaz missed the first and made the second, ending the quarter 9-3 for Taconic.
"We had a chance to be much more ahead, had we just made our free throws and some layups that we missed," said Heaphy. "When I looked and it was only 9-zip and almost the end of the first quarter."
Tayvon Sandifer stole the ball from Daniels to start the second, and took it in for a hoop, which extended the Taconic lead to 11-3. Usually, that's the kind of play that can break an opponent. Not on this night because Bryan Jimenez, who had a team-high 13 points, hit back-to-back 3-point shots, one from each wing, and the Panthers had broken Taconic's momentum.
"We're used to being ahead from the beginning, so starting bad like that is not on our agenda," said Paulo Friere coach Jon Davilla. "We knew it was win or go home. The guys stepped up."
The game was tied 17-17 at halftime. In the third quarter, each time it appeared as if Paulo Friere was ready to turn the corner, Taconic kept reeling them back in and the Thunder trailed 31-29 heading into the final eight minutes.
Taconic tied the game on a steal and score by Sandifer, who was fouled by Jimenez on the drive. Sandifer missed the free throw, Diaz rebounded and Daniels scored off the bounce, making it 33-31.
Two possessions later, Sherman picked Trevor Mims' pocket and Taconic found itself inbounding the ball on the baseline in its offensive zone. Sherman found an open Harrigan in the right corner and the senior drained a 3-ball, making it 34-33, Taconic.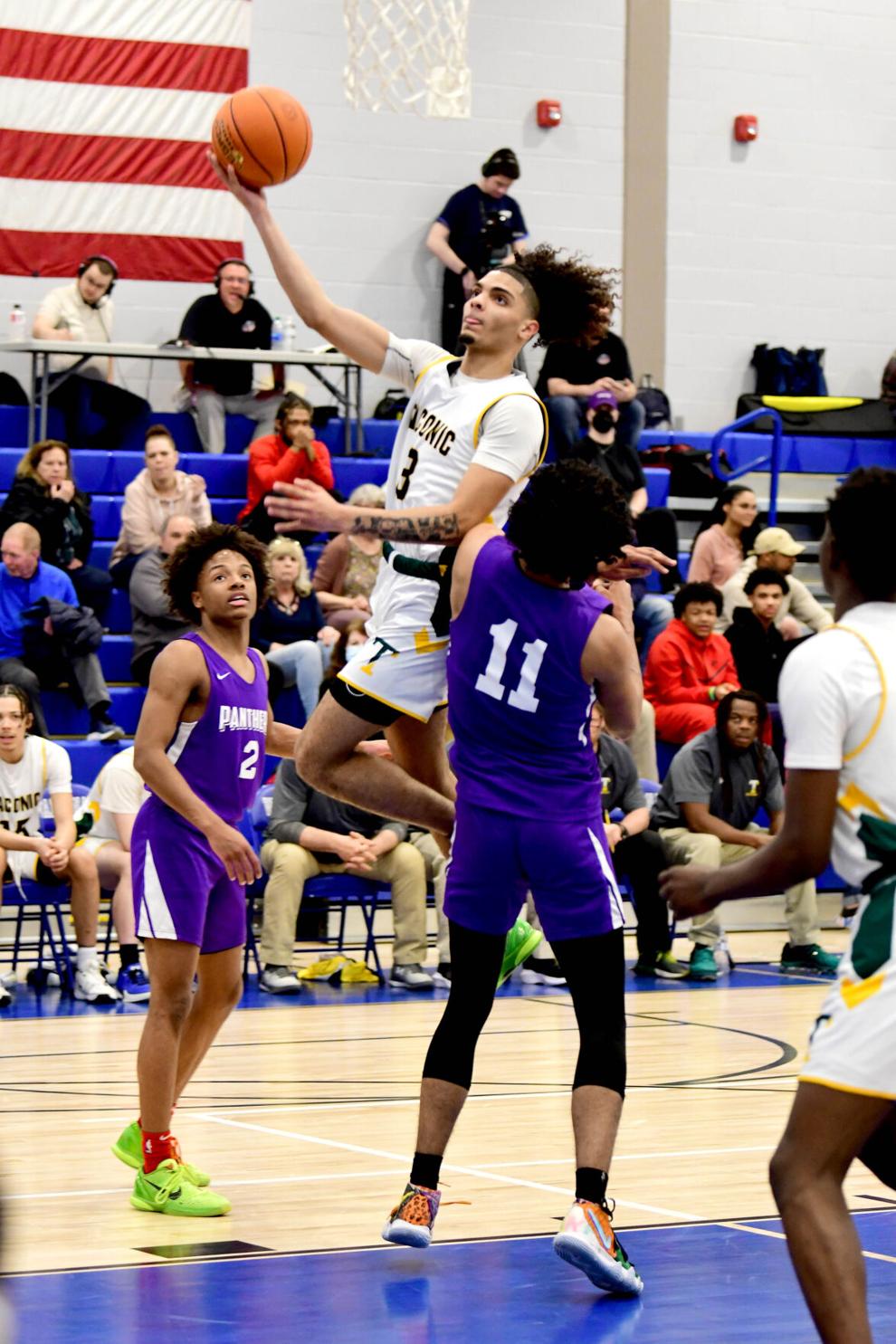 It was the last lead, because Paulo Friere then went on a 10-2 run over the next 4 minutes. The Panthers extended the lead as high as seven points, and Taconic couldn't catch up.
Despite the loss, the veteran Taconic coach was pleased with being one of the Final Four teams.
"It doesn't really sink in now because you're in the moment and disappointed and you thought you had a really good chance to move on against a good team. It doesn't happen, so you're frustrated," said Heaphy. "We talked about it. We had a good year. Twenty and 5 isn't too bad."
As the Thunder players walked off the court, Sherman was asked if a reporter had told him on the Monday after Thanksgiving that he'd be playing in the Final Four, he did not have to think long on the answer."
"I wouldn't believe you," he said. "I knew we were going to be good but I didn't think we would be that good."
———
PAULO FRIERE (47) Jimenez 5-0-13, Daniels 1-6-8, Fontanez 1-2-4, Diaz 3-5-11, Cruz Jr. 3-3-10, Canales 0-0-0, Mims 0-1-1. Total 13-17-47 TACONIC (45) Sherman 1-1-4, Harrigan 8-0-18, Shepardson 0-2-2, Sandifer 4-1-11, Sistrunk 0-0-0, Bamba 2-0-4, Maturevich 1-1-3, Lee 0-0-0, McCartney 1-0-2. Totals 18-5-45 Paulo Friere 3 14 14 16 — 47 Taconic 9 8 12 16 — 45 3-pointers — PF 4 (Jimenez 3, Cruz Jr.). T 4 (Harrigan 3, Sherman).