PITTSFIELD — Taconic golfer Nate Murphy said he knew he had an advantage heading into Sunday's Berkshire Classic tournament. After all, Taconic plays its home matches at Berkshire Hills Country Club, the site of the 2021 event.
"Coming here, I thought I had a big 'X' on my back," Murphy said, "because it's my home course."
Photos: Berkshire Classic Golf Tournament
The Berkshire Classic Golf Tournament was held at Berkshire Hills Country Club in Pittsfield on Sunday.
To purchase photos click here
Murphy closed out his round with a pair of pars and two birdies, including one on the par-5 18th hole, to claim the 2021 Berkshire Classic championship. Murphy shot a 2-over-par 74, beating Lenox's Devan Patel by two strokes. Lenox's Ben Haddad was third at 77.
It marked the first time a Taconic golfer has won the classic since Mike Kays won the 2017 event at Stockbridge Golf Club.
"I'm just out here to play my own game," Murphy said. "I know my own game. I know this course better than anyone here. I felt like I could get it done, and I did."
The Classic was moved from Stockbridge because of flooding issues on the South Berkshire course. It was moved most recently in 2018, when the tournament was played at the Country Club of Pittsfield.
Five Lenox golfers finished in the top six. Cliff Flynn was fourth, followed by Max Shepardson and Max DiGrigoli. All five Millionaire golfers shot within five strokes of each other.
"Overall I played well," said Murphy, after handing in his card. "I wish I hit the ball better, but overall I played well."
Murphy started his day going par-bogey and then three straight pars, before making a double-bogey six on the sixth hole. A bogey on the par-3 seventh hole could have started Murphy's round sliding away. But the Taconic golfer roared back with an eagle on the par-4, eighth hole.
"It was about 310 [yards] to the front of the green. I hit my driver just short of it," he said. "I had a 15-20 yard pitch. I hit a bump and run, it bumped twice and went right in."
Murphy made the turn in 2-over 37, and finished strong. He birdied the par-5 15th and after a pair of pars, birdied the par-5 18th. It could have been better as his putt from the fringe of the green for an eagle came up inches short. He had a good drive off the tee.
(tncms-inline)1447355252211126277[0](/tncms-inline)
"My second shot, 195 yards in, I hit a seven-iron," he said. "I thought it was all over the pin, but I saw it kick left. I read my eagle putt the best I could, missed it, and went up and got the birdie."
Patel, the first of the next five finishers who wore Lenox High polo shirts, said he felt pretty good with his round. He had five bogeys and a birdie on the front nine, making the turn at 4-over 39. He had two birdies, a par and a bogey on the first four holes of the back nine, which righted his ship.
"I felt pretty good. I was three over going into the last hole but I bogeyed it. I could have played better, but overall it was pretty solid," Patel said. "I was hitting a lot of greens. The par-5's really helped. I [had two] birdies on par-5s."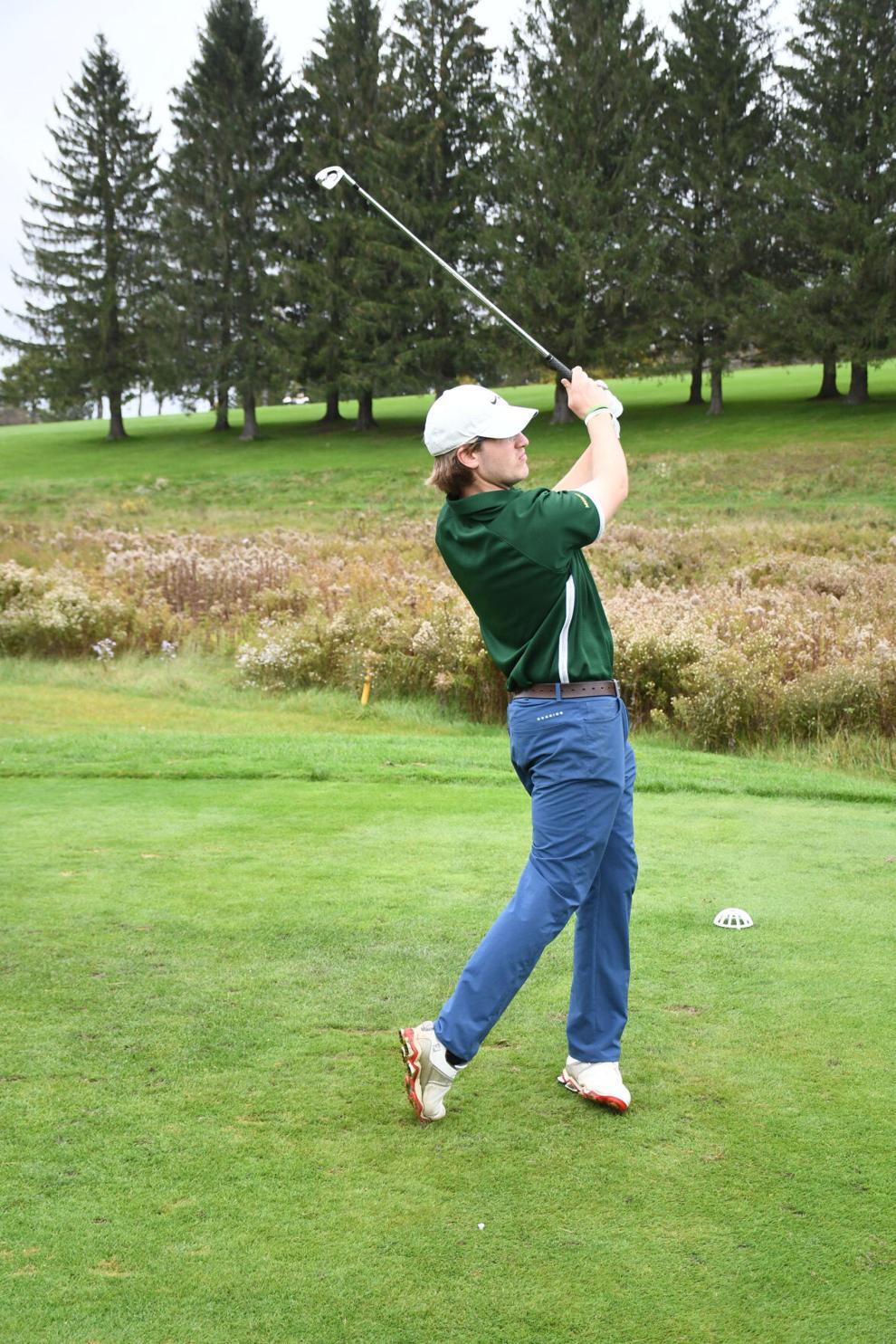 But Patel said that it was a bogey that helped turn around his day.
"The sixth hole, I had 40 feet for birdie and I put it off the green and made a bogey," he said. "From then on, I knew I had to turn it around."
Nobody had a turnaround like Lenox's Haddad did. That's because none of the leaders had a hole like he did.
"The sixth hole really put me down," he said. "I had a quad on that hole. The sixth hole is one of those holes that you're coming off a par-3. I was feeling confident, made a good putt, and I didn't put a good swing on my three-wood, topped it right into tall stuff. I had to slow down after that hole, take a second. I still shot a 39 on the front, which I was pretty happy about.
"Making a couple of putts coming in and going to the back, which was nice. I got myself together. Holes like that really stick with you, especially early on in the round, it was tough to keep it going. I'm happy with how I played."
Wahconah's Pat McLaughlin, who lost a playoff to Hoosac Valley's Corben Craig in 2019, finished eighth with an 83. McLaughlin, his Wahconah teammates and Taconic's Murphy will be right back on Benedict Road on Oct. 18, for the Western Massachusetts Division II tournament.
The Division III tournament will take place the next day, Oct. 19, at Greenfield Country Club.
———
1. Nate Murphy, Taconic, 74; 2. Devan Patel, Lenox, 76; 3. Ben Haddad, Lenox, 77; 4. Cliff Flynn, Lenox, 78; 5. Max Shepardson, Lenox, 80; 6. Max DiGrigoli, Lenox, 81; 7. Owen Petropulos, Mount Greylock, 82; 8. Pat McLaughlin, Wahconah, 83; 9. Alex Axt, Mount Greylock, 84; 10. Ben Dingman, Mount Greylock, 85; 11. Tim Kaley, Wahconah, 86; 12. Ian Cappiello, Hoosac Valley, 87; 13. (tie) Noah Kirby, Lenox, and Thomas Art, Mount Greylock, 90; 15. Cayden Conry, Mount Greylock, 91; 16. (tie) Brady Breitmaier, Wahconah, and Cameron Turner, Mount Greylock, 94; 18. Sam McLaughlin, Wahconah, 96; 19. Nick Salinetti, Wahconah, 105; 20. Carter Drake, Wahconah, 108; 21. Gregory Kay, Monument Mountain 110.