DALTON — The Hurricanes are riding toward a third-straight MIAA state championship game on a road paved by defense.
Tuesday, a 72-38 win over No. 5 Taconic in the Division V semifinals, marked the seventh straight playoff game in which top-seeded Hoosac Valley's defense held an opponent under 40 points.
"We talk a lot and that is what helps us the most," senior Alyssa Garabedian said of Hoosac's steel curtain, which has allowed 25 points per game since the Western Mass. Class D tournament began. "Our communication is the key."
The Hurricanes (22-3) pounced with a 26-9 run to begin the game as Averie McGrath and Rylynn Witek were stirring up a storm early.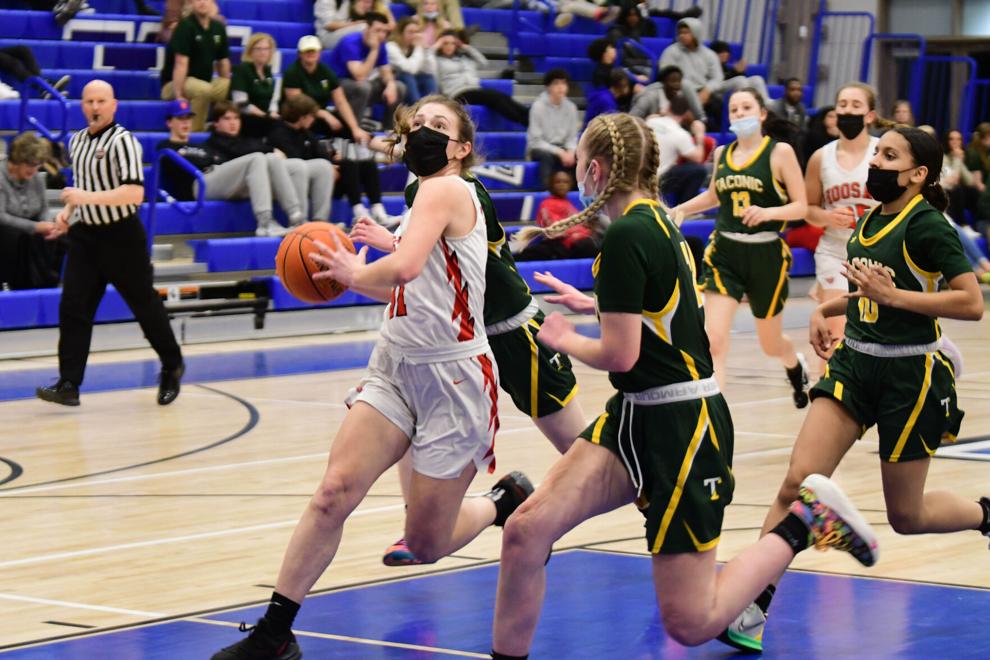 Witek scored Hoosac's first bucket with a drive into the paint and McGrath cut Taconic's early lead to 6-5 with her first of two 3-point shots on the night. McGrath scored nine points in the frame and the Thunder struggled to chase Witek from the 3-point line.
Not only did she hit on two 3-pointers, she was fouled on two more attempts and ended the first quarter with 12 of her 16 points on the night.
"Everyone is working so hard at practice and it is really all coming together," McGrath said after scoring a team-high 20 points. "[State championship games] in three years out of four is pretty impressive and I'm so proud of everyone on this team."
Taconic and Hoosac Valley both earned the titles of co-state champions in 2020 after the COVID-19 pandemic canceled the season days before their respective title games. Unfortunately, following a strict Berkshire County schedule in 2021, the COVID-19 pandemic caused more issues this season.
The Pittsfield Public Schools Athletic Department sent out a release on Tuesday morning to announce that there were cases of COVID involving members of the Taconic program. Additionally, all members of the Thunder were considered close contacts. Players on both teams returned to in-game mask wearing, but that was far from the worst of it.
Taconic played without a pair of seniors in starting center Faith Cross and 1,000-point scorer Ahliya Phillips.
"Unfortunately, things haven't gone our way in the last 24 hours," Taconic coach Matt Mickle said. "I feel bad for Ahliya and Faith. This isn't a great way to end their career and it's really not right.
"When you're missing those two players everyone has to do something different."
Amelia Leasure was thrown into the starting lineup and doubled-up on 3-point shots with teammate Alex Hudson as the Thunder struck first with a 6-2 lead.
Maddie Winn later scored seven-straight points in the second quarter, forcing a Hoosac timeout after cutting Taconic's deficit to 33-18 with just over two minutes left in the half.
Winn finished with a team-high 13 points and brought down six rebounds. Hudson and Jalisa Jessup each scored six points, Brenna McNeice kept the ball moving with a team-high four assists.
"I thought the season overall was great," Mickle said. "We have nothing to be ashamed of after winning a Western Mass. [Class C] championship and losing in the state semifinals.
"We fought our [butts] off and played hard. Unfortunately, it wasn't hard enough and Hoosac is a good team — they deserve all the credit."
Taconic finishes its season 15-10 overall, including a 6-1 mark in the postseason.
Coach Holly McGovern's Hurricanes answered Winn's run with one of their own. Ashlyn Lesure canned her second trey of the night and Alyssa Garabedian found McGrath on the perimeter on a nice drive-and-kick play. McGrath returned the favor with a dime to Alyssa Garabedian, before Taylor Garabedian ended the half with two points off an offensive rebound. By the time the dust settled, Hoosac had taken full control with a 10-0 run and 43-18 advantage at the break.
Taylor Garabedian dished a game-high five assists and brought in a team-high seven rebounds. Alyssa Garabedian had 10 points, five boards and three assists.
"I think our passes need to be smarter and crisper — we can't get frazzled," Alyssa Garabedian said of the keys on offense moving forward. "Tonight, it was a little harder with the masks and crowd, but we got through it."
McGrath has chased state titles since she was a freshman and is hoping to be the lifeline for the younger Hurricanes who may get frazzled.
"I had great leaders throughout my years and I hoped to be that for the younger kids," McGrath said. "I know they get nervous, so as long as I can be there for them, that is all that matters."
One challenge is left on Hoosac's pursuit for a third straight state championship and it will be the first time the Hurricanes have left Berkshire County since the team's final regular-season game, a 49-44 loss to Monson on Feb. 15.
No. 3 Hopedale is the other team making a trip to the Tsongas Center in Lowell this weekend for the D-V title game. The Blue Raiders defeated No. 2 Springfield ICS 58-56 in the Final Four. The MIAA state championships will take place on Friday, Saturday and Sunday.
With that in mind, a time and date for the D-V title game were not available at press deadline.
———
TACONIC (38)
Walker 2-0-4, Moody 0-0-0, Hudson 2-0-6, Herbert 0-0-0, Moorer 0-0-0, McNeice 1-0-2, Cross 0-0-0, Leasure 1-0-3, Winn 5-0-13, Jessup 2-2-6. Totals 15-2-38.
HOOSAC VALLEY (72)
Boudreau 0-0-0, Cappiello 0-0-0, Billetz 2-0-4, Shea 2-0-5, A. Garabedian 3-4-10, McNeice 0-0-0, Meczywor 0-0-0, Lesure 3-2-10, Witek 3-8-16, McGrath 6-6-20, T. Garabedian 3-1-7. Totals 22-21-72.
Taconic 9 9 9 11 — 38
Hoosac Valley 26 17 17 12 — 72
3-pointers — T 6 (Winn 3, Hudson 2, Leasure), HV 7 (McGrath 2, Witek 2, Lesure 2, Shea)