Ahead of Saturday afternoon's Berkshire County Individuals meet at Williams College, let's take one more look at the Honor Roll to see what fans should be on the lookout for when the area's best runners, throwers and jumpers descend upon Williamstown for the annual year-end championship meet.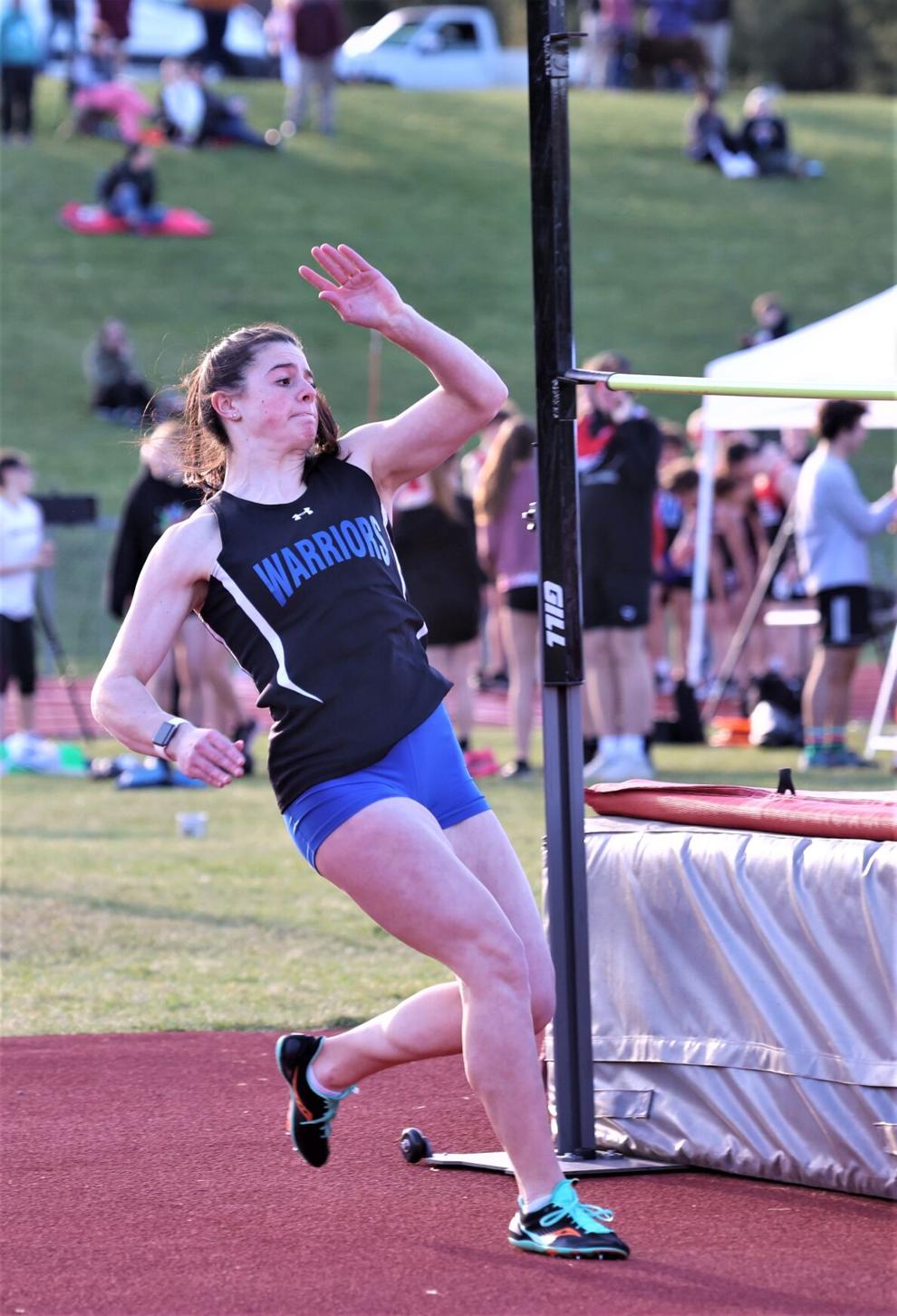 There may be no better place to start than right off at the top with the girls 100-meter dash. One of the premiere events and it truly is anybody's ballgame. The top mark of the season belongs to Wahconah senior Aryianna Garceau, an all-around threat who appears on the Honor Roll four different times. However, her impressive 13.33 time is merely .01 seconds ahead of the best of Lenox's Mary Elliot and .02 in front of Pittsfield's Randi Duquette. PHS freshman Dezerea Powell and Hoosac star Lily Boudreau are .08 and .09 behind. That's not to mention Garceau's teammate Olivia Gamberoni, who ran a 13.13 last season and is on the Honor Roll four times as well.
Before we go any farther, we should probably mention what happened on Monday in a pair of regular-season-ending dual meets. Particularly the one held at Monument Mountain with Pittsfield, Lenox and Mount Greylock. There were seven new top Honor Roll positions set there.
On the girls side, Alice Culver's 5-minute, 35.02-second mile slid her in front of teammate Grace Elliot, and gives her the top time in both long distance events. Elliot moved to No. 2 in the 2 mile at that same meet. Also representing Lenox was Solia Herndon-Schmid, who overtook Greylock's Sophia Mele in long jump with a 15-foot, 6-inch leap. Herndon-Schmid now is topping the lists in both long jump and the 100 hurdles, where she is a half-second faster than Garceau. Also worth mentioning, Schmid has the second-fastest 400 hurdle time and Culver is behind only teammate Mary Elliot in the 800.
The Millionaires own the top three 800 times, top two mile times and top four 2-mile times. Mary Elliot is also first in the 400 and Genevieve Collins owns the discus mark.
On Monday in Great Barrington there were five new top marks in the boys meet. For two of them, though, the name is very familiar. Kieran Coscia extended his lead in the shot put and discus, further breaking his own school records in the process. He also own's the top mark for javelin, though Greylock's Jenner Kittle inched closer on Monday and is now second by around 11 feet.
Another General, Lucas Benoit, was just the second racer this spring to dip under 17 seconds in the 110 hurdles. His 16.14-second mark slides ahead of Travis Hoose of Taconic. Hoose is now No. 2 in both hurdle events.
Monument senior David Flynn improved his leading time in the 200 with a 23.57. He's also second to Pittsfield's Justice Daniels in the 100 by .05 seconds. Also of note in the sprinting categories is the Taconic tandem of Sean Harrigan and Frank Boua. Those two showed out at Hoosac on Monday, with Harrigan joining Flynn under 24 seconds and Boua at 24.04. Another Thunder runner Anthony Trapani is fourth in 24.05 and the always dangerous Jack Catelotti is at 24.06 and will be racing on his home track. Catelotti was the top returner from last year's Honor Roll in the 100 and 200, and ran a 23.37 200 last spring.
Harrigan is also tied for first in high jump and holds second in triple.
The final new mark-setter from Monday was Lenox's Maxwell Adam, who shaved four seconds off his mile time to set the standard at 4:36.61. Teammate Dennis Love chopped even more time off his mark and joined Adam under 4:40 at 4:37.55. Adam is also first in the 2 mile at 10:17.65, with Love fourth. Teammate Harry Touloukian is also in the mix in second in the 400 and 800, fourth in the mile and third in the 2 mile.
The boys relays should also be very interesting to watch. Greylock leads the 4x100, but by just .04 ahead of Monument and a quarter-second over Taconic. PHS is also lurking in fourth. In the 4x400 Greylock's lead over the Spartans is similarly miniscule at .06, and the Generals are a threat as well a second back.
Individually, keep an eye on Boudreau against some stiff competition across the board. The Hoosac Valley senior owns the top 200 and 400 hurdles times this season, and is second in the 400 and third in long jump.
———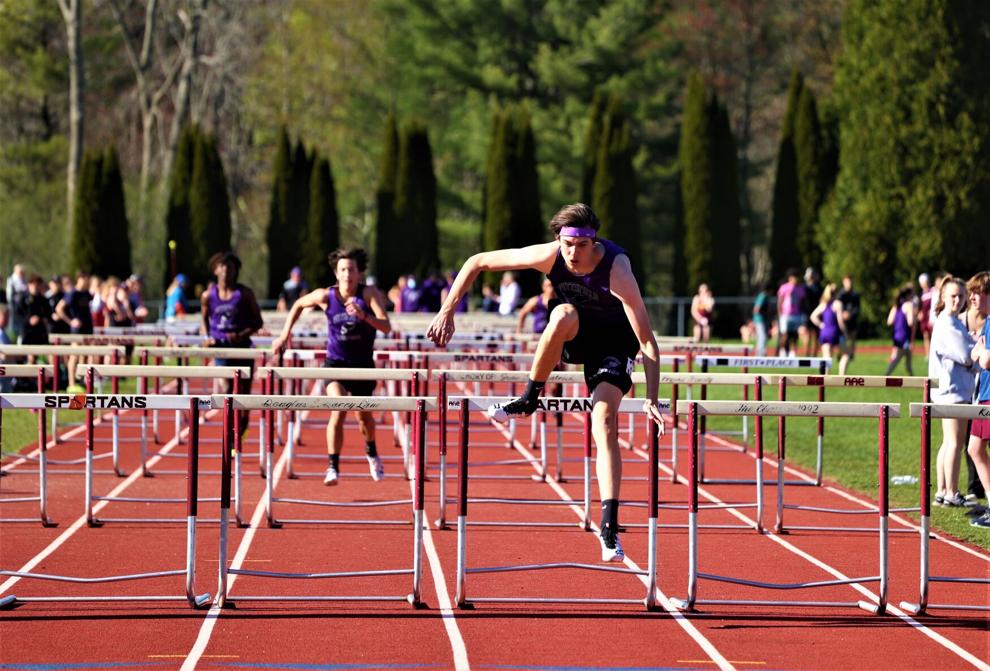 Boys
100 — 1. Justice Daniels (P) 11.50; 2. David Flynn (MM) 11.55; 3. Sean Harrigan (T) 11.67; 4. Quinn Redpath (MM) 11.72; 5. Jack Catelotti (MG) 11.74
200 — 1. David Flynn (MM) 23.57; 2. Sean Harrigan (T) 23.94; 3. Frank Boua (T) 24.04; 4. Anthony Trapani (T) 24.05; 5. Jack Catelotti (MG) 24.06
400 — 1. Quinn Redpath (MM) 53.10; 2. Harry Touloukian (LX) 53.77; 3. Johnathan Ofori (P) 54.06; 4. Ian Bridges (LX) 54.40; 5. Gavin Santos (MM) 54.41
800 — 1. Quinn McDermott (MG) 2:02.74; 2. Harry Touloukian (LX) 2:03.45; 3. Anthony Telladira (P) 2:04.86; 4. Devan Patel (LX) 2:07.77; 5. Dennis Love (LX) 2:10.82
1 Mile — 1. Maxwell Adam (LX) 4:36.61; 2. Dennis Love (LX) 4:37.55; 3. Anthony Telladira (P) 4:44.09; 4. Harry Touloukian (LX) 4:44.98; 5. Justin Levesque (HV) 4:46.98
2 Mile — 1. Maxwell Adam (LX) 10:17.65; 2. Jusin Levesque (HV) 10:28.84; 3. Harry Touloukian (LX) 10:29.11; 4. Dennis Love (LX) 10:29.82; 5. Anthony Telladira (P) 10:46.82
110 Hurdles — 1. Lucas Benoit (P) 16.14; 2. Travis Hoose (T) 16.70; 3. Brennan Andersen (W) 17.19; 4. Quinn Redpath (MM) 17.70; 5. Ryder King (P) 18.59
400 Hurdles — 1. Brennan Andersen (W) 1:00.36; 2. Travis Hoose (T) 1:01.03; 3. Vincent Welch (MG) 1:04.06; 4. Ryder King (P) 1:04.87; 5. Sean Scarbro (MM) 1:06.82
4x100 Relay — 1. Mount Greylock 46.23; 2. Monument Mountain 46.27; 3. Taconic 46.49; 4. Pittsfield 47.03; 5. Wahconah 48.77
4x400 Relay — 1. Mount Greylock 3:45.66; 2. Monument Mountain 3:45.72; 3. Pittsfield 3:46.99; 4. Lenox 3:49.27; 5. Wahconah 3:54.34
4x800 Relay — 1. Lenox 8:55.09; 2. Pittsfield 9:07.05; 3. Mount Greylock 9:17.56; 4. Monument Mountain 9:49.56; 5. Wahconah 9:52.56
High Jump — 1. (tie) Sean Scarbro (MM), Jenner Kittle (MG), Sean Harrigan (T), Seamus Barnes 5-08; 5. (tie) Lucas Benoit (P), Daniel Warren (MG), Liam Furlong (W) 5-06
Long Jump — 1. Stephen Gage (HV) 19-09.5; 2. Johnathan Ofori (P) 19-03; 3. Frank Boua (T) 19-02; 4. Daniel Warren (MG) 18-11; 5. Ian Bridges (LX) 18-06
Triple Jump — 1. Jonathan Ofori (P) 41-08.5; 2. Sean Harrigan (T) 40-08; 3. Caleb Rosse (MG) 38-05; 4. Damario Powell (P) 37-02; 5. Sean Scarbro (MM) 36-10
Shot Put — 1. Kieran Coscia (P) 54-09; 2. Judge Martin (MG) 41-08; 3. Jake Mucci (HV) 38-04; 4. Alexander Perenick (W) 38-03.5; 5. (tie) Frank Boua (T), Ryan Goss (MG) 37-09
Discus — 1. Kieran Coscia (P) 162-05; 2. Eamon Hetherington (MG) 136-03; 3. Ryan Goss (MG) 126-02; 4. Daniel Warren (MG) 125-11; 5. Peyton Shippee (W) 118-05
Javelin — 1. Kieran Coscia (P) 154-10; 2. Jenner Kittle (MG) 143-08; 3. Zachary Pupo (P) 138-02; 4. Peyton Shippee (W) 131-11; 5. Cameron Turner (MG) 123-09
Girls
100 — 1. Aryianna Garceau (W) 13.33; 2. Mary Elliot (LX) 13.34; 3. Randi Duquette (P) 13.35; 4. Dezerea Powell (P) 13.41; 5. Lily Boudreau (HV) 13.42
200 — 1. Lily Boudreau (HV) 27.53; 2. Sophia Mele (MG) 27.76; 3. Olivia Gamberoni (W) 27.87; 4. Lily McDermott (MG) 28.03; 5. Randi Duquette (P) 28.05
400 — 1. Mary Elliot (LX) 1:00.66; 2. Lily Boudreau (HV) 1:01.85; 3. Olivia Gamberoni (W) 1:02.94; 4. Lily McDermott (MG) 1:03.52; 5. Ahliya Phillips (T) 1:04.53
800 — 1. Mary Elliot (LX) 2:27.11; 2. Alice Culver (LX) 2:33.74; 3. Grace Elliot (LX) 2:34.42; 4. Kate Swann (MG) 2:40.26; 5. Hannah Bunnis (LX) 2:41.42
1 Mile — 1. Alice Culver (LX) 5:35.02; 2. Grace Elliot (LX) 5:35.40; 3. Kate Swann (MG) 5:35.65; 4. Audrey Touloukian (LX) 5:46.40; 5. Aidan Burns (LX) 5:58.99
2 Mile — 1. Alice Culver (LX) 11:49.39; 2. Grace Elliot (LX) 12:06.25; 3. Audrey Touloukian (LX) 12:15.60; 4. Aidan Burns (LX) 12.53.37; 5. Vera de Jong (MG) 13:08.21
100 Hurdles — 1. Solia Herndon-Schmid (LX) 16.52; 2. Aryianna Garceau (W) 17.07; 3. Katherine Goss (MG) 17.66; 4. Alyssa Garabedian (HV) 17.83; 5. Tiffin Martin (T) 17.93
400 Hurdles — 1. Lily Boudreau (HV) 1:09.56; 2. Solia Herndon-Schmid (LX) 1:11.76; 3. Rue Starsja (T) 1:11.78; 4. Kathryn Perrone (W) 1:13.71; 5. Shannon Pollard (MM) 1:14.51
4x100 Relay — 1. Wahconah 53.69; 2. Monument Mountain 54.94; 3. Pittsfield 54.97; 4. Hoosac Valley 55.53; 5. Mount Greylock 56.41
4x400 Relay — 1. Lenox 4:24.26; 2. Monument Mountain 4:41.09; 3. Mount Greylock 4:41.11; 4. Taconic 4:41.61; 5. Pittsfield 4:46.76
4x800 Relay — 1. Mount Greylock 11:21.63; 2. Monument Mountain 11:31.85; 3. Lenox 11:38.56; 4. Taconic 12:45.62; 5. Hoosac Valley 13:20.92
High Jump — 1. (tie) Chase Hoey (MG) and Lily Haskins-Vaughan (MM) 5-00; 3. (tie) Aryianna Garceau (W), Polly Geddes (MM) 4-10; 5. (tie) Randi Duquette (P) C.C. Supranowicz (P), Abby Dohoney (MM) 4-08
Long Jump — 1. Solia Herndon-Schmid (LX) 15-06; 2. Sophia Mele (MG) 15-04; 3. Lily Boudreau (HV) 15-03.25; 4. Olivia Gamberoni (W) 15-02.5; 5. Aryianna Garceau (W) 14-11
Triple Jump — 1. Olivia Gamberoni (W) 33-05.75; 2. Taibat Ahmed (T) 32-10.5; 3. Quinn Walton (W) 31-09; 4. Taylor Garabedian (HV) 31-05.5; 5. Chase Hoey (MG) 31-00
Shot Put — 1. Gabby Billetz (HV) 32-06.25; 2. Hannah Shea (HV) 27-09; 3. Emma Gilooly (MG) 26-11; 4. Adelyn Furlong (W) 26-05.5; 5. Molly Shippee (W) 26-01.5
Discus — 1. Geneveive Collins (LX) 98-02; 2. Talia Kapiloff (MG) 91-04; 3. Hannah Shea (HV) 90-04; 4. Lily Catelotti (MG) 86-02; 5. Gabby Billetz (HV) 85-11
Javelin — 1. Nora Lopez (MG) 96-04; 2. Lily Fredsall (MM) 91-05; 3. Abby Scialabba (HV) 88-06; 4. Grace Ungewitter (P) 87-02; 5. Lily Catelotti (MG) 84-10