DALTON — The only General to have any luck against Avery Vale Cruz stood helplessly in the on-deck circle as Pittsfield High exhausted its last gasp on Friday night.
Natalie Arnhold had two hits for PHS, but they were the Generals' only hits as Vale Cruz fanned 16 batters in a 7-0 victory for Wahconah under the lights at Pine Grove Park.
Photos: Wahconah softball hosts Pittsfield in Dalton on Friday night
On Friday night under the lights at Pine Grove Park, Wahconah beat Pittsfield High 7-0.
To view a full gallery or purchase photos from this game, click here.
Arnhold was the only Pittsfield batter not to strike out against the Warriors' ace. She was fourth in line when Vale Cruz struck out two batters to start the seventh inning, and getting her warmup swings when Wahconah's Dani Barry made a nifty cover play from second base on a sharp grounder that ricocheted toward the bag at first for the game's final out.
"Today was a big step for us, got some big hits, we've had some different heroes," said Wahconah coach Dustin Belcher. "But Avery gives us a chance to win when she throws like that. She was tough again tonight."
Vale Cruz struck out at least two in all seven innings, and got the side in the fourth and fifth, leaving a runner on base in each. Maddy Creamed walked to start the fourth, before Vale Cruz set down Pittsfield's 3-4-5 hitters. Arnhold singled with two away in the fifth.
The junior ace walked two and Mia Arpante reached on an error to lead off the third. That was it for PHS base runners. Arnhold's first single came right after Arpante reached, but even though she beat Emma Belcher's throw from shortstop for the infield hit, first baseman Ella Quinto transferred and fired a bullet to Olivia Iovieno at third base to catch Arpante trying to sneak an extra base. Vale Cruz then struck out back-to-back batters and that was that.
"Avery is really good at not listening to any outside noise, and just getting the job done," said senior catcher Julia Wehner. "She's so consistent. She's the best person I've ever caught for."
Pittsfield, on the other hand, appeared to be playing with fire from the very start. Wahconah's first three batters of the game all reached base, but none of them scored in the first inning. Creamer and Arpante fielded grounders and got force outs to catcher Mia Alfonso at home, and then starter Amanda Pou struck out Quinto to finish off the threat.
The Generals couldn't turn the same kind of trick in the second, and Quinto exacted some revenge.
Iovieno led off the bottom of the second with a triple over the center fielder's head. Elena Iovieno walked with one out on a full count, and at the top of the order Emma Belcher singled home the game's first run on a blooper to right. An error on the throw scored another, and Barry hit a sacrifice fly to make it 3-0.
Vale Cruz then reached on another error — Pittsfield committed five in the game — before Casey Wilson and Taylar Hickey hit consecutive singles to load the bases. That brought Quinto back to the plate, and this time she got Pou on a flare to left field that scored two runs.
It was five-run second inning for Wahconah, and the score stayed 5-0 until the hosts tacked on two runs in the sixth. Hickey and Quinto hit back-to-back RBI singles to put the Generals further in the hole with one at-bat left.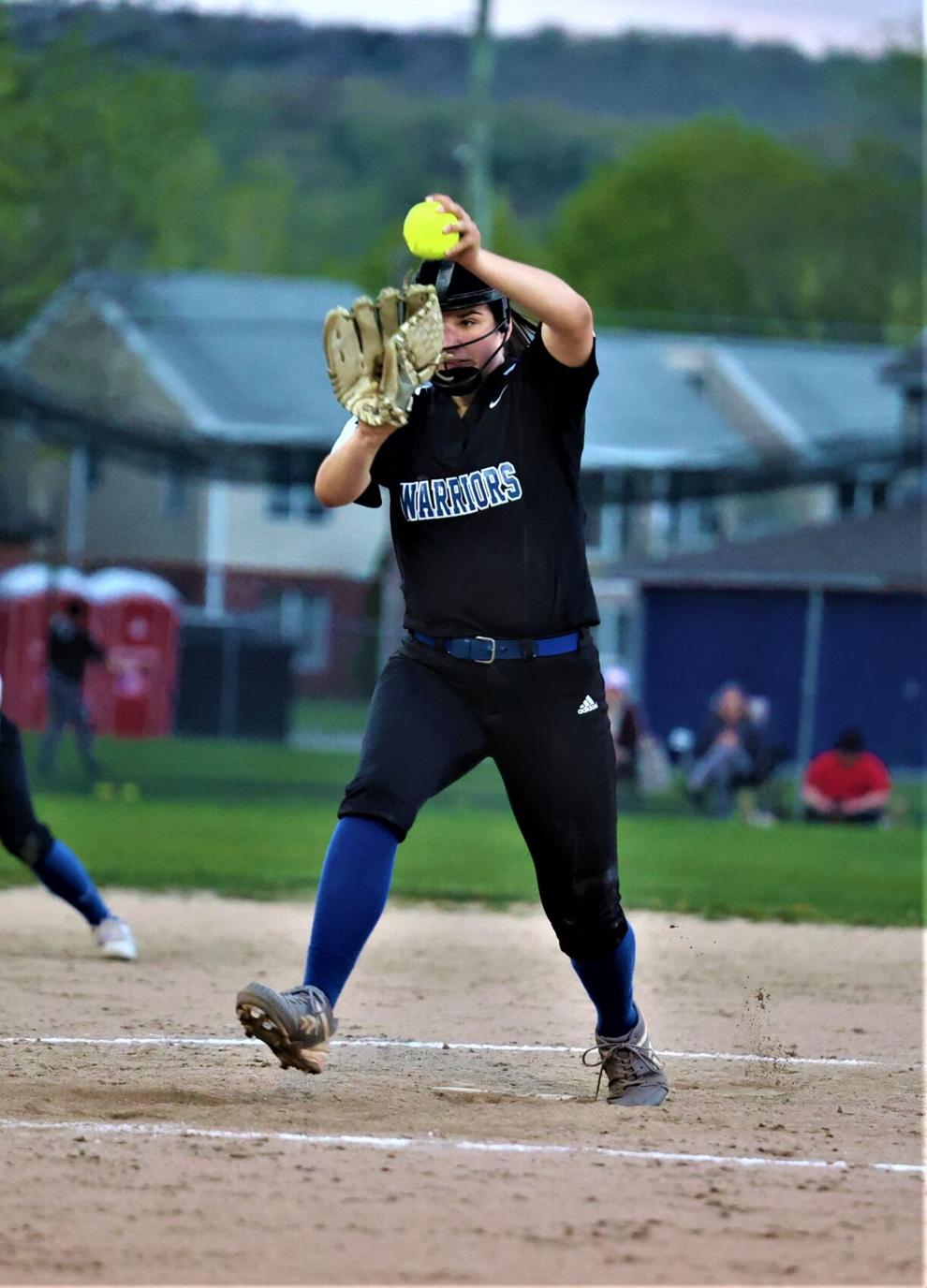 "They're a very good team. They swing the bats. It's a tough lineup, not a weak spot in it," said Belcher of PHS. "We took the approach that we had to win one pitch at a time. I thought we did that, a good job competing.
"Tonight was youth night, always a special night for our program, lot of people here. And everybody was the star of their role tonight. No matter what they were asked to do, pinch run, pinch hit, play defense, get the bunt down, everybody was the star of their role tonight. I'm really proud of the whole group."
Pou struck out three and walked three in six innings. The sophomore was dinged for eight hits and four earned runs. Pittsfield had brought in Assumption College pitcher and former General Giuliana Pierce to try and prepare for the URI-bound Vale Cruz, but couldn't get up to speed in time.
"We definitely hadn't been shut out yet. I was just telling the girls out there, we're the best hitting team in Berkshire County and she shut us out," said PHS coach Jim Clary. "We've been hitting the ball a lot, that's our strongest point to date. But the girls couldn't stay off the rise ball. We started laying off it the sixth inning, but too late."
Wahconah (15-1) has now won six straight in 11 days since losing at home to Turners Falls. Four of those wins came by two runs or fewer and they were slated to host Taconic less than 24 hours after PHS came to town.
"We haven't really had a day off in a while, but it gives us good momentum," said Wehner. "Coming off a big win, every win is a big win during this second-half of the season, and they've led into the next. It's taken some stress on my body. I feel it every minute of every day, but the weather is finally nice and it's worth it for the win."
Pittsfield (10-6) hosts Hampshire on Monday in its regular-season finale.
———
Pittsfield 000 000 0 — 0 2 5
Wahconah 050 002 x — 7 8 1
Pou and Alfonso. Vale Cruz and Wehner. W — Vale Cruz. L — Pou. 3B — W (O. Iovieno).