WORCESTER — The final score said one thing. The history books will record something else.
"Our seniors did something that hasn't happened at our school in 29 years in getting to this game," Wahconah coach Dustin Belcher said. "For those guys, they're part of an elite group of basketball players and Wahconah has had some pretty good basketball teams over the years."
The fourth-seeded Warriors trailed No. 1 Randolph by three points after one quarter. The Blue Devils erupted in the second, outscoring Wahconah by 13 and that proved to be a bridge too far as Randolph advanced the MIAA Division IV state championship game with an 80-51 Final Four win Wednesday evening.
Photos: Wahconah boys basketball plays Randolph in MIAA State Final Four
On Wednesday at Worcester State University, the Wahconah boys basketball team was beaten by Randolph 80-51 in the Division IV State Semifinals.
To view a full gallery or purchase photos from this game, click here.
The Wahconah basketball team that took to the court inside Worcester State University's Wellness Center was one of the top basketball teams in all of Western Massachusetts. Unfortunately for the Warriors, the other team in blue and white was better.
"They're very quick," Wahconah's Brody Calvert said. "We just couldn't stop them in transition. They were getting easy layups."
It was no accident that Wahconah got this far as the Warriors earned a high enough seed to play at home until the Final Four. Getting to this point was not only thought about, but at least one player said it was anticipated.
"Yeah, totally," said Calvert, when asked if he thought the Warriors could get to this point. "This is a great team."
Calvert led the way for Wahconah by scoring 20 points, sharing the game-high honors with Randolph's Lenny Tangishaka. Patrick McLaughlin had 14 for the Warriors and Jesse Chapman added 10.
Wahconah trailed 20-17 after one quarter thanks to a 3-point hoop by McLaughlin as time ran out. Randolph's Marquis White hit consecutive 3 pointers, extending the three-point lead to nine. The long-range shots made it really tough on the Wahconah defense.
"Our plan was not to necessarily let them shoot. But we wanted to stop them from getting into the paint," McLaughlin said. "They started knocking shots down and I don't think we responded too great."
"When they started hitting them, it spread us out a little bit," said Belcher, "which created more gaps and more opportunities to get to the rim."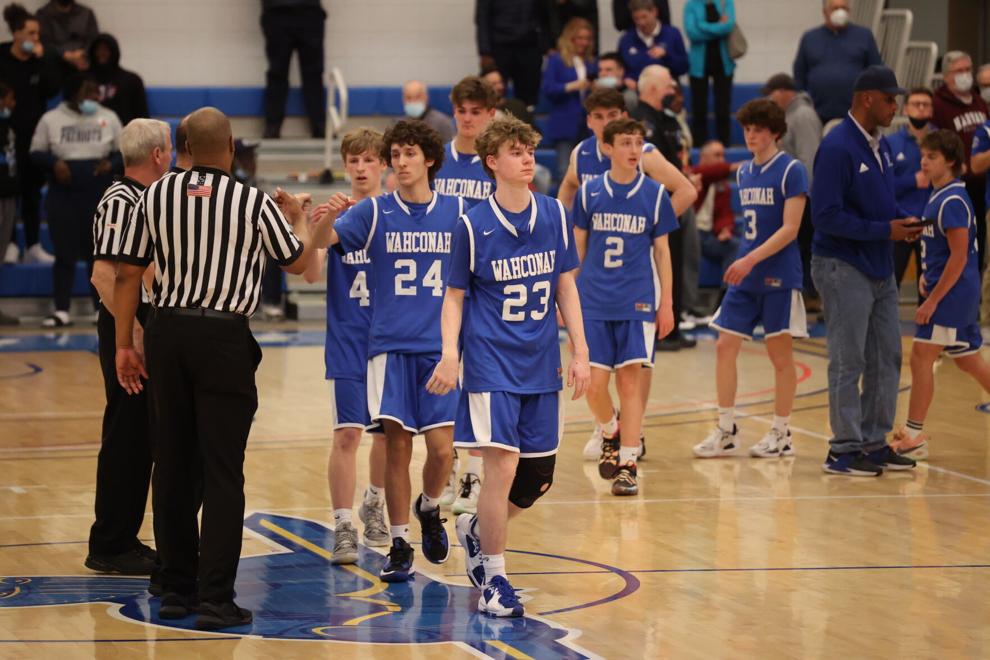 It was a quarter-starting 13-0 run for Randolph, a run that really put Wahconah back on its heels. The Warriors were 0 for 6 from the floor with a turnover during that run and three different Wahconah players had shots swatted away by Randolph's Evans Appiah. Appiah only scored nine points but had nine rebounds and five blocked shots. He was also a shot-alterer because he made it difficult for the Warriors to slash to the basket.
Wahconah stopped the bleeding when Calvert made 1 of 2 from the line and McLaughlin scored on a nice dish from Jesse Chapman, who had three assists. But Randolph's Stevens Joacine caught the rebound of a 3-point miss by Lenny Tangishaka and scored on the putback. Then Tangishaka got a steal and a score, pushing the Randolph lead back to 17 points.
"We already know that coming to the basket, nobody can stop us," said Tangishaka. "Once you get that shot going, we're definitely unstoppable."
Wahconah did cut Randolph's lead to 15 points midway through the third quarter on a 3-pointer by McLaughlin. A minute later, Tangishaka responded with back-to-back hoops. The second came when he drove the baseline through the Wahconah defense, making it 59-40.
The Blue Devils extended the lead to 65-46 at the end of the third quarter and all that seemed left was counting up the final arithmetic.
Wahconah was outrebounded 38-28 in the game. Appiah and Malik White each had nine rebounds, and they were tough inside all night. In the second half, the Randolph defense really sped up the Warriors, forcing 12 turnovers in the final 16 minutes.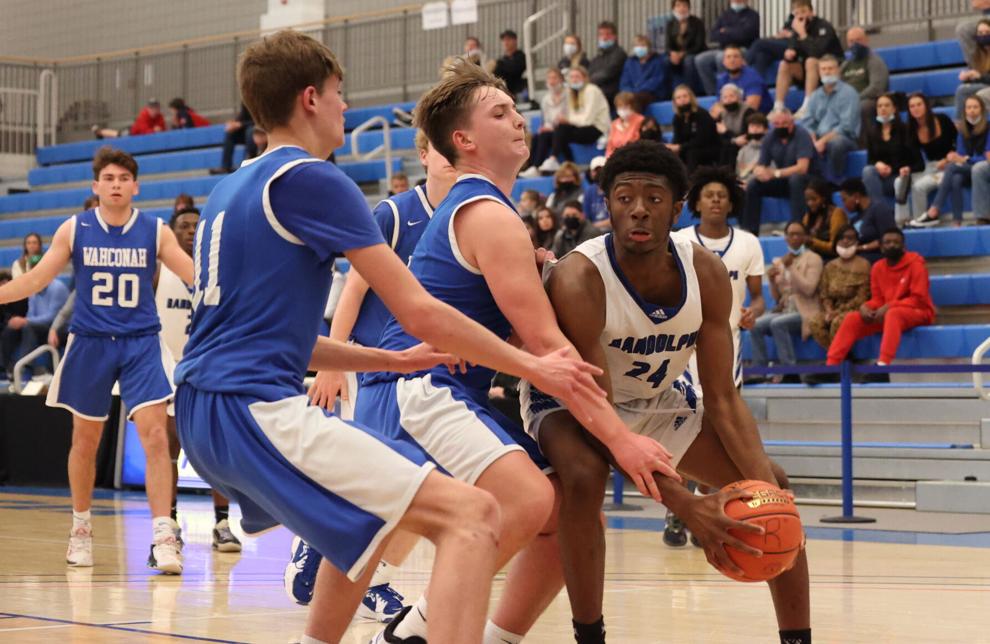 "We have three seniors on our roster so we're a relatively young team on paper," said Belcher. "I think it's huge and we can build off this. It hurts right now, and I told them it should hurt. You put a lot of time and effort into it and it's not something you're going to take lightly. At the same time take some time and think about the journey and how far we've come."
A basketball court can be as much of a classroom as a Calculus or World History class. The young Warriors learned a lesson on Wednesday.
"We need to come back stronger and better next year. We have to take this as an opportunity to learn," said McLaughlin. "We only have three seniors. We all know what we need to do to get to the next level next year and how to compete with these kids. We're going to bust our [butts] to try and get here next year."
———
WAHCONAH (51)
Payson 0-0-0, Calvert 7-5-20, Pickard 2-0-5, DiCicco 0-0-0, Chapman 5-0-10, Noyes 0-2-2, McLaughlin 5-2-14, L. Wildrick 0-0-0, Dowd-Smith 0-0-0, Marauszwski 0-0-0, T. Wildrick 0-0-0. Totals 19-9-51
RANDOLPH (80)
Michel 2-0-4, White 1-0-2, Tangishaka 8-3-20, White 3-1-9, Joacine 9-0-20, Izendonmwen 0-0-0, Rainford 2-0-4, Swinton 3-1-9, Appiah 4-0-9, Osuji 1-1-3, Codio 0-0-0. Totals 32-6-80.
Wahconah 17 13 16 5 — 51
Randolph 20 26 19 15 — 80
3-point goals — W 4 (McLaughlin 2, Calvert, Pickard). R 7 (White 2, Joacine 2, Swinton 2, Tangishaka).