PITTSFIELD — Senior Nights are one thing. Championship games featuring a combined 23 senior soccer players are another entirely.
Wahconah and Mount Greylock's members of the Class of 2021 earned the right to play until the Fall II season's final day, and they did it the hard way. The Warriors and their 14 seniors beat Greylock twice during the regular season — both by matching 2-1 scores, once after trailing at a neutral site and the second win coming on Mountie turf in Williamstown. The Mounties and their nine seniors were playing their second water-logged game in four nights, after needing penalty kicks to dispatch Pittsfield High in the rain-soaked semifinals Thursday.
The title match was as good as advertised, and when the rain settled at Berkshire Community College Sunday evening, Wahconah had done enough to call itself Berkshire North champions, 2-0.
Berkshire North Final gallery
"We knew this year was supposed to be special for us," said senior Julia Trager. "getting this, it's like the best we can ask. It's like our Western Mass."
By enough, the Warriors scored twice over a three-minute span in the first half and put a tamper-proof lid on the Mount Greylock offense for 80 minutes.
"It's a good game. Great back-and-forth, and there's never a dull moment," said Wahconah coach Meg Smith. "Everybody is playing hard the whole 80 minutes. It's always exciting, and I always enjoy playing them."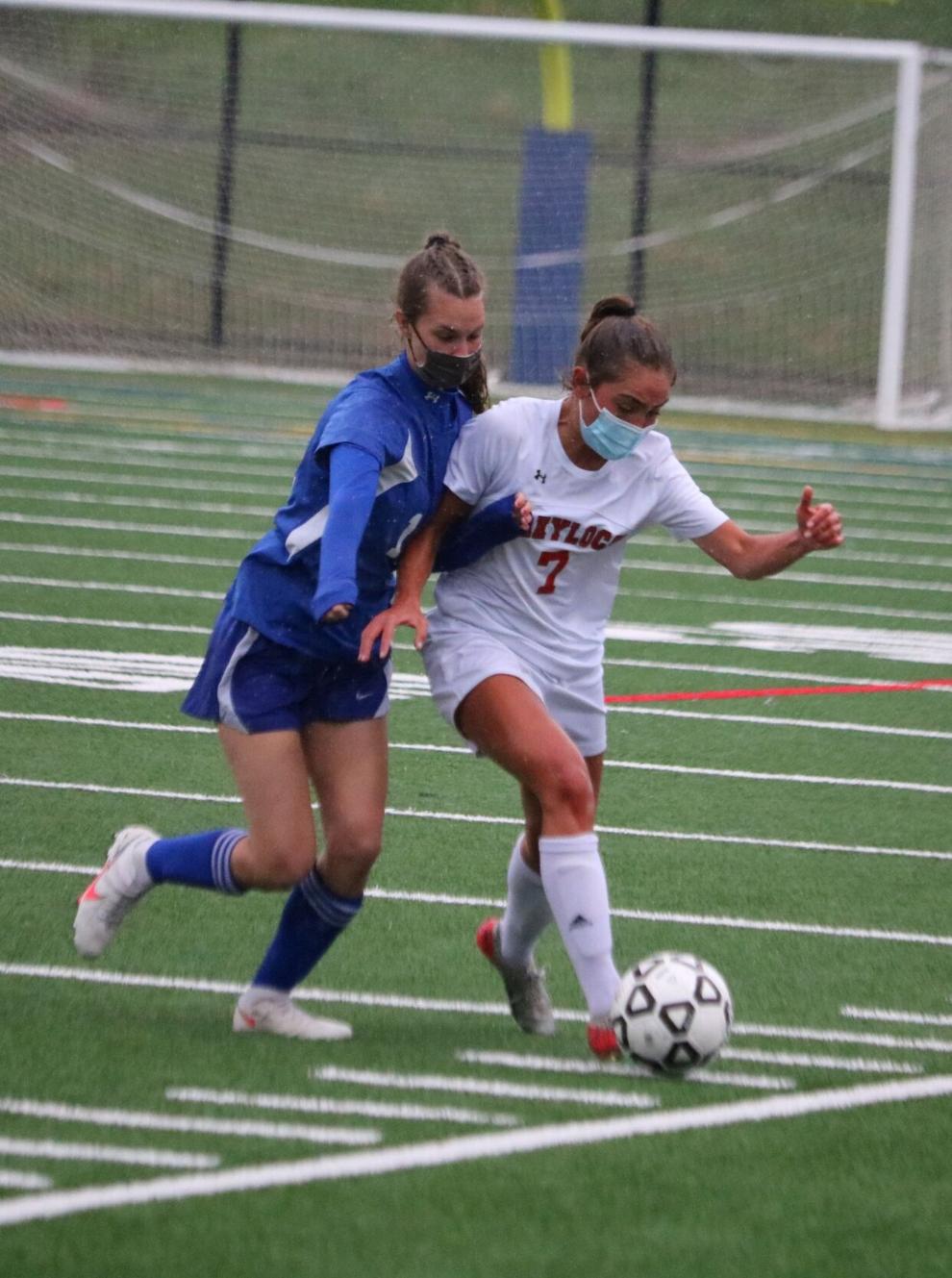 Wahconah got all the offense it would need in the 28th minute, but the Warriors had been pushing.
Greylock goalkeeper Delaney Babcock made a save on an Olivia Gamberoni shot with 12 minutes left in a scoreless first half. She punted to midfield, but Trager was there to clear the ball back into Mountie territory. The ball reached Noelle Furlong, who one-touch passed up to Sadie Anderson in a senior-to-senior-to-senior sequence.
Anderson worked through Mackenzie Sheehy and went with the ball forward at Babcock. Just after crossing the 18-yard box, Anderson ripped off a right-footed shot that beat Babcock over her left shoulder for the 1-0 lead.
Babcock was by far the busier of the goalkeepers on a night where that was an unenviable position to be in. A couple minutes later, Olivia Gamberoni tracked down a through ball played by senior sister Maria Gamberoni into the left corner. Olivia got baseline and sent a hard grounder at Babcock, who slid in on her knees to make the save. The ball squirted free, though, and Wahconah senior Hannah Bowlby was there to put away the rebound with 9:30 left in the half.
At the other end, Wahconah keeper Eva Eberwein did have to make a handful of saves, but by-and-large, her defensive line played the Mounties perfectly.
2019 Berkshire Eagle MVP Clara McWeeny did her best to orchestrate the offense, with touch passes finding teammates consistently on what should have been open lanes to the net. However, the lanes were never open.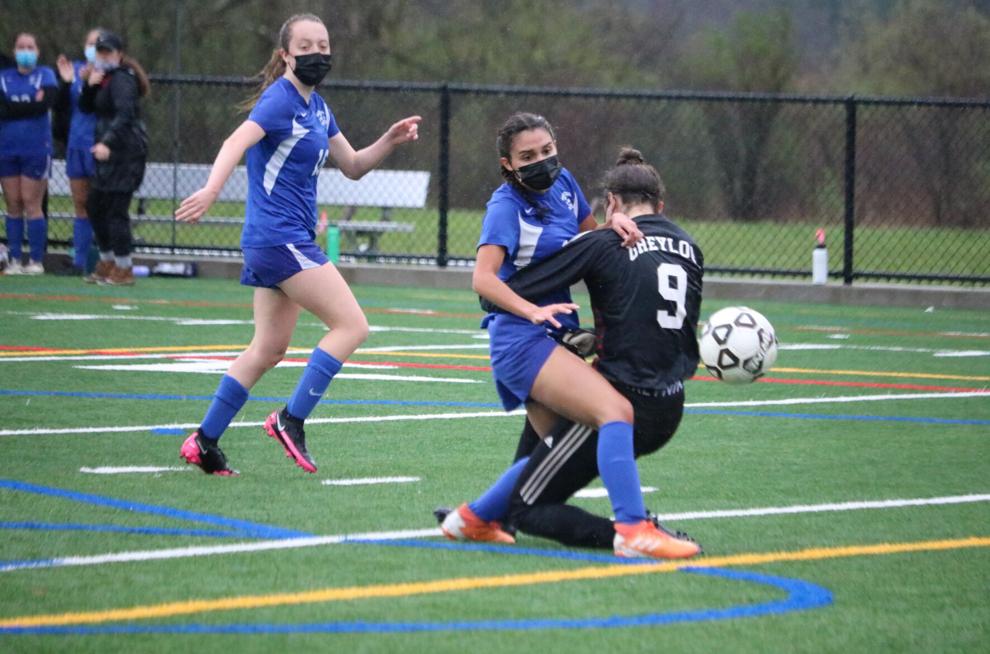 "We kind of preach 'protect each other,' every line protects the other," said Smith. "How we play, everybody is able to fall back to help, it's like this recycling moment. They work hard, and they know when it comes down to it, they'll put it out there for their team. It's a respect, if someone is going to help out, you have to help out too."
Jilly Cote, Maggie Mazzeo and Trager were the chief reason for that. Wahconah's all-senior back line was a constant thorn in the side of Greylock attackers all night. Every McWeeny feed to Livia Morales or Jane Skavlem saw the attackers turn into a blue jersey. Every plunge into the Wahconah zone by strikers Elizabeth Dupras or Jackie Wells was canceled out by a stout defensive play or out-legged by Cote's speed.
"We know they have a really strong center, so we just wanted to play our normal defense, just a little more compact against them," said Trager. "Me, Maggie and Jilly have played together our whole lives pretty much, the past couple years here, and Quinn [Walton] and Hannah [Connelly] and Vienne [Peltier] can step in. We know each other on the field."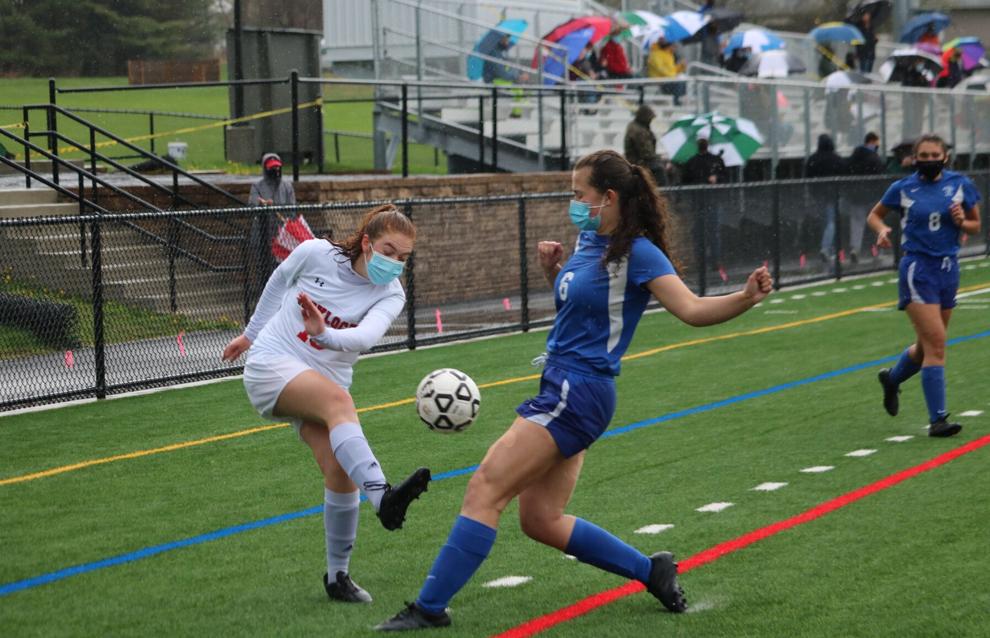 Dupras and youngster Lily McDermott provided Greylock with its best chances to cut into the lead. Dupras, a senior speedster had a try five minutes into the second half that glanced off the side of her foot and went wide of Eberwein's net. Later, coming on a counter after Babcock made a save through a violent collision with senior forward Nicole Mazzeo, Dupras had two looks. Eberwein grabbed one, while the other hit side netting.
As time waned, McWeeny tried testing the goalie from deep, but the junior was up to the task and secured it. With five minutes left the Greylock senior made a perfect touch pass to Skavlem along the left side of the box, but Cote came striding in from nowhere to wipe out any idea of a shot on net.
"It was a battle of two senior-laden teams. It was a couple veteran teams battling it out," said Greylock coach Tom Ostheimer. "Wish we could've gotten on the board. Two goal advantage is tough against a real strong team like Wahconah.
"They're disappointed, but I think we gave Wahconah a good run this year, in all three games. We'll find a way next year."
———
Mount Greylock 0 0 — 0
Wahconah 2 0 — 2
First Half
W — Sadie Anderson (Noelle Furlong), 28:18; W — Hannah Bowlby (Olivia Gamberoni), 30:30.
Saves — MG: Delaney Babcock 9; W: Eva Eberwein 5.