WILLIAMSTOWN — The sun was supposed to shine throughout the day at the Taconic Golf Club. There was only a 6-percent chance of rain and the wind was supposed to be mild. That's how it was supposed to be at least.
"It was brutal honestly," said Owen Quinn of Holden, Mass. "It wasn't calling for rain and it poured on us on the front nine and I did not have any rain stuff, I was getting drenched out there. I actually played well in the rain, turned in three under, [on] the back nine."
Photos: US Open local qualifier at Taconic Golf Club
The US Open local qualifier was held at the Taconic Golf Club in Williamstown on Tuesday.
To purchase photos click here.
"I was woefully unprepared when the heavens opened up," said Sam Goldenring, who finished first overall with a score of 71. "I think it was [hole] five for me. So I got soaked. Had to run into the pro shop when I made the turn. Just grabbed a towel from the pro shop and told the guys, 'I'll pay for it after the round.' It was a grind all the way around."
Despite the elements, Goldenring, a Williams College alum and 2019 NCAA Division III individual champion, made a successful return to his collegiate home course on Tuesday.
"I have so many great memories here, from qualifying for my first US Amateur and now advancing here," Goldenring said. "But in my head throughout the day it was just like those practice runs with my friends at four o'clock on a random Wednesday that I was thinking about… Something I was telling my mom yesterday, I need to stay out of my way and let the good vibes that I have around this place produce the golf."
His production started early, with a birdie on the first hole. And even though Goldenring bogeyed on the second and third, the New Jersey native recovered to make par on the front nine and finish in the top three. The second half lacked rain but made up for it with wind gusts that averaged 17 miles per hour and went higher plenty of times.
"On the greens it was at the point where you had to take it into account when reading them, but on some holes I'd just get this brutal gust and it was kind of, like, let's see what happens with this [shot]," said Goldenring.
Despite the elements, his vibe and familiarity with the course allowed Goldenring to finish on par with a score of 71 and in first place.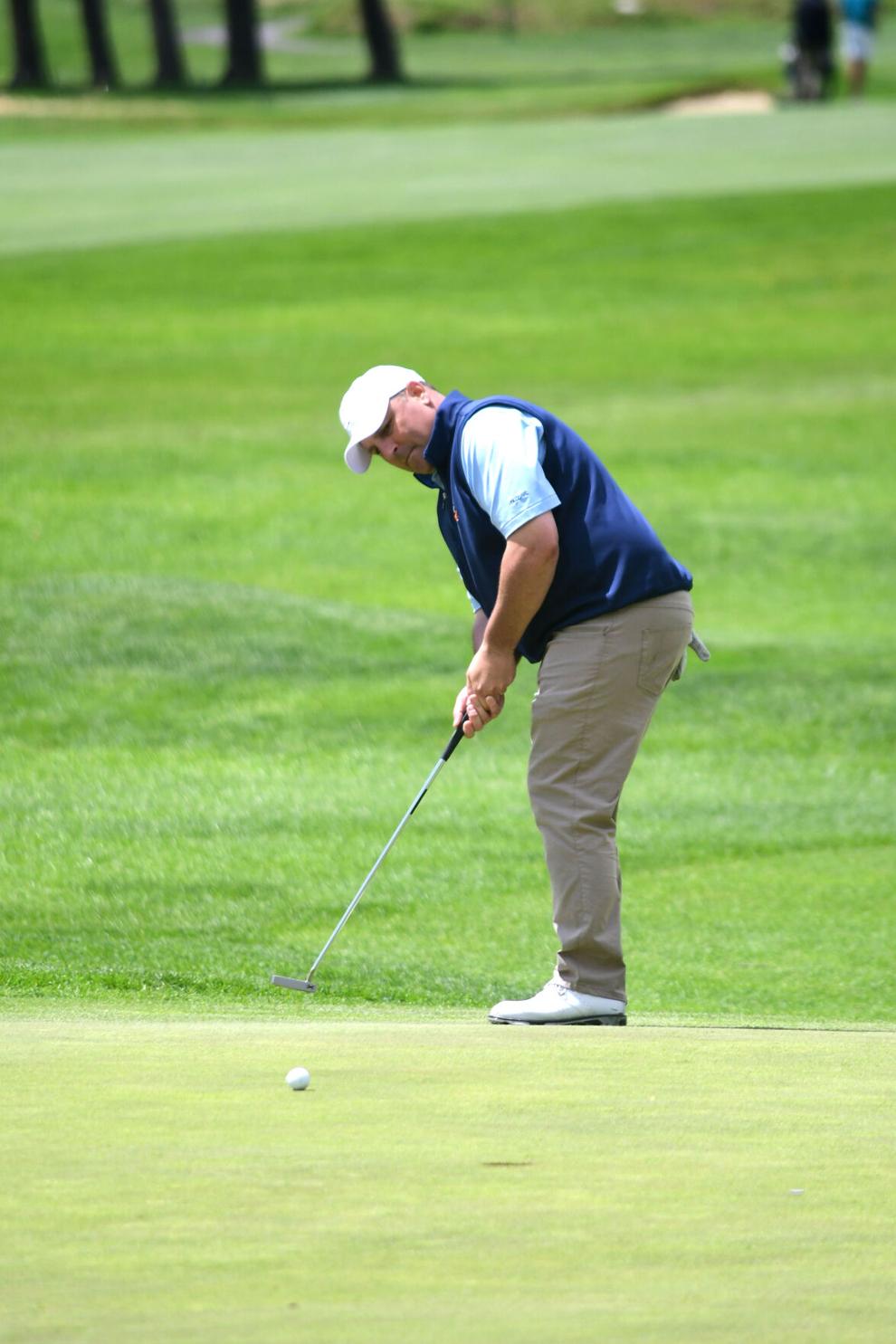 Owen and Fran Quinn, both out of Holden, finished tied for second place with scores of 72. Fran has been competing for a while but Owen, Fran's son, has been pro for barely a year. Being able to qualify with his dad was a special moment not lost on Owen.
"It's really cool," said Owen. "I've seen him go through it, caddied for him a couple times in Final Qualifying and to be able to now both get through it together is pretty neat and pretty special… I've got three, four weeks. I definitely got to tighten up my driving of the golf ball. I drove it not as well as I would have liked, but really just some good practice and getting ready."
Five golfers were tied at two-over par. That led to playoffs with the top two qualifying and the next two becoming alternates.
Ethan Whitney and Eric Mabee finished first and second in the playoffs respectively. Whitney, an amateur out of Westminster, Mass. made an eagle on the first hole of the playoffs to secure his spot while Mabee, the head pro at Country Club of Pittsfield, claimed the fifth qualifying slot on the second playoff hole.
"It was make or break honestly, just needed to hit three good shots," said Whitney. "I was 20 feet above the hole for eagle and I was just like, 'I'm making this.'... I just wanted to get that in and get out of there because anything can happen, the wind's ridiculous, it's blowing crazy hard, so yeah, I'm pumped."
Mabee had a similar mindset, making the hole in three. He wasn't able to do so on the first playoff hole, but managed to secure his spot on the next one.
"Seventeen's the hardest hole on the golf course. I'm hitting a five-wood and these kids are all 10 years younger than me, maybe 15 years younger than me and they're all hitting an iron," said Mabee with a chuckle. "But I was short, I left it short. You know you can't go over that green and I hit just a great little pitch shot to about a foot. And I never expected all three of them to three-put so it's unfortunate for them but I'm happy I got through."
The playoff went on for seven holes as the three remaining golfers battled for two alternate spots. Thomas Harrison was the first alternate after hitting par on the fourth playoff hole and Sean Fitzgerald was the second alternate after hitting par on the seventh playoff hole.
Goldenring's former coach, Josh Hillman was also in the field on Tuesday. The Williams College head men's golf coach shot a six-over 77. Williamstown's Ben Gilooly, a Mount Greylock graduate, shot a 12-over 83.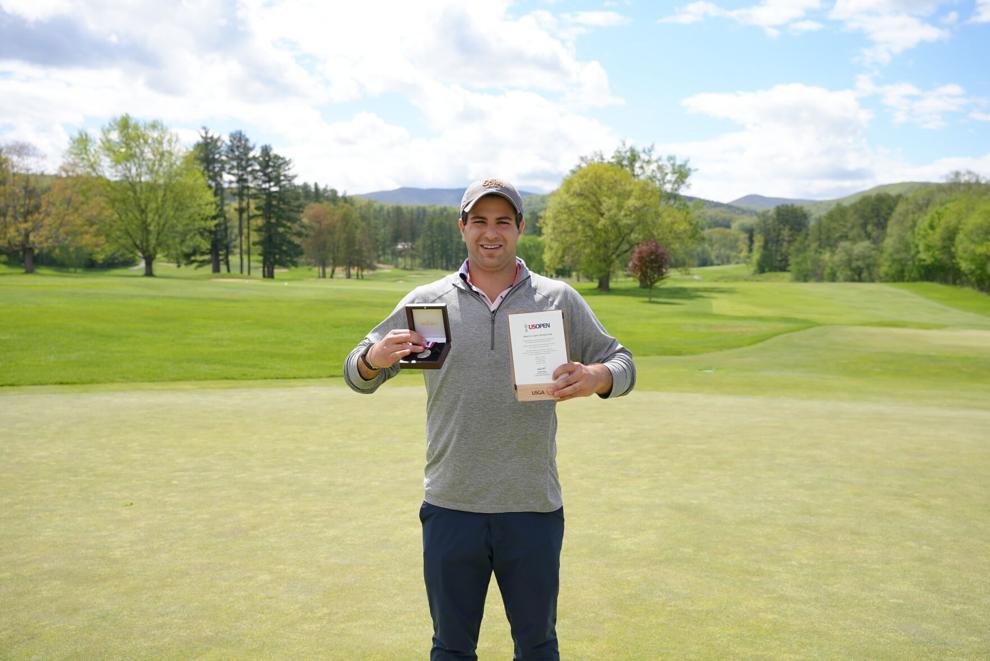 The final qualifiers will be held in 11 different spots with nine taking place on June 6. The majority of the qualifiers from the Taconic Golf Club will play at the Century Country Club and Old Oaks Country Club in New York. Qualifiers will play 18 holes at each course on the same day. The winners will qualify for the US Open.
———
In a Monday qualifier at Shaker Ridge Country Club in Albany, N.Y., Lee's Thomas Fraser missed the chance at being an alternate by three strokes.
Fraser, who shot a 2-under-par 70 for RPI in the final day of the Liberty League championship, shot a 74 at Shaker Ridge. Fraser, who this week was named to the spring All-Academic team for the Liberty League, bogeyed the sixth, seventh and eighth holes, and made the turn in 4-over-par 40. He had three birdies but two bogeys on the back nine to finish up.
Taconic Golf Club assistant pro Justin Kumpulanian shot a 77 at Shaker Ridge, while amateur Chris Shields of Lee shot 81 and amateur Ryan Kangas of Williamstown had an 86.