It has been a long time since Williams College women's basketball coach Pat Manning hasn't been coaching.
"It's been about 38 years, maybe, for me that I haven't had a basketball season," Manning said.
This was to be Manning's 31st season at Williams. The veteran coach guided the Ephs to a 20-8 record and a berth in the NCAA Division III women's basketball Sweet 16 last winter. Manning was looking forward to coaching a team of nine returnees and a team that brought back five of its top seven scorers. That group included Maggie Meehan and Mikaela Topper, the No. 1 and 2 scorers on the 2019-20 Ephs.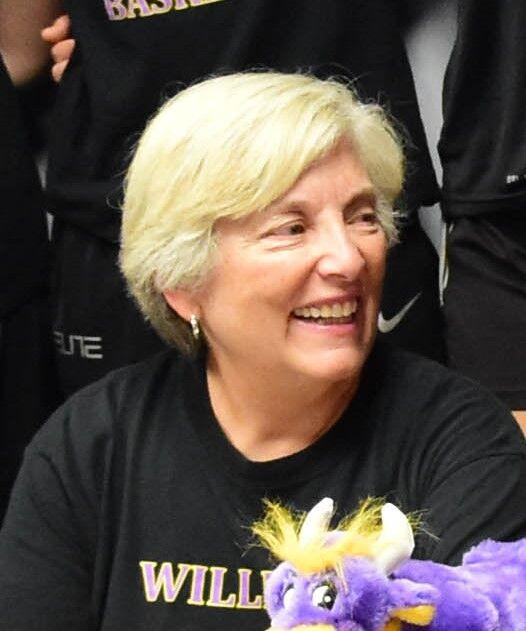 It was Oct. 8, when the NESCAC presidents unanimously decided to cancel conference competition. That same day, Manning found out that there would be no season, because Williams announced that it would not have any competition in the winter sports season.
"I don't think it's totally sunk in yet," the veteran coach said earlier this month. "I think January or February will be a trickier time for the kids. My players that are off-campus are doing a lot of training. The kids that are on campus, we were lucky that we were able to get inside [Chandler Gym]."
Manning did, however, get a chance to do some coaching with a number of the younger Ephs who chose to take class on campus.
"The ones that were here, we got some good individual workouts in," said Manning. "That ended just before Thanksgiving."
The Ephs historically start winter sports practice, per NESCAC rules, on Nov. 1 with a regular-season game some two weeks later. This year, due to the COVID-19 pandemic and the inability to gather in large groups right off the bat, NESCAC teams had begun winter practices on Oct. 15. Teams would start in small groups which would eventually grow.
"We didn't do a lot of system stuff," the coach said. "It's stuff we wanted to work on with each kid that they don't normally have the opportunity for that individual attention. Our season starts on Nov. 1 and we're playing a game in two weeks, so there's not a ton of time for individual skills. We found [this time] was really helpful for that, spending time with kids and really getting to know the new kids."
Those new players, along with everyone else in the Williams program, will have the ability to play an additional season after the NCAA ruled in the fall that all winter sports athletes would be granted an extra year of eligibility.
Manning said her team, as did the other fall and winter indoor sports teams, had an opportunity to get out into the fresh air of Berkshire County. They were outdoors for two weeks before heading back inside Chandler. The college had resurfaced outdoor courts that were used by the volleyball team in the fall and the basketball team for those first two weeks.
While that was fun, Manning said that getting back inside Chandler was the best thing for her and the players on campus.
"Just being in the gym with our players meant everything," she said. "That's really what it's all about. You want to work with your team. We missed that big time."
So what has Pat Manning been doing without game planning for early-season games against schools like MCLA, or starting to get ready for a NESCAC season that would begin the first weekend of January?
"This is a great time to kind of analyze everything from last year and going forward. You have to switch up every season, depending on your team makeup to a certain degree. It's a really good time for professional development," Manning said. "There are so many things you can access on line. I spend a lot of time watching the WNBA and the NBA seasons, picking up things I want to implement next year. It would be awesome if we could travel to a D-I school, but that's not even realistic because No. 1, we can't travel, and we couldn't get into their facilities either. Our organization the WBCA [Women's Basketball Coaches Association], our professional organization, has been amazing with all of the clinics they post. They have coaches from mostly Division I, but from all divisions that are posting information every week.
"It's a good time to examine what we've done that works and what what we want to work on."