PITTSFIELD — Mike Massery was confident of a few things when he graduated from college.
He loved baseball, loved coaching and wanted to parlay both with his business degree from American International College.
A decade later, Berkshire County is still seeing that a home run doesn't have to necessarily leave The Infield.
The Infield, home of the Berkshire Baseball Academy
"I played baseball at AIC and graduated in 2009," Massery said. "Right after, I was an assistant coach with [American Legion] Pittsfield Post 68 and loved coaching."
A facility became available inside the White Star Plaza on Lyman Street and the 2004 graduate of Taconic High School took his swing. The Infield, home of the Berkshire Baseball Academy, opened on Nov. 24, 2011.
"I spent all the finances I had and over the years we've just kept renovating until it is what it is today," Massery said. "It's come a long way... when I first started, being a former baseball player, that was where my mind was set — baseball and softball.
"That's come a long way over the years."
Today, the doors open at 3 p.m. for youngsters learning to squish the bug with their back foot in one cage, while others are gearing up for a run in the Massachusetts State College Athletic Conference this spring.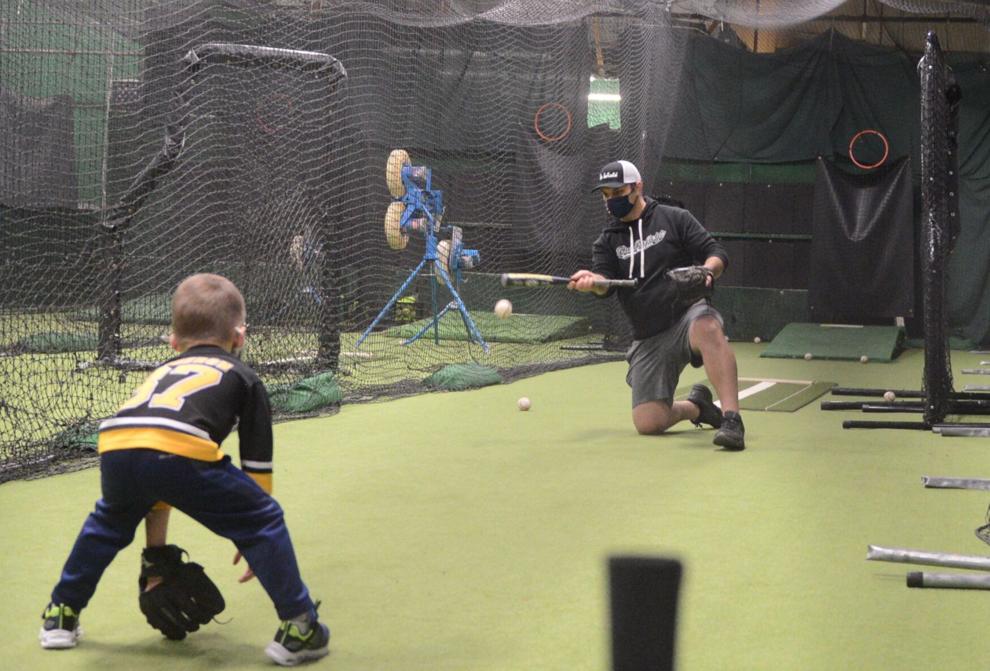 "Pretty much as long as I can remember... I think I was 10, so about 11 years now," said Austin Rachiele, a Taconic graduate and junior outfielder at Massachusetts College of Liberal Arts. "It's been huge, obviously living in Massachusetts, the winters can be pretty tough.
"Being able to come in here, it's like my second home. Mike is so good at helping you reach the goals you set for yourself."
Batting practice is just hours before the Berkshire County Box Lacrosse league picks up on the court next to the cages. Soccer clinics take place on the weekend with different events, parties and even comedy shows sprinkled in, when possible.
"At the same moment you have all the sports," Massery said. "I think that is what gives it that community feel.
"Coming to The Infield and playing your sport is why we've been here for 10 years and hopefully why we're here for 10 more."
Everyone is allowed to play ball when you have roughly 10,000 feet to work with. But with that in mind, it's hard to ignore the Red Sox art that paints the walls and buckets of balls that line the floors.
"The lost art of verbalizing is what our staff is so good at," Massery said. "It's so personal and that is what people like about this place.
"A serious baseball and softball training facility but also a place for people to see each other."
The Infield closed for four months to establish protocols in the early stages of the COVID-19 pandemic before hosting outdoor workouts in the spring and summer.
"As I opened the space to the public it evolved so much," Massery said. "It's been a rough couple of years but the support we've gotten from the community is what kept us alive."
When guidelines allowed for indoor work, capacity limits began at 10 before crawling back up to the regular capacity of 80.
"Everybody was so respectful of the place because they didn't want to see it go," Massery said. "We are back to full capacity, but that is something we focus on staying under."
"Baseball is 90-percent mental," Rachiele said. "You can make it a competitive environment when you want it to be or you can step back from the game stress and that can often help clear up things with your swing and throwing."
Massery never expected to be more than a batting cage, but as he planted his roots, he felt the impact of the soil.
"To watch myself grow along with the kids and watching the facility grow with them, that is all we needed," Massery said. "I wanted to build a place that the community needed and in the back of my mind, I knew one way or another that it would work.
"It was a gamble, but it was 100 percent worth it. Ten years later, I love coming to work every day."