Photos: Pittsfield Youth Track and Field Games
At the Pittsfield Youth Track and Field Games, kids ages 6-14 get an introduction to the sport of track and field, including warm-ups, running events, javelin and the long jump at Taconic High School in Pittsfield. Saturday, July 31, 2021.
To purchase these and more photos from the Track and Field Games, click here.
PITTSFIELD — Shiobbean Lemme couldn't help herself from feeling a bit emotional when she arrived at the track at Taconic High School on Saturday morning.
After a year away due to the COVID-19 pandemic, the city of Pittsfield reunited the Pittsfield Running Center, Berkshire Lightning, Berkshire Thunder and coaches from the city's high schools to teach the next heat of athletes at the Pittsfield Track and Field Games.
"I don't see this group of [coaches] together, except this one morning a year," said Lemme, who owns Berkshire Running Center with her husband, Kent. "It still feels like we spend every weekend together.
"This is a fantastic event and Becky Manship, [the city's Recreation and Special Events Coordinator], is the catalyst to get everyone together."
Nearly 70 kids ranging from six to 14 years old laced up their sneakers to throw the javelin, participate in the long jump and discover the differences in running a mile and 400-meter race.
"Something we talk about is just general fitness and how running is one of the purest things to do," Lemme said. "Today gives them a taste of how to perform, showing them that if they work hard they can get better and better.
"That becomes a tool, when kids want to get out energy or frustrations, you can take it out with a run and you're always going to feel better."
The day's energy radiated from kids to parents — and grandparents — who watched as kin quite literally followed in their footsteps.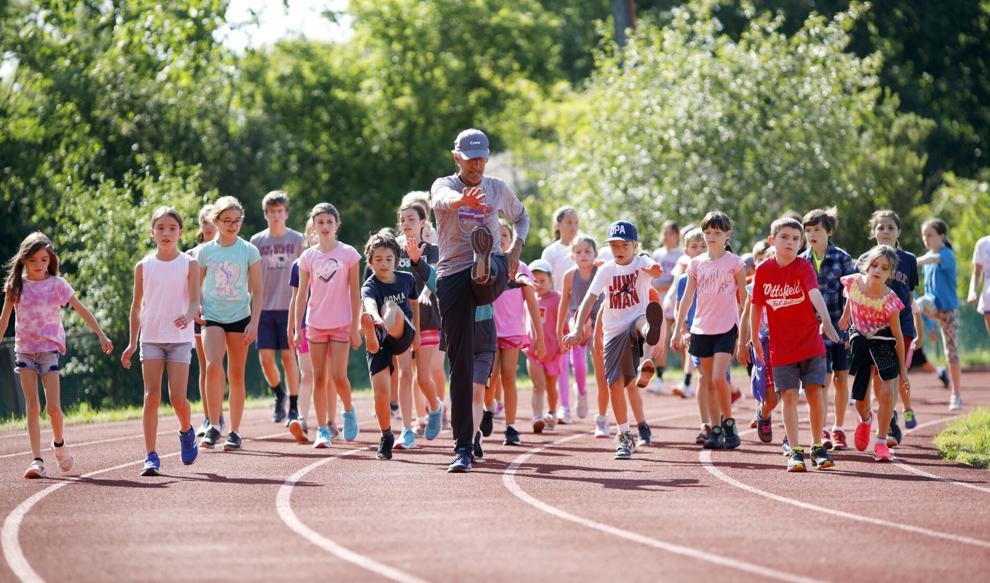 "More than half the parents here are active [runners], it becomes a lifestyle thing," Lemme said. "The kids see people loving it as part of the lifestyle and they see the respect we have for each other.
"On top of that, with the Olympics on, how exciting is it that they might turn on the TV and really start to understand the different events they're watching?"
Of those in attendance, Beuford Greb was among those eager to help inaugurate the next wave of athletes.
"I was so excited when I mentioned this to my grandson and he wanted to come up, and his friend did too," said Greb, who coached at Wahconah for a decade. "Of all my grandkids, one finally wants to come out to do track!"
More recently, Greb has coached off-and-on at Pittsfield over the last five years. Also among the coaches in attendance was Daniel Brien, who didn't get a taste of the track until he was a freshman in high school.
"Friends from soccer asked me to do track with them to stay in shape," said Brien, who graduated from Pittsfield High in 2013. "It was a different experience in terms of just running.
"It didn't matter if you were fast or slow, everyone is supportive and it is great to give back to the kids like the coaches did for me when I was younger."
The day started at 9:30 a.m. as Kent Lemme marched with the kids around the track, stretching and preparing for the day's action.
"Just looking at the kids learning the fundaments, they're listening and doing everything properly," Shiobbean Lemme said. "They worked hard — the same spirit that is involved in every sport.
"It is great to see the repeated success and maybe they'll come back. My son started here and is now crushing it in high school."
If a track is any indication, there is a strong possibility that these athletes will make their way back around.
"Everyone is there for you on and off the track," Brien said. "Once you're part of this community it will always be there for you."