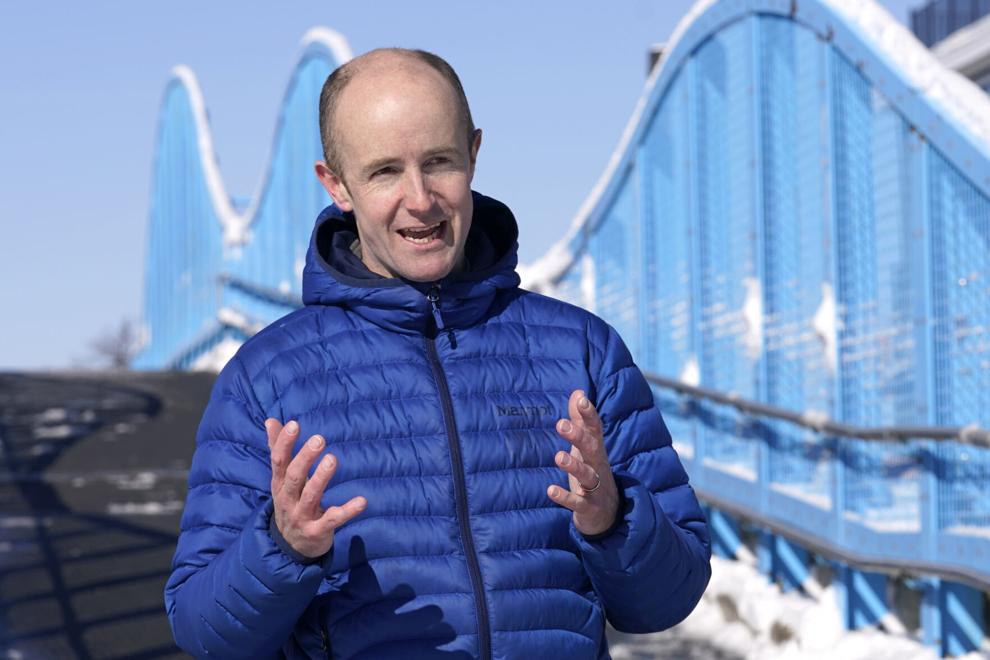 BOSTON — Former state Sen. Ben Downing, a Democrat who represented Berkshire County for a decade, no longer will seek his party's nomination for governor in 2022.
Downing, 40, launched his campaign in February and was the first Democrat to enter the race. Calling for greater urgency from elected leaders, he centered policy plans to address climate change, poverty, transportation, child care and racial inequalities.
But, fundraising challenges led to his early exit from the race, he announced in a Tuesday morning statement.
Downing said by phone that he was proud of the focus his campaign brought to concrete policy proposals, as well as the unique challenges of regions that state government tends to overlook.
"We showed that you don't have to choose Eastern Massachusetts or Western Massachusetts, South Coast communities or border communities in the Merrimack Valley," he said. "There's a way state government can act with urgency and empathy, meet needs and do so in a way that reflects that the solution in East Boston is going to be different from the solution in Becket."
Downing, born in Great Barrington and raised in Pittsfield, first won election to the Senate in 2006, when he was 25. After gaining a leadership role in the Senate on climate and energy issues, he took a post as an executive for the solar energy company Nexamp in 2017.
The son of the late Berkshire District Attorney Gerard Downing was seeking to become the first Berkshire native to serve as governor since former acting Gov. Jane Swift served in the role from 2001 to 2003. The previous Berkshire resident to win an election for governor was Dalton's Winthrop Crane, who won one-year terms in 1899, 1900 and 1901.
State Rep. William "Smitty" Pignatelli, D-Lenox, said he felt that Downing, a longtime family friend and former colleague, brought a much-needed statewide perspective to the race.
"Even if he didn't win in the end, he would've forced the other candidates to be thinking differently about the commonwealth as one commonwealth," Pignatelli said. "Ben understands the issues, and having lost his father and his brother at a very young age, I think he could relate to people on a level I haven't seen from any other candidate."
All four state representatives from Berkshire County backed Downing's campaign. So did Senate Ways and Means Chairman Michael Rodrigues, D-Fall River, and some city councilors in North Adams, Pittsfield and cities farther east.
Rodrigues said that as Senate colleagues, he and Downing united around their pursuit of regional equity.
"He's progressive, but yet he's pragmatic," Rodrigues said. "Ben is a great communicator, a great listener, and he brings people together. He's a young guy, and he's got a long career ahead of him."
After raising nearly $200,000 during the first two months of his campaign, Downing raised between $23,000 and $39,000 in the months since. He finished November with just under $33,000 in campaign money, while other top Democrats — state Sen. Sonia Chang-Díaz, D-Boston, and Harvard University professor Danielle Allen — held $200,000 and $390,000, respectively.
Downing said he entered the race early to introduce himself to voters, as well as to give himself time to visit and listen to different communities. But, "that takes time," he said, "and time ends up being money."
"The way we ran the campaign without donations from PACs and the fossil fuel industry, I think, is the right way to do it," he said, adding that he knew from the start that fundraising would pose a challenge. "I'd like to think we would have public funding for elections, but I don't think the support is there for it yet, and honestly, I'm not sure it's the perfect solution, either."
Pignatelli said he finds it unfortunate that lengthier campaigns and larger fundraising hauls have made it difficult for candidates with less of a donor base to compete.
"All it does is cost people money," he said. "That's the downside of politics today, that people who are passionate and right on the issues can't compete if they don't have the ability to raise money."
Downing's departure leaves Chang-Díaz and Allen vying for the Democratic nomination for governor alongside Shrewsbury business owner Orlando Silva, Quincy businessman Scott Khourie and Revere resident Josh Caldwell.
Attorney General Maura Healey widely is expected to run, and would bring an edge in fundraising and name recognition if she does. U.S. Secretary of Labor Marty Walsh, who was mayor of Boston from 2014 to 2021, has been rumored to be eyeing a run.
Gov. Charlie Baker, a popular Republican, and Lt. Gov. Karyn Polito announced in early December that neither would run for governor in 2022, leading many to view the race as a Democrat's to lose. Former state Rep. Geoff Diehl, of Whitman, is seeking the Republican nomination.
Pignatelli said he would like to see the remaining candidates, as well as anyone else who enters the race, not only visit the Berkshires, but also seek to understand specific issues.
"Clearly people, bodies and money are down in the larger cities, but politicians should recognize that the Berkshires have concerns, interests and ideas that can help shape the future of the commonwealth," he said, identifying former Gov. Deval Patrick and the Baker-Polito administration as supporters of the Berkshires.
Downing has not decided whether to endorse another candidate in the race, and he is taking some time to reflect on his next steps, he said. Pignatelli said he believes the eventual winner of the governor's race "would be wise to look at a Ben Downing" for a Cabinet position, such as secretary of energy and environmental affairs.
Downing's top priority is to "find a way to serve" in some capacity, he said.
"Whether that's working in the private sector and volunteering in my community, or working on issues on a volunteer basis statewide, or serving in another position, nonelected, I really don't know," he said. "I've loved the different experiences I've had, and we're all better people when we have a variety of experiences to draw from and grow."