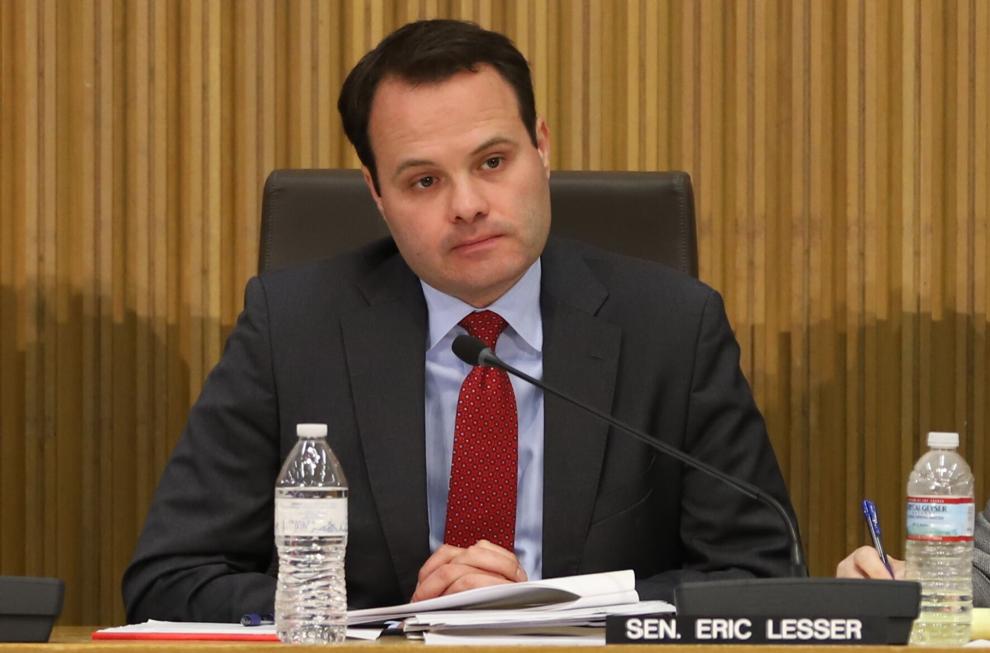 With state Sen. Eric Lesser's entry into the race for lieutenant governor, Western Massachusetts now has two state senators vying for the Democratic nomination.
Lesser, a 36-year-old Longmeadow Democrat, announced his campaign Tuesday. He joins state Sen. Adam Hinds, D-Pittsfield, in a field that already includes state Rep. Tami Gouveia, D-Acton, and Bret Bero, a Boston businessman, and may get even more crowded.
Lesser says he is running to serve as "an enabler and an ambassador for the governor." Early themes of his campaign are tackling rising inequality and his work on the proposed "east-west" passenger rail project, which would run between Pittsfield and Boston through Springfield. Lesser has represented a Senate district that includes part of Springfield since 2015.
"I know the job, and the most important part of the job which is to be a partner to the governor and to support and empower the governor's agenda," Lesser said. "Whoever the governor is, the lieutenant governor's role is to make sure that she's the most successful governor in the country."
The clear edge that the Harvard Law School graduate and Obama White House alumnus brings to the race is in fundraising, observers say. The $651,000 in Lesser's war chest at the end of 2021 is more than Hinds, Gouveia and Bero combined.
Other candidates, however, have had the advantage of having spent more time making their case to voters on the campaign trail. Gouveia has been running since June, and Hinds launched his bid in October.
"I think that the big factor that he has in his favor is the amount of money that he's sitting on because he's able to get himself out there in ways that other candidates may not be able to," said Matt Szafranski, editor-in-chief of Springfield-based political blog Western Massachusetts Politics & Insight.
"Neither him nor Hinds are going to be able to consolidate Western Massachusetts now," Szafranski added. "I think that the big question is, is he going to be able to leverage his money, whereas if you look at the endorsements that Hinds has had, I think a number of them would have gone to Lesser if Hinds had not been in the race."
In Lesser's view, his legislative record and experience make him the best person to carry out the lieutenant governor's role, which is fairly flexible because it has few official duties. The executive branch and state agencies will play a role in spending federal infrastructure funds, and Lesser points to his time in the Obama White House as evidence of his ability to work with Washington and President Joe Biden's administration.
He also points to his experience working with Attorney General Maura Healey, a rumored candidate for governor, on a "student loan bill of rights" and a bulk purchasing program for naloxone, an opioid antagonist. Lesser also had been rumored to be interested in running for attorney general if Healey vacated the office to run for governor.
"There's one candidate that's brought east-west rail to the forefront of actually happening," Lesser said. "There's one candidate who brought a rescue package at the height of COVID to save largely minority and immigrant-owned businesses. There's one candidate with a deep understanding of Washington."
Lesser said he is not concerned that others have been in the race longer, adding that he will spend "a very, very long campaign season" listening and traveling around the state.
Hinds learned of Lesser's intention to run through the Tuesday announcement, he said. Hinds added that he continues to try to make his case to voters in every community of the state.
"We're right where we want to be at this point in the race, in terms of having the endorsement of more than 30 officials statewide, including 19 leaders in Western Massachusetts," Hinds said. "We just had our strongest fundraising month to date, and I look forward to showing voters why I'm the progressive candidate in the race with strong backing from Western Massachusetts and support across the commonwealth."
Gouveia said in a Tuesday tweet that since June, she and her team "have been building an inclusive movement to put the health, well-being & dignity of every resident at the heart of decision-making."
"211 days ago I declared that I am running to be your next Lt. Governor," she said. "I didn't wait for Baker."
211 days ago I declared that I am running to be your next Lt. Governor. I didn't wait for Baker. Since June we have been building an inclusive movement to put the health, well-being & dignity of every resident at the heart of decision-making. pic.twitter.com/PcSkEq1qYN#mapoli

— Dr. Tami Gouveia (@TamiGouveiaMA) January 4, 2022
There long has been speculation that either Lesser or Hinds would be interested in running for Congress after U.S. Rep. Richard Neal, D-Springfield, retires, said Matt Barron, a Democratic strategist based in Chesterfield. Both candidates may see lieutenant governor as a stepping stone to higher office at the state or federal level, he said.
"There's just so much pent-up political ambition, and you've got to sort of go where the openings are, and this year the openings are for statewide constitutional office," Barron said. "Anybody who knows anything about state government knows that people don't run for lieutenant governor to stay there."
Ryan McCollum, who runs Springfield-based political consulting firm RMC Strategies, said he sees Lesser's entry as a positive development for Western Massachusetts. He said that while Hinds and Lesser share policy stances and priorities, including support for passenger rail, he believes voters will differentiate them based on their backgrounds.
"Sen. Lesser has the Obama White House background, and Sen. Hinds has the UN, Kofi Annan background," he said. "Some people may say: What's the difference between them? I think voters will see the difference in their backgrounds... When it comes to issues, I don't think there's a lot of daylight between them."
Barron said Hinds "can claim to be the more rural candidate, whereas Lesser can be seen as the more suburban candidate or representing part of Springfield," adding that Hinds could use that narrative while campaigning in rural communities further east.
The possible entry of Salem Mayor Kim Driscoll, some believe, also would shake up the race.
To advance to the ballot for September's Democratic primary, all statewide candidates must receive at least 15 percent of the vote at the Massachusetts Democratic Party Convention in June.