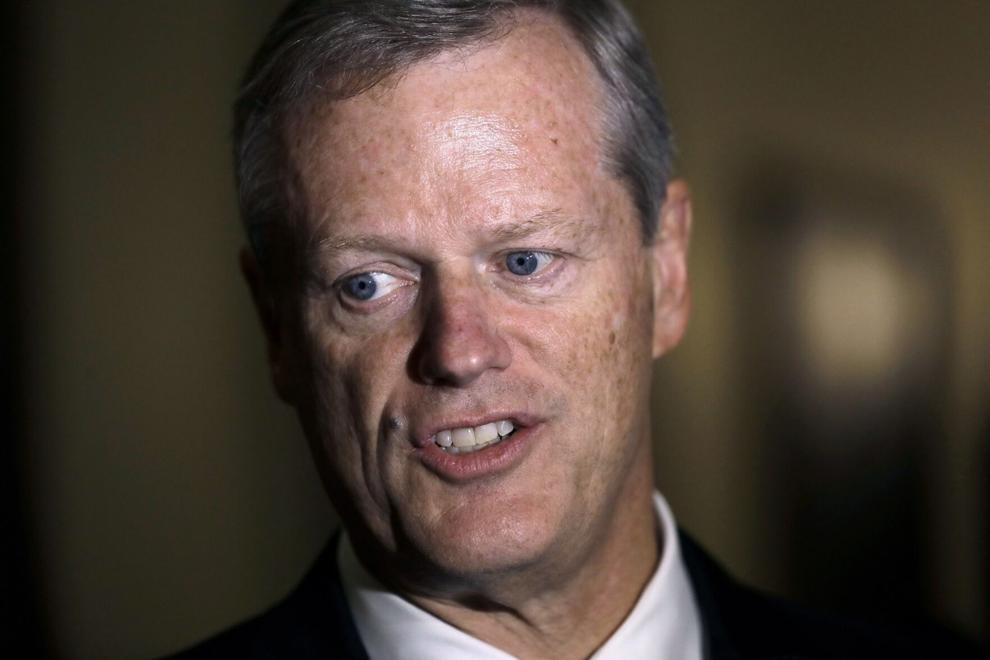 BOSTON — The House is set to vote Thursday on legislation aimed at preventing the dissemination of explicit images and video without a subject's consent, one of Gov. Charlie Baker's top priorities in his final year in office, but the version teed up Wednesday takes a different approach to criminalizing the practice than Baker proposed.
In his bill cracking down on the practice, Baker sought to create a new offense in state law for taking any visual material depicting a person nude or engaged in sexual conduct and distributing it without their permission, even if they agreed to creation of the picture or video, and with the intent to "harm, harass, intimidate, threaten or coerce."
Any instance of releasing "revenge porn," or just threatening to do so, would be a felony under Baker's bill punishable by a fine up to $10,000, imprisonment in state prison for up to five years, or imprisonment in a house of correction for up to two and a half years.
The bill that the House Ways and Means Committee advanced Wednesday instead makes clear that the state's existing criminal harassment laws also apply to distribution of explicit materials without consent, a distinction that supporters say would provide victims with more access to support resources.
A first offense under the House's bill would be a misdemeanor punishable by a fine up to $10,000 and or imprisonment of up to two and a half years in state prison, stronger penalties than the underlying criminal harassment statute. Subsequent offenses would trigger harsher punishment — imprisonment of up to 10 years in state prison and or a fine up to $15,000 — and could be prosecuted as either a felony or a misdemeanor.
"I think the message is sent with a misdemeanor," said Rep. Michael Day, who co-chairs the Judiciary Committee that advanced an earlier version of the bill. "We've got heightened penalties in the misdemeanor itself. We increased the fine, at least in the proposal today, to $10,000 and/or imprisonment, and a second offense would heighten that as well under the criminal harassment statute."
Day, a Stoneham Democrat, said the existing law "should have covered this behavior," but he argued that district attorneys have been handcuffed from prosecuting revenge porn cases because a 2005 Supreme Judicial Court ruling held that three or more incidents need to take place to constitute criminal harassment.
The House bill would make clear that prosecutors can pursue a criminal harassment charge for only one instance of disseminating sexually explicit images, Day said.
"We've already got a code in place for this behavior," he said. "This was a loophole we found that was created, we think, by a case. We're closing that loophole today."
The bill also takes aim at teenagers who share explicit images of each other, including consensual exchanges, in actions that violate the state's existing child pornography laws.
It would create a new offense, separated entirely from child pornography charges, for minors who share explicit images and would lift any criminal penalties on consensual sexting between 16- and 17-year-olds, who have reached the state's age of consent but not legal adulthood.
The attorney general would additionally oversee creation of a new diversion program to provide minors who share explicit images of themselves or their peers with education services rather than automatic criminal charges.
Baker has filed a version of his revenge porn bill and a related bill seeking to update how criminal suspects are declared dangerous and detained in each of the prior two lawmaking sessions, but neither had emerged for a vote until the House teed up its rewrite of the explicit images proposal.
"It's time. It was time," House Speaker Ronald Mariano said Wednesday. "The bill went through the process. It had a number of hearings. We had the committee work on tightening the language. There were some definition issues that we wanted to tighten up. Now it's ready. That's why now."
Asked why the House bill would make revenge porn dissemination a misdemeanor instead of a felony, Mariano said he felt it was "the best way to deal with this initially" and then appeared to veer into discussion of the bill's components dealing with teenagers sexting.
"A lot of these things are kids," Mariano said. "To make it a felony, make you a sexual predator and be on the list for the rest of your life, may not be the best course of action for a young kid."
Baker's so-called dangerousness bill, which has drawn skepticism from some lawmakers, remains bottled up. The Judiciary Committee gave itself until June 30 to decide whether that proposal (H 4290) should advance.
Baker has hosted several roundtable events allowing survivors to recount their personal stories and discuss how they would have been affected by his legislation. On Wednesday, some survivors took to Beacon Hill to visit with senators during that chamber's debate on a state budget bill.