The Massachusetts National Guard has in the last year-plus been pressed into duty to help keep the peace at large rallies, to provide security outside the U.S. Capitol Building, to step in during a shortage of school bus drivers and now to help with COVID-19 testing at schools and to be ready in the event of a Department of Correction staffing shortage.
Gov. Charlie Baker activated up to 200 members of the Guard to help expand COVID-19 testing in K-12 schools beginning next week and up to 250 members of the Guard to prepare to help the DOC with exterior security and transportation functions if the governor's vaccination mandate that takes effect next week drastically reduces the number of active corrections officers.
"Today's activations will ensure that we have additional staffing support for our school testing programs to help kids stay safe and will allow DOC to respond to possible staffing shortages," Baker said. "While we are overall pleased with the progress we are seeing with Commonwealth employees submitting vaccination attestations, we will take whatever steps are necessary to safely run all correctional facilities."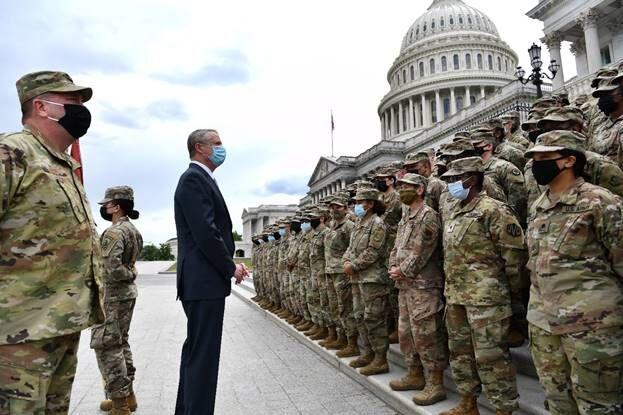 All executive department employees must provide proof of COVID-19 vaccination by Sunday under an executive order Baker issued in August. The Massachusetts Correction Officers Federated Union is seeking an injunction in a lawsuit arguing that Baker's mandate, which does not include a testing alternative, violates the contract clause of the Constitution and unlawfully infringes on union members' right to decline unwanted medical treatment without losing their job.
If needed at DOC facilities, members of the Guard would take on "external functions which do not involve direct contact with inmates" and would be accompanied by a correctional officer if called upon to transport an inmate, the administration said. DOC is also working on a plan to call on retired corrections officers if necessary, the administration said.
Guard members are starting training this week to help expand the state's K-12 school testing program, in which more than 2,200 schools participate in test-and-stay, symptomatic testing, and/or pooled testing programs.
The Guard will begin conducting at-school testing on Oct. 18. Rep. Mindy Domb had urged Baker's administration to activate the Guard to help schools with testing in a late September letter. Baker's office said the pooled testing positivity rate since the start of the school year has been under 1 percent and that the test-and-stay program has "saved approximately 25,000 school days for students who would have otherwise had to quarantine."