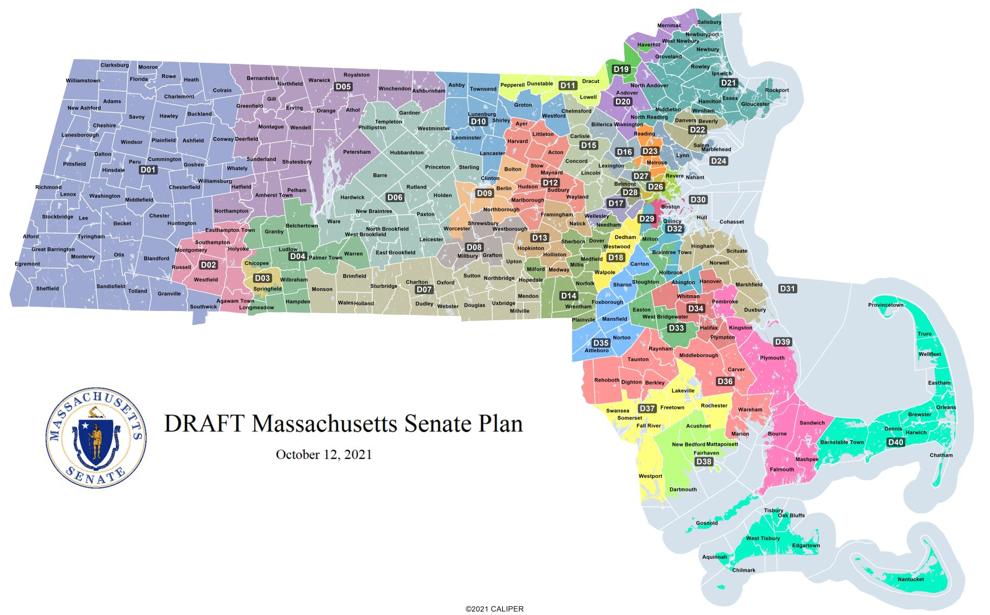 With Berkshire County's four seats in the Massachusetts House cut to three, the district Paul Mark represents would see its population reshuffled among five existing districts, under a proposed map released Thursday.
The proposal, however, is unlikely to pit Berkshire County lawmakers in elections against each other. State Sen. Adam Hinds, D-Pittsfield, has registered to run for lieutenant governor, and Mark, D-Peru, likely would pursue Hinds' seat if it opens, as would former state Sen. Andrea Nuciforo, D-Pittsfield.
That Senate seat — the Berkshire, Franklin, Hampden and Hampshire District — escaped major changes in the map that the Legislature's redistricting leaders released Thursday. But, the Senate's largest geographic district would grow from 52 to 57 cities and towns, expanding eastward once more to make up for population decline.
In the House, Mark's district would be split between state Reps. John Barrett III, D-North Adams; Tricia Farley-Bouvier, D-Pittsfield; William "Smitty" Pignatelli, D-Lenox; Natalie Blais, D-Sunderland; and Susannah Whipps, I-Athol.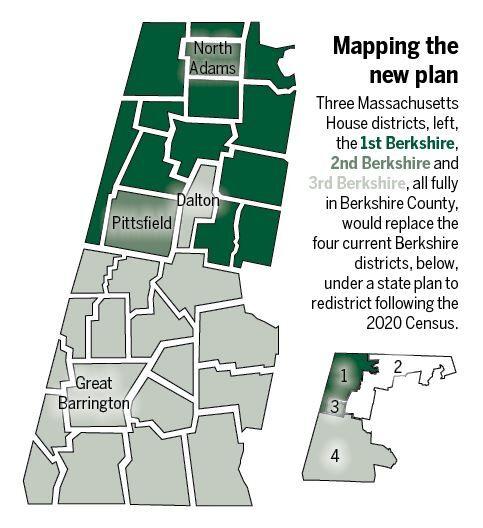 The public has until Monday to weigh in on the Legislature's proposals, which still can change. Comments can be submitted until 5 p.m. Monday through malegislature.gov/Redistricting/Contact.
During the previous redistricting process a decade ago, Mark's district remained the 2nd Berkshire District in name, although more than two-thirds of its population already lies in Franklin County.
"We've held onto something for 10 years longer than math really dictated," said Mark, who chaired the House Committee on Redistricting from 2017 to 2020.
"Our delegation put a lot of effort into fighting to preserve as many seats as possible in our region," he said. "But being up against math, we have to find growth in the next 10 years."
The eight Franklin County towns Mark represents would go to Blais' 1st Franklin District, which would split the city of Greenfield with Whipps' 2nd Franklin District.
Barrett's 1st Berkshire District would add Hinsdale, Peru, Savoy and Windsor. Farley-Bouvier, whose 3rd Berkshire District would be rebranded as the 2nd Berkshire District, would add Ward 1B in Pittsfield. Pignatelli, whose 4th Berkshire District would become the 3rd Berkshire District, would pick up Dalton while shedding three Hampden County towns.
The Berkshire County maps match the proposal that Farley-Bouvier submitted to leaders of the Special Joint Committee on Redistricting, of which she and Hinds are members.
"We just really wanted to have three strong Berkshire County districts, and the numbers worked out, quite frankly, just right," Farley-Bouvier said, noting that Northern Berkshire and Southern Berkshire County are fairly evenly split between Barrett's and Pignatelli's districts."
Farley-Bouvier's map kept Greenfield in a single district, although she believes the committee sought to balance that priority with keeping the Quabbin Reservoir communities in a single district.
For the most part, the Western Massachusetts maps appear less contentious than those in the eastern part of the state.
"It's larger, going to be more travel time, but I'm happy with those communities," Barrett said of the four towns he is set to add.
"I'm very happy with that, personally," Pignatelli said. "Although it's kind of a funny shape with Dalton at the top there, if that's what it takes to make the numbers work, it appears [the committee has] listened to us."
Further east, observers have voiced some criticisms, although many have applauded the Legislature for increasing the number of majority-minority districts from 20 to 33 in the House and three to five in the Senate. The Drawing Democracy Coalition, for one, said the Senate proposal "misses a vital opportunity to draw a strong coalition district in Boston and fails to unite Brockton with the similar communities of Randolph and Stoughton."
On the Senate side, lawmakers strongly opposed "talks of splitting the Berkshires" into two Senate districts, an idea Pignatelli called "draconian." Hinds previously has said he has been "fighting" to keep the district "Berkshire-centric."