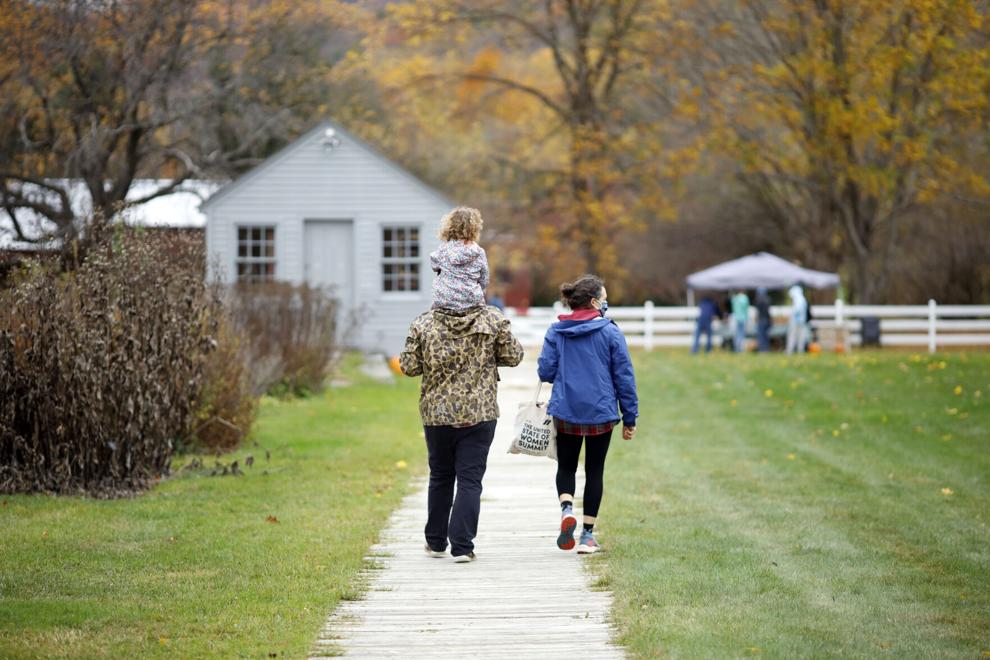 For five weeks, we at The Berkshire Eagle headquarters have been waiting patiently for the star of our foliage watch time-lapse videos to get into the autumn spirit and change colors. The camera looks out from a west-facing window onto the picnic area of Hancock Shaker Village.
Week after week, nothing. "Anyone else feel like we're being gaslighted by this tree?" one member of the digital team asked in frustration.
Now, finally in week six, we may be getting some color action.
The large tree on the right side of the video in the foreground is a maple tree.
"That one will change if it hasn't already," said Billy Mangiardi, director of farm and facilities at Hancock Shaker Village in Hancock.
According to MyPerfectPlant.com, some common reasons for a maple tree not changing colors could be to do with unusual weather patterns, the age of the tree, the quality of the soil, or the amount of sunlight it gets. An ideal living environment allows for the tree to get at least 6 hours of sunlight per day, and an autumn season with full sunny days and cold nights will have the best red-colored leaves.
This has been a very cloudy and rainy season, and the weekend outlook is predicting more gloomy rain on the horizon. It makes sense that some trees may be slightly delayed in changing depending on their location and amount of shade and sunlight they get.
The peak of the color change was estimated to be mid-October, according to Drew Jones, Hopkins Memorial Forest Manager at Williams College in Williamstown. Leaves that don't naturally fall off of tree limbs are knocked out with the rain and wind gusts.
"During fall, heavy rains and strong winds will tend to shorten the foliage season, because they tend to knock the leaves off prematurely," he said.
Other trees on the Shaker campus are reported to have changed color and are now showing bare limbs as we enter November.
Aside from the large maple tree, there are other trees that make an appearance in our time-lapse video. The one on the left by the fence closest to the boardwalk is a black walnut tree.
"It usually doesn't change all that much, it will drop its leaves all at once," Mangiardi said. "Most likely … after a frost that we haven't had yet. It takes a day or so and they all start raining down."
The one next to it is a butternut tree sometimes called a yellow walnut. Mangiardi said it's a similar tree to a black walnut with some differences, and that "it will change, but not yield a lot of color."