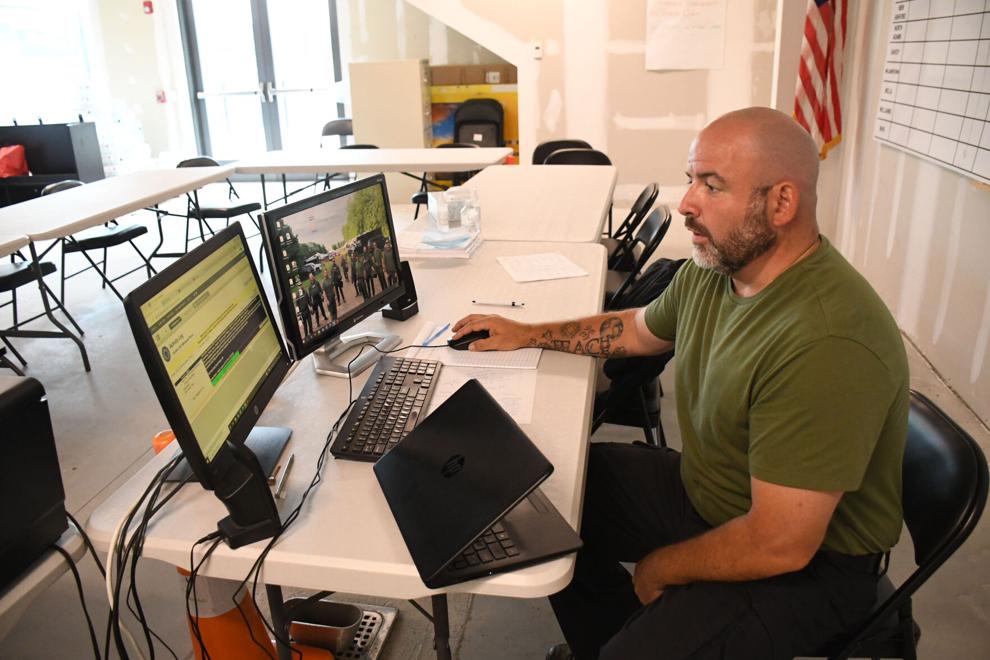 NORTH ADAMS — As rain tapered off before dusk Sunday, the Hoosic River in Williamstown remained well below flood level, though public safety officials cautioned that Tropical Storm Henri was not done with North County.
"I think overnight, we're going to see a lot more rain," said North Adams Fire Chief Brent Lefebvre, noting that the storm's path was taking it over the border into New York for a spell, before the system swings back to the northeast.
"So far, it's not living up to expectations," he said.
As of 6 p.m., only the town of Clarksburg in Berkshire County had declared a state of emergency, according to Amalio Jusino, chairman of the Northern Berkshire Emergency Planning Committee. In Franklin County, Charlemont also declared a state of emergency, a step needed for municipalities to receive outside support for storm costs.
Clarksburg took that step as a precaution, Jusino said. "It's something agencies do early so they don't have to do it in the middle of the incident."
At a measurement site in Williamstown, the Hoosic River was at 5.5 feet around 6 p.m., well below the level of 9 feet that results in flooding, Jusino said.
The Northern Berkshire Emergency Operations Center at the Harriman and West Airport, which Jusino supervises, remained open through Sunday, but its big white board did not fill up with incidents, in part because officials with its eight member towns and two local colleges are also connected through an app.
We continue to monitor #Henri impacts and coordinate with response partners & local public safety officials across the state.Tomorrow will bring additional rainfall and potential flooding and a low risk of an isolated tornado. https://t.co/vPdoEIGywS

— MEMA (@MassEMA) August 22, 2021
The first emergency call came late in the day in North Adams about a tree that had come down near power lines on Church Street. That was taken care of quickly, Lefebvre said.
Lefebvre stopped by the emergency operations center after swinging past locations in North Adams that can swamp in heavy rain.
"There is nothing to report," he said.
Jusino continued to monitor reports and forecasts from the Massachusetts Emergency Management Agency. Though the Berkshires was expected to see 4 to 8 inches of rain, some places could see 10 inches in the course of the storm, he said.
If that rain falls steadily, and not in torrents, Jusino expected the storm to do little damage. "We'll have minimal concerns," he said. "We'll have nuisance flooding, but we don't have flash flooding."
However, if overnight rainfall increases in volume, to as much as 2 inches an hour, damage could be felt.
During the day, the center helped coordinate the delivery of empty sandbags from the Federal Emergency Management Agency to Cheshire and North Adams. Williams College, a member of the regional group, shared 100 sandbags for use along Ingraham Road in New Ashford, Jusino said, where issues with a culvert were causing localized flooding.