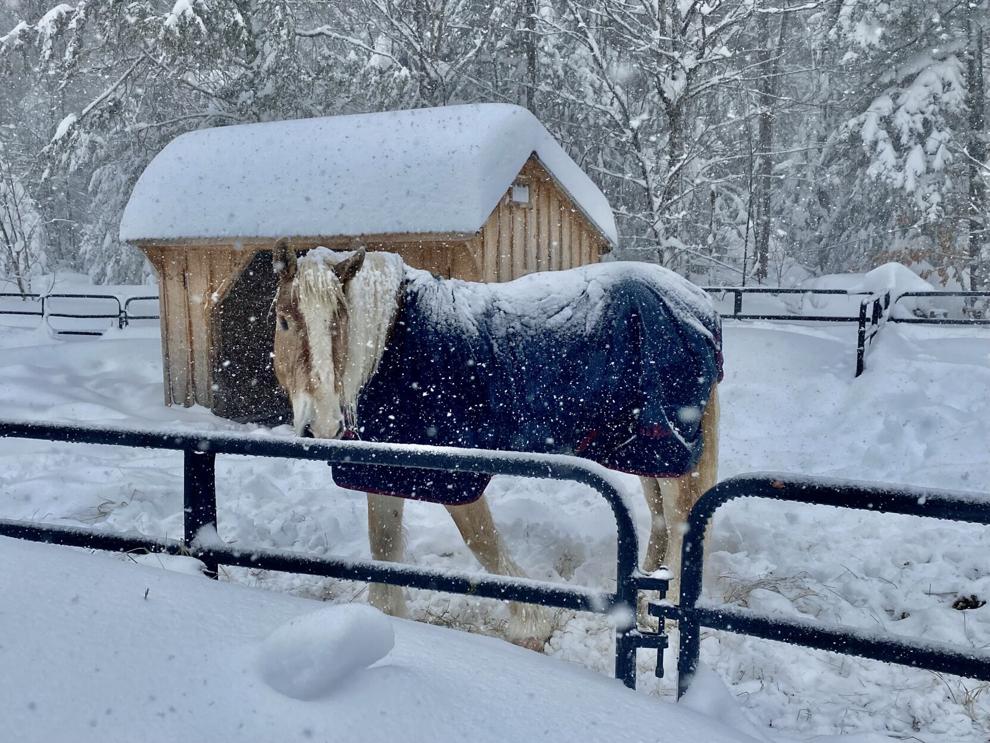 SAVOY — As the owner of Second Chance Stables and Draft Rescue, Kristie Gentile is used to handling big projects and large animals, but Tuesday's storm was the proverbial straw.
Gentile's neighbors in Savoy measured between 30 and 40 inches of snowfall there — and it was still coming down at 3 p.m. as the wind began kicking up. The Berkshires were blanketed by a nor'easter that at first dropped heavy, wet snow overnight and was expected to bring more snow and wind later Tuesday and Wednesday.
Higher elevations in the Berkshires got the most snow, according to the National Weather Service, which logged 31 inches in nearby Windsor as of 4:45 p.m.
Gentile awoke at 7 a.m., her usual time, and planned to feed the draft horses she rescued and cares for.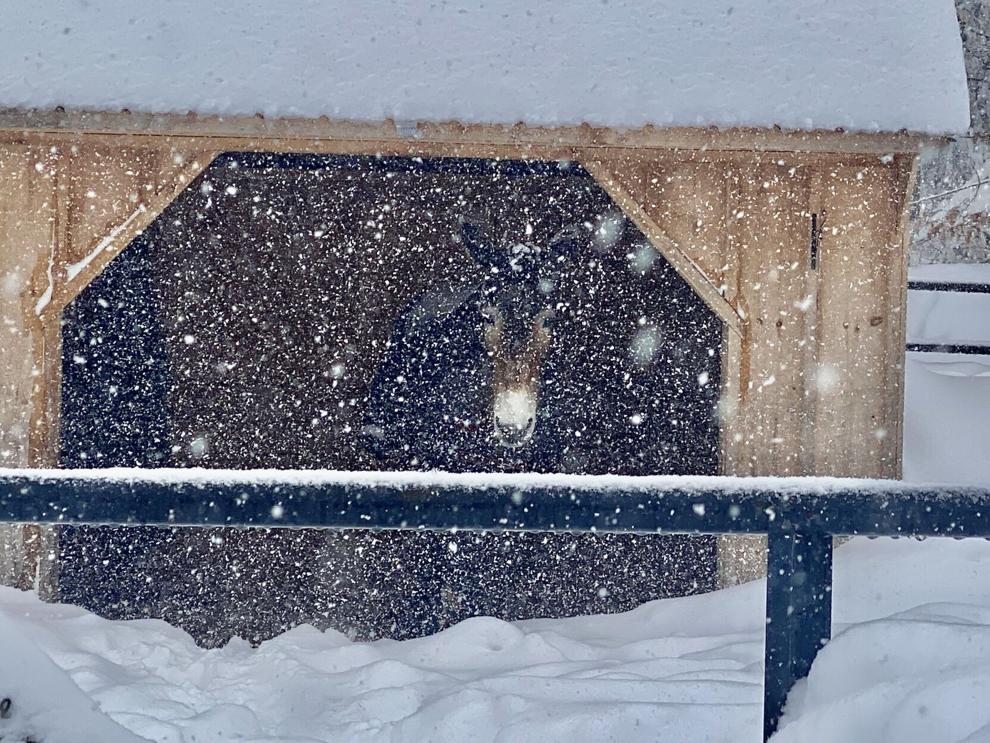 At first, she tried using her tractor to carve a path in the heavy wet snow. It got stuck. Undeterred, she hand-shoveled a path to each of four paddocks where the horses live in an indoor-outdoor arrangement.
She reached them at about 10 a.m., three hours later than their usual feeding time. As she worked, she got the evil eye from the hungry animals.
"They weren't happy. There was a lot of whinnying, a lot of nickering, going on," when she finally reached them, she said. "Everybody was trying to like, stay hidden in their shelters for the most part."
Even though she was able to feed the horses, she could not get to the barn to perform necessary daily chores. Exhausted by 1 p.m., she turned to social media for help.
"I got the tractor stuck," her post on Savoy's Facebook group reads. "I was able to hand shovel a path to each paddock but can barely get a hay bale through. The top of driveway is not done I don't know what it would take to get through that?"
Then Travis DeBlois showed up. DeBlois saw her post shortly after plowing his own driveway. He had arrived home from work on Cape Cod at about noon. The IEW journeyman wireman's work day as an electrician was cut short because of high winds brought by the same nor'easter.
He arrived in his full-size backhoe with four-wheel drive — and chains. He plowed out the driveway.
Two other neighbors came to help. With their tractors, LR Frew and John Rovario, helped carve a path to the horses.
Like Savoy, other towns at high elevations were hard hit by the storm.
In Windsor, Town Administrator Madeline Scully was home for the day and baking lasagna.
"So I've been one of the lucky ones," she said, adding there were three "pockets" that had lost power: Worthington Road, Main Dalton Road and Windsor Bush, near Windsor Jambs. "It's always the first one that loses power because there's so many trees."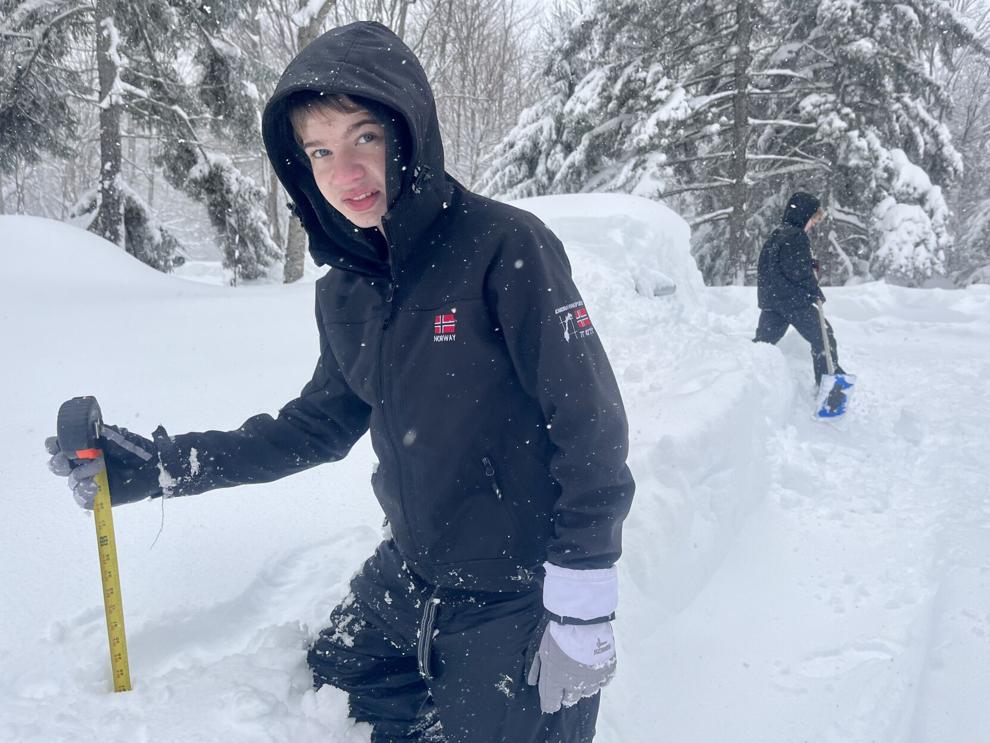 Barbara Connors measured 27.5 inches at her home in Windsor.
"When we bought our house, our first purchase was a generator in case of storms and power outages," Connors said. "Long-term planning, I guess, is how we prepared for … instances like this snowstorm. We have the generator, so we have water, we have electricity, we have heat. But as far as like buying bread and milk, yeah ... we buy bread and milk — and beer."
Connors was working remotely straight through the storm while her children stayed home from school.
"I think this is the most snow that we've seen here in one storm," she said. She's lived in Windsor since 2016. "I would rather be out skiing but I think Jiminy Peak and Bousquet are closed as well. … Last snowstorm last week the kids went skiing all day, but this week, we just have too much snow for skiing."
In New Ashford first responders were busy. Volunteer Fire Department Chief Frank Speth said his team was out for five hours responding to fallen trees and downed power lines. Even plow drivers called saying they couldn't get through some roads because of trees and other obstructions, he said.
Val Reiner, Savoy's town clerk, stayed home Tuesday. She announced the day before on Facebook that Town Hall would be closed. While Reiner was without power, she wasn't complaining or resorting to use of her generator, at least during the day. She noted that the storm happened to fall on the 30th anniversary of a 1993 nor'easter that was then termed the "Storm of the Century."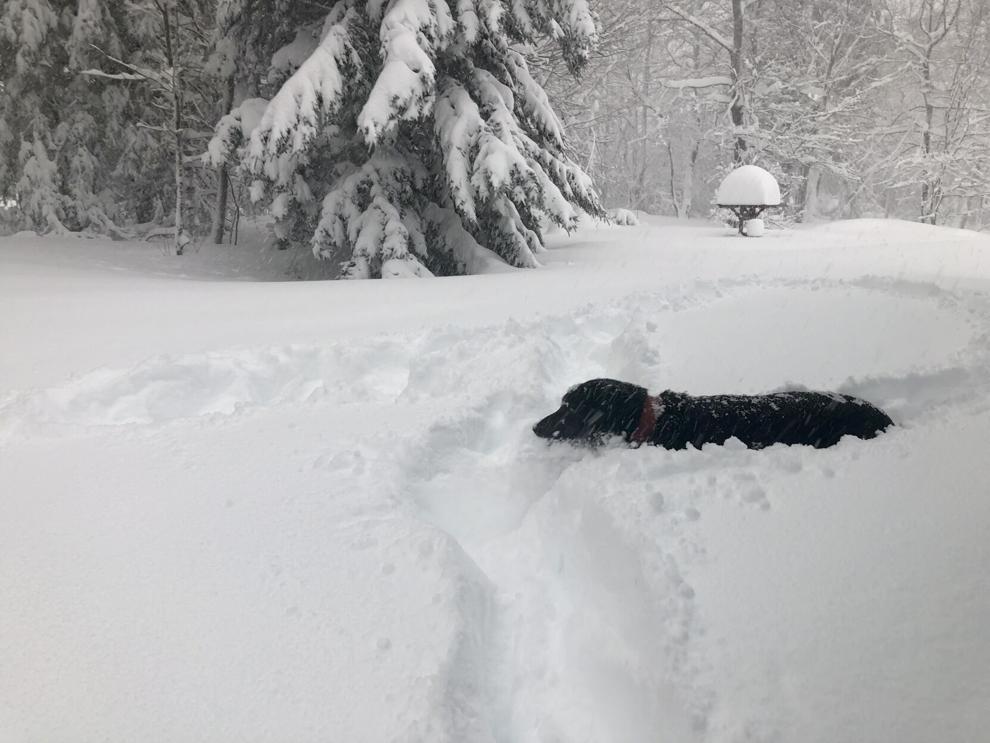 "I remember I had a friend that was visiting from New Hampshire, and she couldn't get home for jury duty," Reiner said.
Tuesday's storm left more than 300 Savoy residents without power, Reiner said.
"Most people around here have generators," she said. "So we deal with it."
At the stables, Gentile was hoping her power stayed on through the Tuesday night. She had filled her bathtub and filled extra buckets.
"No power is a game changer here," she said. "Means no water and no water heaters for their troughs."
Eagle reporter Greta Jochem contributed to this report.