Moderate to heavy rainfall from the remnants of post-tropical Ida were aimed at Berkshire County and the rest of New England from the Massachusetts Turnpike southward, including nearby New York state and Connecticut.
The National Weather Service maintained a flash flood watch into early afternoon Thursday, although less than half an inch had fallen by early evening Wednesday, with even lighter amounts in North County.
The once-fearsome Hurricane Ida was reduced to a formidable rainmaker as it pushed toward New York City and a quick exit offshore Wednesday night.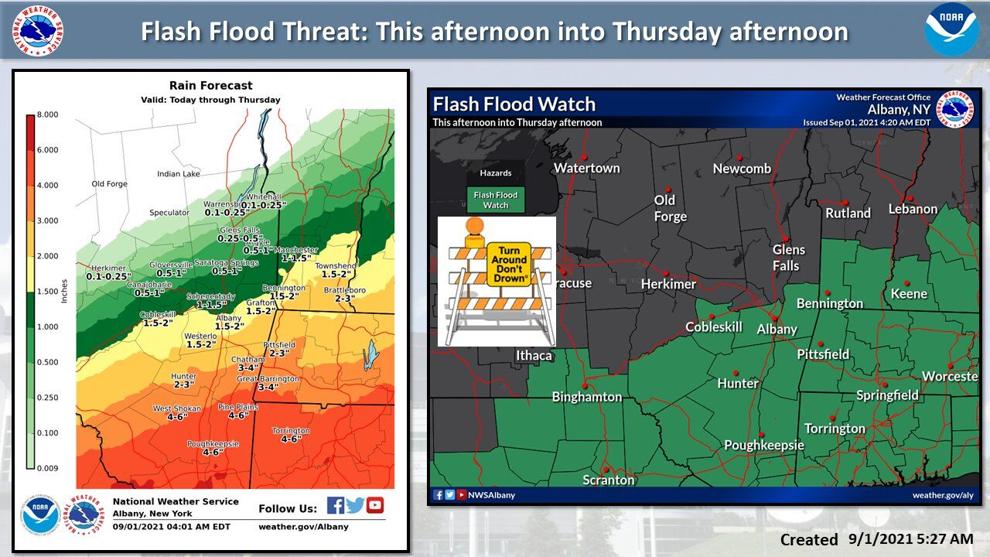 According to meteorologist Christina Speciale at the government forecast office in Albany, N.Y., the heaviest rainfall over the Berkshires was expected to ease by dawn Thursday, after a nighttime deluge that could total 3 inches of rain, if not more.
Skies should clear by late morning, helping to start the drying out of saturated soil and swollen rivers, streams and brooks.
It was the fourth time this summer that a former hurricane or tropical storm aimed at the Berkshires and surrounding areas, including much of the Northeast.
The likeliest targets for flash flooding in the Berkshires included urban, poor-drainage and low-lying areas, the government forecasters pointed out.
A near-ideal, though slightly chilly, Labor Day weekend is on the way for rain-weary Berkshire residents and visitors. Mostly clear skies are expected, with only a low risk of occasional showers late Sunday and again Monday afternoon.
It has been the soggiest summer on record in the Berkshires, with nearly 25 inches of rain from the final days of June through Wednesday afternoon. Nearly 15 inches fell in July, breaking National Service records dating to 1939 at Pittsfield Municipal Airport.