LENOX — National Weather Service meteorologists confirmed Wednesday evening that two microbursts — they are high-speed winds causing straight-line damage — hit Lenox during a severe thunderstorm Tuesday.
The first, on Cliffwood Street, just northwest of the downtown business district, struck at 5:14 p.m. with 80- to 90-mile-an-hour hurricane-force winds along a half-mile track 50 yards wide. Winds of 75 mph and higher are classified as hurricane strength.
The second, on Housatonic Street between downtown and the Route 7/20 bypass, also traveled one-half mile at 80- to-90-mph wind speeds, on a 100-yard-wide path. It ended after moving up a hill behind the Kimball Farms Extended Life Care facility.
Damage along both paths included hardwood and softwood trees that snapped and were uprooted. One home along Housatonic suffered wind damage to its siding. At least seven homes were damaged by fallen trees along the two locations.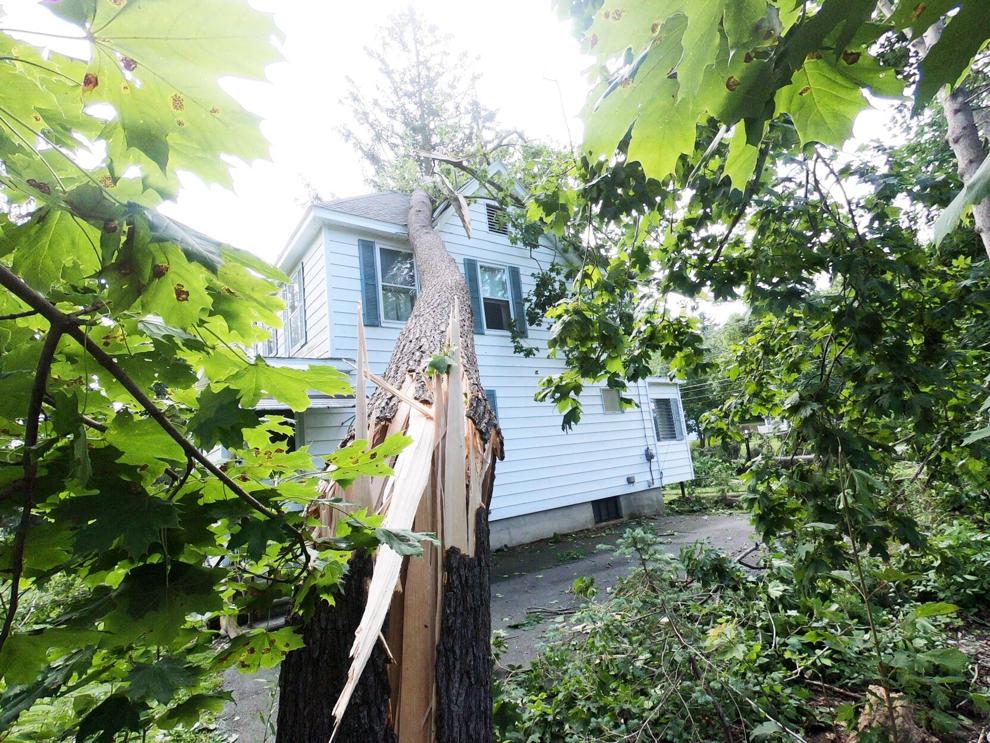 Two government meteorologists had taken a 90-minute tour of the storm-damaged areas with Fire Chief Chris O'Brien early Wednesday afternoon before issuing their findings.
"They were definitely impressed with the amount of damage they saw," he said.
The Massachusetts Emergency Management Agency had requested the National Weather Service investigation.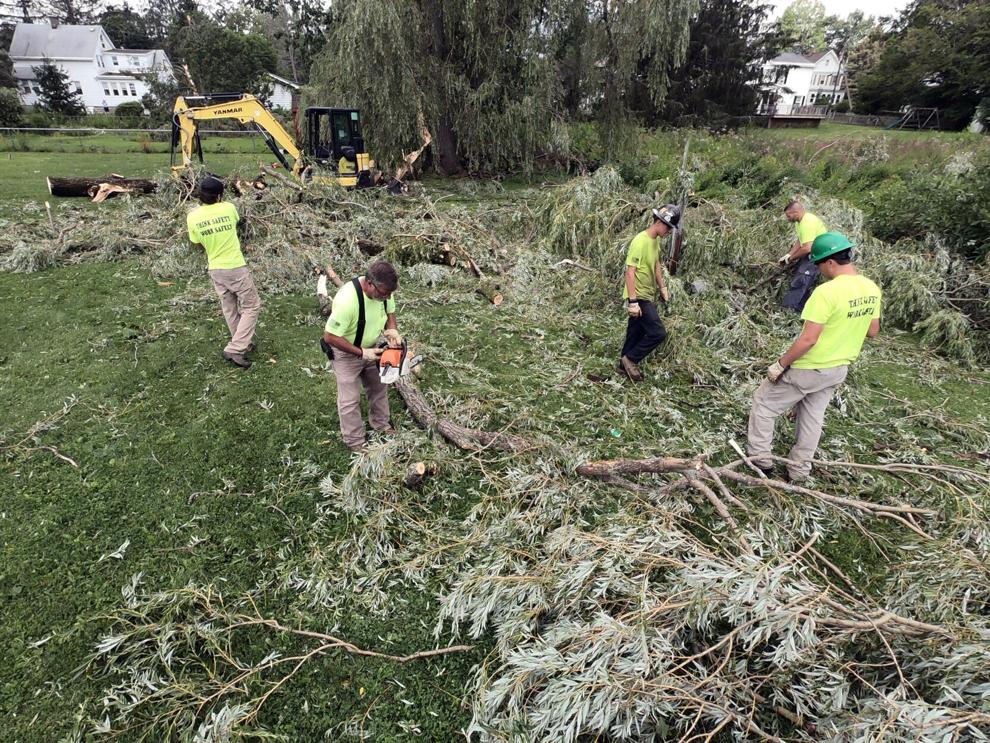 O'Brien described July, with Tuesday's storm coming on the heels of multiple downpours and floods, the worst month for natural disasters in the area since he joined the Lenox Fire Department in 1986. He was named chief in October 2018.
He had called in at least 20 professional and volunteer members of the department early Tuesday evening, beginning about 5:15.
"There were many incidents that took a lot of time that were very complex," O'Brien told The Eagle. There were 30 calls for aid during a 90-minute period.
Despite the intensity of the severe thunderstorm, there were no injuries.
The hardest-hit sections of Lenox included the stretch of Housatonic Street between the Route 7/20 bypass and the downtown business district; the 350 block of Housatonic below East Street; and Cliffwood Street.
"It was spotty; there would be 400 to 500 yards of damage, then nothing," O'Brien said.
The 100 block of Housatonic Street, and several side streets, looked like a war zone, early-morning motorists said, with rows of trees strewn on the side of roadways.
A telephone pole was snapped in half near St. Ann's Church on Main Street.
Also hard hit were northern sections of Lenox, including Pittsfield Road and New Lenox Road, where power was out for up to 10 hours and traffic signals were disabled. Telephone and cable TV services also were disrupted in many parts of town.
Lenox and Pittsfield blocked off all traffic on Pittsfield Road between Holmes Road and Dan Fox Drive after a tree fell about 6 p.m., taking down primary electrical wires between the Yankee Hotel and the shopping area housing Subway and other businesses. At the same time, both southbound lanes at the Lipton Mart were flooded completely, O'Brien said.
Drivers using Holmes Road as a detour into Pittsfield discovered that the traffic lights controlling access to the one-lane bridge still awaiting reconstruction were out of service. Northbound motorists were forced to turn back and use alternative routes into the city, such as New Lenox Road and East Street.
Pittsfield Road was reopened by 9 p.m., O'Brien said.
"I can't say enough about the work of the Fire Department and the DPW," he added. "It's public safety, and the Police Department did a great job, too."
Sections of the Pleasant Valley Wildlife Sanctuary suffered major damage, likely amounting to hundreds of thousands of dollars, said Becky Cushing Gop, director of Mass Audubon West.
"We are still in the process of assessing all the damage, but many of the trails at Pleasant Valley are impassable," she told The Eagle. There was additional damage to the office building and the all-access boardwalk at Pike's Pond, most of which will need replacing.
"We are grateful that the historic barn and the new addition were not harmed, though trees fell very close by," Cushing Gop added.
A separate severe storm, shortly before 5 p.m. Tuesday, downed trees and wires on Balance Rock Road, Circular Avenue and Bridge Street in Pittsfield, according to the National Weather Service.