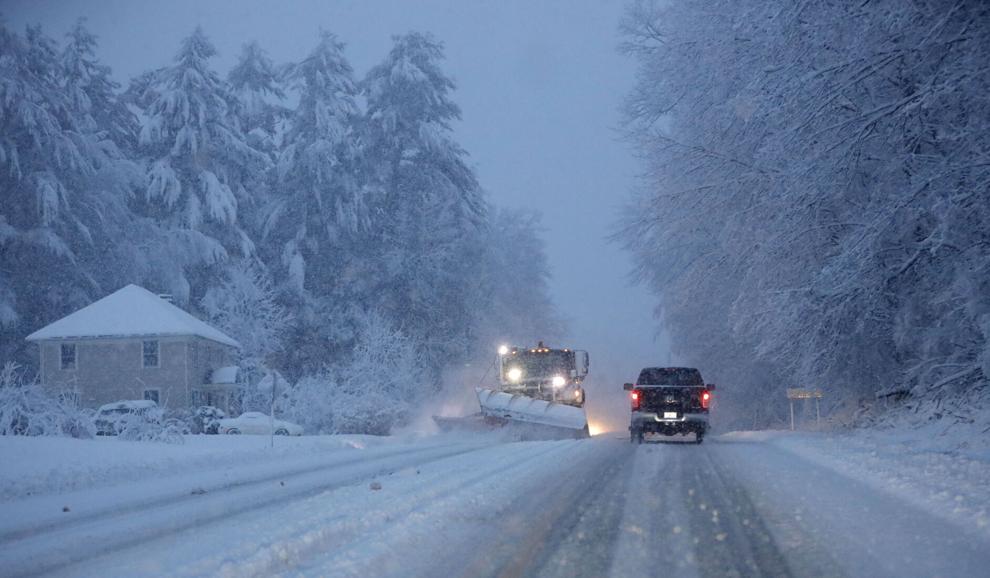 A highly potent coastal storm brought more than 2 feet of heavy snow to some parts of the Berkshires on Tuesday, knocking out power to thousands of homes and bringing life to a standstill in the hardest-hit communities.
Downed trees and accidents were reported throughout the county as police and first responders urged motorists to stay off the roads. Schools, some businesses and most government services shut down for the day.
The highest snowfall totals were reported in Windsor, where at elevations of 2,150 feet the National Weather Service received reports of 31 inches blanketing homes, trees and power lines.
Over the course of the day heavy snow piled up in the hilltowns. Residents in Becket, Sandisfield, Clarksburg and Savoy ended their Tuesday with snowfall at or near the 2-foot mark.
Pittsfield road crews made their way through 17 inches of snow that fell over the course of the day. North Adams crews cut their way through 7 inches of snow that landed in the city. The smallest reported snowfall in the county came from Sheffield where 6 inches of snow came to rest.
Tom Wasula, a lead meteorologist with the National Weather Service in Albany, said the county was expected to pick up an additional 3 to 6 inches of snow between Tuesday evening and Wednesday morning.
Wasula said the storm, which by Tuesday afternoon was pretty stationary over Cape Code and the Gulf of Maine, would start to produce fluffier and drier snow before it fizzled out.
Road crews trying to dig out the county from under a blanket of white had more than just the precipitation to deal with. Wind gusts, which were measured around 25 mph Tuesday afternoon, were expected to pick up overnight and reach up to 45 mph.
Wasula said strong winds are expected to present the biggest threat Tuesday night into Wednesday morning.
"I know that the county has been hit pretty hard today," Wasula said. "Since so much snow has fallen … the big impact still of the storm for the Berkshires are the winds with the possibility of additional outages."
Wasula said the greatest area of concern for power outages are the towns in the Berkshires where more than 20 inches has fallen. The National Weather Service recommends that in the case of a long power outage, residents have a safety kit, flashlight, food, water and a vehicle on hand or plan for how they will get to an emergency shelter.
"The only time I encourage people to be on the road," he said, "is in the case of an emergency."
Thomas Sammons, the Pittsfield emergency management director and fire chief, said so far the city has no plans to convene an emergency shelter. Sammons said that energy providers have been "pretty on top of it" so far.
He did say that the fire department was inundated with more than 100 calls between "typical" calls for service and calls of downed trees and cables. Sammons said two additional engine units were called in to help with the response.
Pittsfield police issued a nonessential travel warning Tuesday morning on social media, and it appears many residents heeded the department's recommendation. The department responded to just one crash, according to Sgt. Matthew Killeen, and it was a fender bender caused by someone who was backing out of their driveway.
Other police departments around the Berkshires sent out similar warnings but were also met with an overwhelming number calls for help.
"We've taken more than 50 calls at dispatch since 6:30," Williamstown Police Chief Michael Ziemba said. "We're running extra patrols and dispatchers."
Wires were down all over town, and a car ran into a pole at the Five Corners intersection, he said. Another call came in about a car that struck a downed tree. No one was injured in either accident.
A similar scene unfolded in Adams, where police Officer Nick Dabrowski took to Facebook to urge residents not to leave their homes.
"We've probably handled 30 to 40 calls, it's been nonstop," he said. "You have trees down, wires down, the road conditions are terrible. The Department of Public Works is doing their best to clean the roads up. Please, if you don't have a reason to be out, something major, please stay home."
In Great Barrington, first responders encountered obstacles on nearly every street they tried to navigate.
"Some type of issue with trees," said Joe Aberdale, the town's superintendent of public works.
His staff left work at 3 p.m. Monday to rest before coming back at midnight for an endless cycle of plowing and salting.
"It's going rather well considering the conditions," Aberdale said of the nor'easter.
As of late Tuesday afternoon, about 32,000 Eversource customers had been affected by outages in Western Massachusetts, according to spokesperson Priscilla Ress. About 16,000 customers had lost power around 4 p.m., and about 16,000 had their power restored. Ress said that crews from the eastern part of the state would soon be joining efforts as snow continued falling in the Berkshires.
A news release from the energy company indicated that 1,300 crews were currently working on addressing outages, including crews to repair lines, clear trees and restore service. Ress said that the company was expecting more outages as winds are projected to pick up overnight.
National Grid said in a release that about 36,000 customers were without power as of 10 a.m. Tuesday, but the company has restored power to about 23,000 customers since Monday night. The company has about 3,000 workers addressing the outages.
North Adams was hit hard by the outages, with more than 7,000 National Grid customers losing power. All but a few hundred were restored by late Tuesday.
Dispatchers for the city's police and fire departments said both were slammed earlier in the day. The fire department alone was inundated with calls for downed trees and other storm-related issues.
Both departments had extra people working and they were getting calls "nonstop" for downed trees and wires — more than 100 calls by late morning, North Adams Mayor Jennifer Macksey estimated.
"Everyone should stay home," she said. "I guess the weather people called this one correctly," she added.